Virtual Events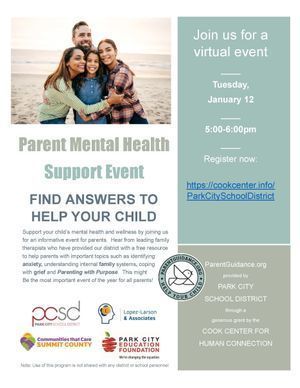 January 12th Family Mental Health Night 5:00 - 6:00 pm
Parents: Support your child's mental health and wellness by joining us for an informative event. Hear from leading family therapists who have provided our district with a free resource to help parents with important topics such as identifying anxiety, understanding internal family systems, coping with grief, suicide prevention, and Parenting with Purpose. Hosted by Communities that Care and the PCEF.
Past Events:
12.8.2020 Bright Futures College Students: Surviving and Thriving During COVID
12.2.2020 Scholar Circle "PCHS Student Showcase"
11.17.2020 Student Success in the Age of COVID hosted with Communities that Care
9.30.2020 Scholar Circle "Lessons We've Learned When Schools Closed" with PCSD Chief Academic Office Amy Hunt
7.22.2020 Back to School Plan with PCSD Superintendent Dr. Gildea
5.12.2020 Emergency Express Grants: What They've Meant for Teachers
4.22.2020 Scholar Circle "Talk, Share, Connect with PCSD Superintendent Dr Gildea"