Educator Insider Newsletter
The PCEF Educator Insider Newsletter is our way of sharing valuable information specifically for you – our fierce, brave, wonderful educators – a few times each year.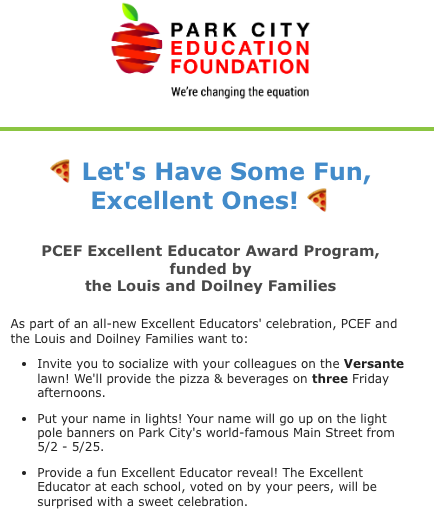 Edition 3:
The FIRST detailed reveal of the all-new PCEF Excellent Educator Award Program, funded by the Louis and Doilney Families.
A reminder that Running with Ed 2022 is FREE for ALL Park City School District Educators, thanks to the generosity of #RWE2022 sponsor Intermountain Hospital Park City!
How and when Classroom Grants will be announced. 
 
---
Edition 2:
An overview of Classroom Grants with helpful links and information about a Q & A session.
How ALL PCSD educators will get FREE Running with Ed registration, thanks to Intermountain Park City Hospital.
Where to access the emergency funding available for PCSD employees.