PCEF Excellent Educator Program, funded by the Louis and Doilney Families
&
The Sarah & Stephen Doilney Award
We are thrilled to offer an updated version of the Excellent Educator Program for 2022!
The new version of our beloved program devotes the entire month of May to championing our Park City educators. Plans for Excellent Educator include:
Educator Socials → Finally! A few chances to connect with colleagues.  
Names in Lights → All 680 PCSD employees are named on banners along Historic Main Street from May 5 - 25.
Banner Day(s) → HUGE banners at each school with the names of its employees on display.
Excellent Educator Reveal → Each school votes on its Excellent Educator, who is surprised with a sweet celebration.
These past two years have shown us that our schools and educators are essential for the success of our families, our businesses, and our community. The updated Excellent Educator Program is but a small token of our huge gratitude to Park City educators. 
Once again, EVERY one of the 680 PCSD employees will be honored! Teachers, staff, and administrators who worked so hard to support our students and continue in-person learning all year will have their names "in lights" - in the form of banners along Park City's famous Main Street. The banners will hang from the light poles for the month of May to bring our entire community together in support of our educators, whether you have students in school or not!
In the weeks leading up to Running with Ed, 6x6 ft banners with the names of every building employee will be set up at each school. We encourage you to take photos with your student(s) in front of them and post about your pride for your neighborhood school. Don't forget to use #PCEF4Kids and #RWE2022 hashtags so we can see and share them on our social media channels. 
And... we're bringing back the vote for the Excellent Educator at each school. Each site will vote on the full-time employee who best exemplifies an Excellent Educator to their students, and then celebrate the recipient as they wish!
We hope these events will in some small way convey our gratitude for the herculean effort every single educator made on behalf of our students and families these past two years.
On behalf of all us at PCEF, the Louis and Doilney Families, and our entire community, thank you!
Sarah and Stephen Doilney Award Winner
The Sarah & Stephen Doliney Award, as voted on by the Senior Class at Park City High, honors the most influential educator of their school career.  The 2021 winner was PCHS Math teacher Deb Alcox!
Many thanks to Jim Doilney, who supports this award in honor of his mother, who was a teacher.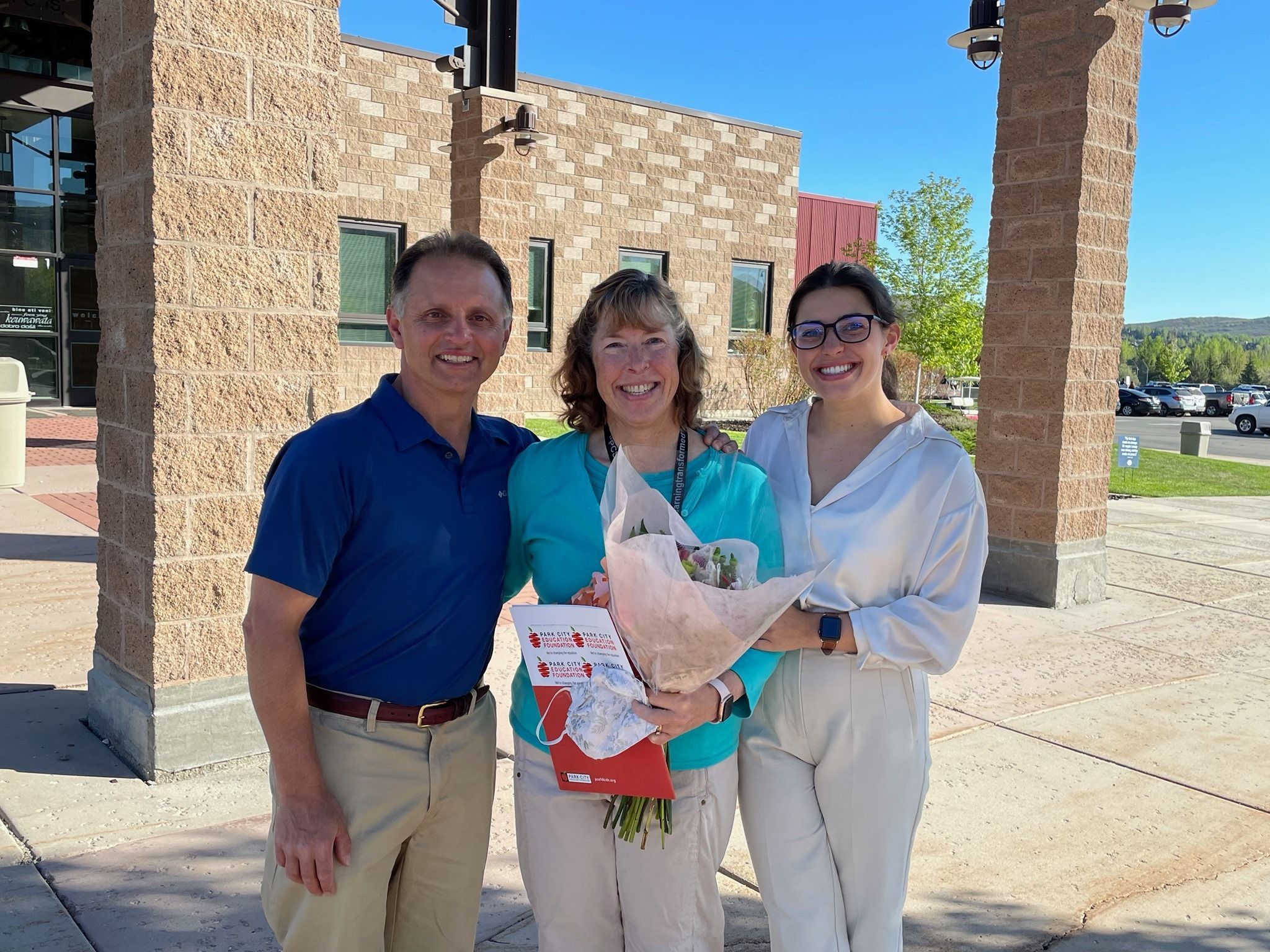 HISTORY
In 1996, developers Jim Doilney and Mike Barnes wanted to give back to the schools that gave Park City such a stellar reputation and made it a desirable place to live. In particular, Jim, the son of a teacher, wanted to honor his mother's profession. Thus, with PCEF's help, the Doliney-Barnes Teaching Excellence Awards were born. 
Over time, the award became the Excellent Educator award, in recognition that anyone; teacher, staff, or administration, can make an impact on student learning. Different sponsors have stepped up to support it, including Deer Valley Resort and more recently, the Louis Family.
In 1996, Jim also created a very special award to honor his parents. The Sarah & Stephen Doilney Award, as voted on by the Senior Class at Park City High, honors the most influential educator of their school career.