Park City Education Foundation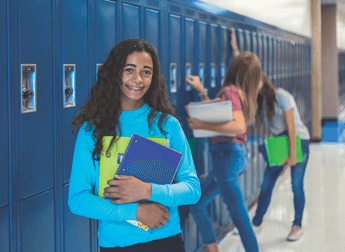 We want to give all Park City students the opportunities and skills to successfully navigate a dynamic world, one filled with exciting changes and new challenges we can't even imagine. We want them to become tomorrow's creative innovators, problem solvers, and leaders.
That means our schools and educators must constantly evolve, and our funding supports that evolution.

We fund eight Signature Initiatives to inspire all Park City students to successfully reach their academic and lifelong potential. Within the eight initiatives are more than a hundred programs, supported annually by PCEF with a $1.5 million dollar contribution. In the 2022-23 school year, we'll be investing $2,000,000. These programs have an impact on every single one of the 4,500 PCSD students. 
PCEF is a 501(c)3 and donations are deductible to the extent allowed by law.
---
Park City is the wealthiest micropolitan area in the country...
So why don't our schools have all the money they need?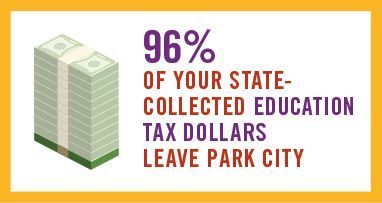 It's a simple math problem. 96% of our state-collected education tax dollars go to other school districts.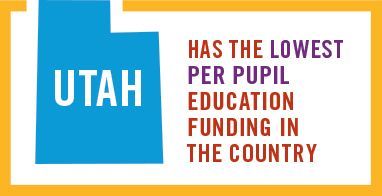 Compounding the problem → Utah ranks last in per-pupil funding at both the state and federal levels.  
Despite this dismal equation, Park City schools are some of the best in the state...
And the Park City Education Foundation is committed to ensuring they stay that way. Since 1986, your gifts fund initiatives that help every one of our 4,500 students reach their academic and lifelong potential. 
100% of your donation stays right here in Park City and funds classroom-centered, research-based programs that support teachers and students ages 3 - 23 - which means impact in every grade, every day.  
These past pandemic years have it made crystal clear: our schools and educators are essential for successful families, successful businesses, and a successful community.
Please help us change the equation and support our students, teachers, and schools. Thank you!
---
Mission
We fund and support educator-powered initiatives that inspire all Park City students to reach their academic and lifelong potential. 
Vision
To help launch well-prepared, curiosity-driven, creative problem solvers who are ready to meet tomorrow's challenges.
Values
---
1. Partnership.
We invest in the Park City School District because excellent public schools are essential for a great community. When we partner with our schools, community nonprofits, and other groups to make our schools the best they can be, everyone benefits: our teachers, students, families, and community.

2. Classroom-Centered.
Educators and students are at the heart of everything we do, and their voices drive our work. 

3. Equitable and Inclusive.
We have a responsibility to include everyone and eliminate barriers to participation in all we do—from each program we fund to every opportunity we provide. We recognize that these barriers are the product of unexamined implicit biases and structural inequities.

4. Park City.
Our town is in our DNA. Park City is a community of people from all walks of life. We bring together their rich variety of skills, experiences, and resources to help us better support our students, families, and educators.

5. Nimble.
We anticipate and respond quickly to the ever-changing needs in our schools—allowing educators to adapt, innovate, and lead the way in Utah public education.

6. Unwavering.
Generations of educators and students have been positively impacted by our funding, expertise, and advocacy. We will continue to provide support for generations to come.