Park City is the wealthiest micropolitan area in the country.  So why don't our schools have all the money they need?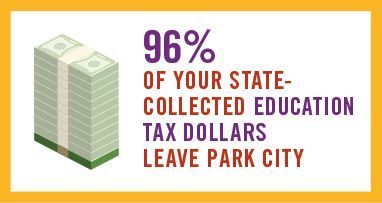 It's a simple math problem. 96% of our state-collected education tax dollars go to other school districts.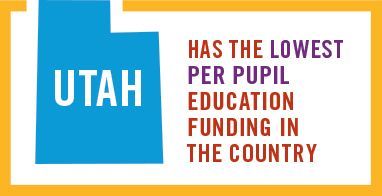 Compounding the problem is the fact that Utah ranks last in per pupil spending.  
Yet despite this dismal equation, Park City schools are the best in the state.  And the Park City Education Foundation is committed to ensuring they stay that way.
Since 1986 your gifts fund initiatives that help every one of our 5,000 students reach their academic and lifelong potential. 
100% of your donation stays right here in Park City and funds classroom-centered, research-based programs that support teachers and students in every grade, every day.  
This past pandemic year has made crystal clear: our schools and educators are essential for successful families, successful businesses, and a successful community.
Please help us change the equation and support our students, teachers, and schools. Thank you!
Mission
Lead the community in funding initiatives that inspire all Park City students to successfully reach their academic and life-long potential.
Vision
To help launch well prepared, curiosity-driven, creatively inspired citizens of the world.
Values
1. Partnership. We Partner with our Public Schools Because We Believe They are an
Essential Part of Every Great Community. Our schools don't have the financial
resources to accomplish everything the community expects of them, so the Foundation
partners with them to fill the gaps and improve the quality of education. We are a
proven and trusted partner and believe our alignment with the school district makes our
public schools better for all our students and families.
2. Focus. We are Classroom-Centered. Our focus is on students and teachers, and we
ensure their voices inform our work. Through the Foundation's Signature Programs, we
offer support to our students and teachers through every grade, every day. The decisions
we make are rooted in research, best practices, and are judged through the lens of
long-term academic success.
3. Inclusiveness. We Nurture Strong Relationships and Build Community. The Foundation
actively engages in discussions with educators, donors, community members, parents,
and students. We listen deeply and empathetically to better understand how the
Foundation can align with district goals, support creative learning, provide long-term
program stability and build community support.
4. Park City. Our Town is in our DNA. Park City is a uniquely adventurous community of
creative, caring and successful people from all walks of life and from all around the
world. The Foundation works to bring all the community has to offer, both in and outside
the classroom, to benefit every teacher and student.
5. Success. We are Bold and Successful. PCEF invests in forward thinking, innovative ideas
in partnership with the Park City School District. The Foundation's investment in public
education is not only an investment in students' success, but also an investment in
families and in the future success of Park City.