Elementary Visual Arts (EVA)
Keep Art in the Picture
"I wish art could be every day. Even though I am not the best at it, it is fun to express myself and I love art!" - Lotte, McPolin Elementary
EVA Stories and More 
ABOUT
Art funding was erased from Utah's elementary curriculum in the 1980's.  In 2012, as volunteer programs waxed and waned, PCEF, parents, the school district, and the Kimball Art Center came together to create the Elementary Visual Arts program (EVA).  It was offered to all elementary schools; McPolin, Parley's Park, and Trailside chose to participate.
STUDENT IMPACT
Art plays a critical role in student success. It nurtures creativity, problem-solving, and confidence. With EVA, moments of teamwork, curiosity, and humanity, are happening every day in our classrooms and schools.
---
"Art is a class where everyone can be successful and feel good about their work. Many students who struggle with the traditional educational model can excel in their art lessons and gain confidence and feel a sense of accomplishment that they might be missing elsewhere. Students learn to express themselves while gaining an appreciation for our culture." - EVA teacher Stefani Kimche
---
PCEF DONOR IMPACT
The EVA Program started in 2012. Since then1,500 students receive professionally taught art lessons every year, thanks to funding from PCEF. 
Thanks to support from PCEF donors and a partnership with the Kimball Art Center, we're able to keep art in the classroom for Park City's elementary school students. 
 
From Seuss to Seurat and Dali to Degas - help us continue to provide this important program. We invite you to... 
---
Artes Visuales Para Escuelas Primarias (EVA)
Mantener el Arte en Escena
"Me gustaría que la clase de arte fuera todos los días.
Aunque no soy la mejor en ello, es divertido expresarme y me encanta el arte"
- Lotte, Escuela Primaria McPolin
ACERCA DE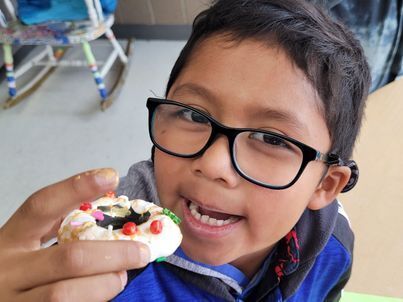 Los fondos para el arte fueron borrados del plan de estudios de las escuelas primarias de Utah en la década de 1980. En 2012, como los programas de voluntariado crecieron y disminuyeron, PCEF, los padres de familia, el distrito escolar y el Centro de Arte Kimball se unieron para crear el programa de Artes Visuales para Escuelas Primarias (EVA). Se ofreció a todas las escuelas primarias; McPolin, Parley's Park y Trailside eligieron participar.
BENEFICIOS
El arte desempeña un papel fundamental en el éxito de los estudiantes. Fomenta la creatividad, la resolución de problemas y la confianza. Con EVA, cada día se producen momentos de trabajo en equipo, curiosidad y humanidad en nuestros salones de clase y escuelas.
"El arte es una clase en la que todo el mundo puede tener éxito y sentirse bien con su trabajo. Muchos estudiantes que tienen dificultades con el modelo educativo tradicional pueden sobresalir en sus clases de arte y ganar confianza y sentir una sensación de logro que podrían estar perdiendo en otros lugares. Los estudiantes aprenden a expresarse mientras ganan una apreciación de nuestra cultura"
- Stefani Kimche, profesora de EVA
APOYO DE LOS DONANTES DE LA PCEF
El Programa EVA comenzó en el 2012. Desde entonces, 1,500 estudiantes reciben cada año clases de arte impartidas por profesionales, gracias a la financiación de la PCEF.
Gracias al apoyo de los donantes de la PCEF y a la colaboración con el Centro de Arte Kimball, podemos mantener el arte en los salones de clase para los estudiantes de la escuela primaria de Park City.
 
De Seuss a Seurat y de Dalí a Degas - ayúdenos a seguir ofreciendo este importante programa. Le invitamos a DONAR AQUÍ.