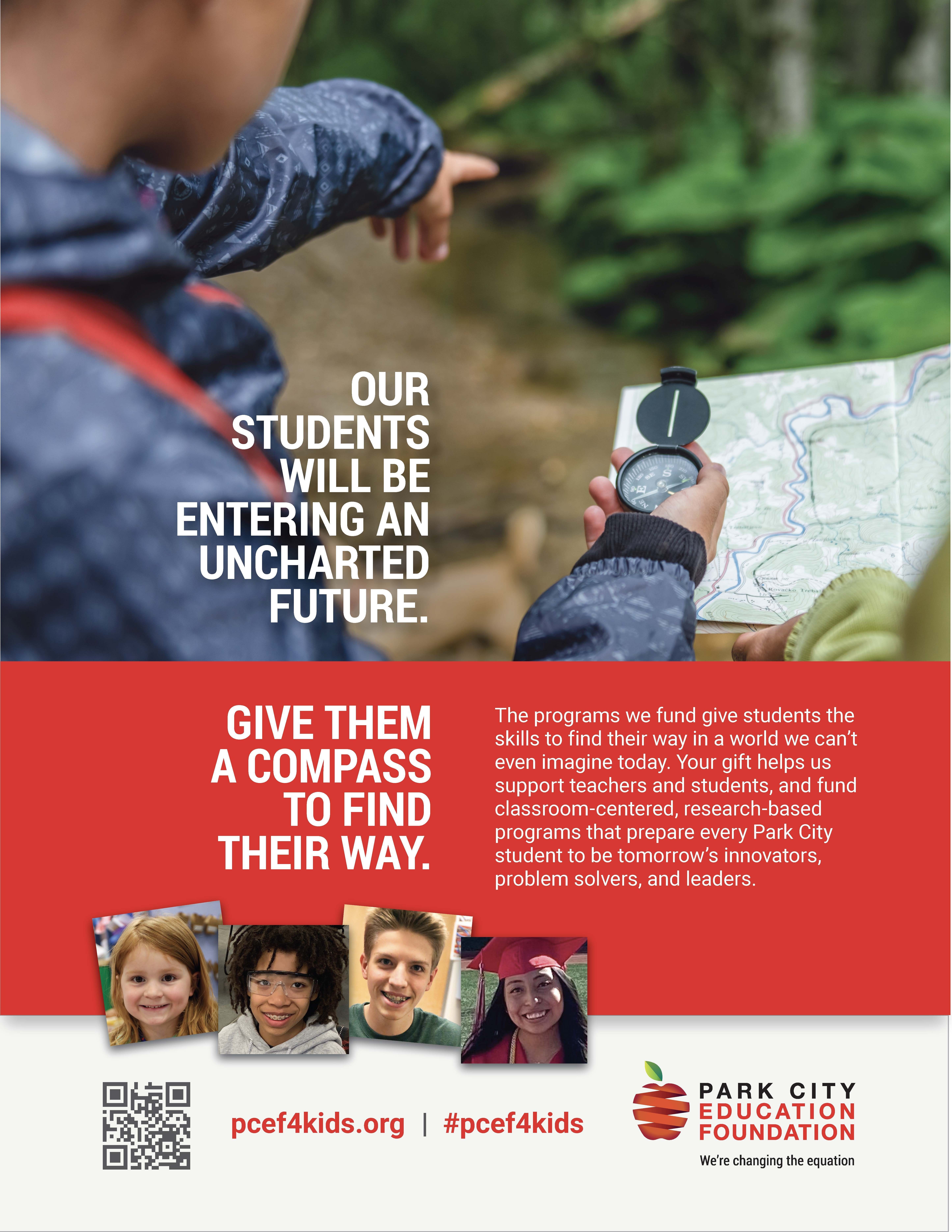 Welcome back to the 2022-2023 School Year!  
 For nearly 40 years, PCEF has unwaveringly supported Park City educators and students. That support has never looked more different than it has in the past two years. It is thanks to contributions from donors like you that PCEF has been able to change direction on a dime - and respond to and anticipate needs. Your gifts help us provide a compass for teachers and students to navigate an ever-changing future. 
 At PCEF, we love the image of a compass because, from schools to neighbors and teachers to coaches, a sense of direction is what our community provides for every Park City student. As our kids enter a world we can't even imagine - it's up to us to make sure they're equipped with skills to be tomorrow's innovators, problem-solvers, and leaders. It's up to us to make sure they have their compass.
Recently, PCEF hosted Dr. Michael Thompson, a renowned author and speaker. His work, which includes 10 books, speaking engagements across the globe, and a documentary; focuses on student mental wellbeing. One message that really stuck out to the crowd: teachers are some of the most important people in a child's life. 
 In fact, he stressed that "teaching is therapy." Nurturing and caring teachers provide our kids with clear boundaries and high expectations - two things he says are crucial, especially now, and provide lifelong benefits. Ultimately, he urged all of us to put our trust in our exceptional Park City teachers. 
PCEF has two programmatic milestones to celebrate this year! 
First, the Park City Center for Advanced Professional Studies (PCCAPS), a Park City High School capstone program, with annual funding from PCEF, marks its 10th anniversary. Its impact stretches to nearly 1,000 students, who tell PCEF things like: 

"I was really lucky… I came into situations where it was the first time [college engineering] classmates built a paper airplane - to look at drag and lift. I heard, 'Wow, this is the first time I've ever done anything like this!' And then I thought… Really?! I got to make a whole medical device in high school!" 
Second, PCEF's Bright Futures Initiative sees its first cohort of students graduate from college this spring! It's the culmination of 7 years of incredibly hard work from these first-generation college students and the Bright Futures team that has walked alongside them every step of the way. The purpose for this long journey is clear when we hear from students like Jose Hernandez (PCHS Class of 2023), who had this to say about his summer research lab internship at Huntsman Cancer Institute:  
"I learned that there is a place for me in science. I may not always look like a scientist or feel like one but science is a big field and it's diverse. I have a place in science - and so does anyone who has that passion."
Your contributions fund classroom-centered, research-based programs that prepare every Park City student to be tomorrow's innovators, problem solvers, and leaders. When we come together to create this compass, not only do we help our educators and students find their true north - we find ourselves exactly where we need to be, too. If you have not renewed your yearly gift yet, we hope you will do so, here.

Warmly,
Abby McNulty
President and CEO
Park City Education Foundation
 
P.S.  PCEF's longest-running Signature Initiative is Afterschool - which has programs at each of our elementary schools. And right now - they need your help! In order to accommodate more students in this safe, high-quality childcare option, Afterschool programming needs more staff. Please help us circulate this job posting:

After-School Assistant Job Posting

P.P.S. You may find your fellow members here.