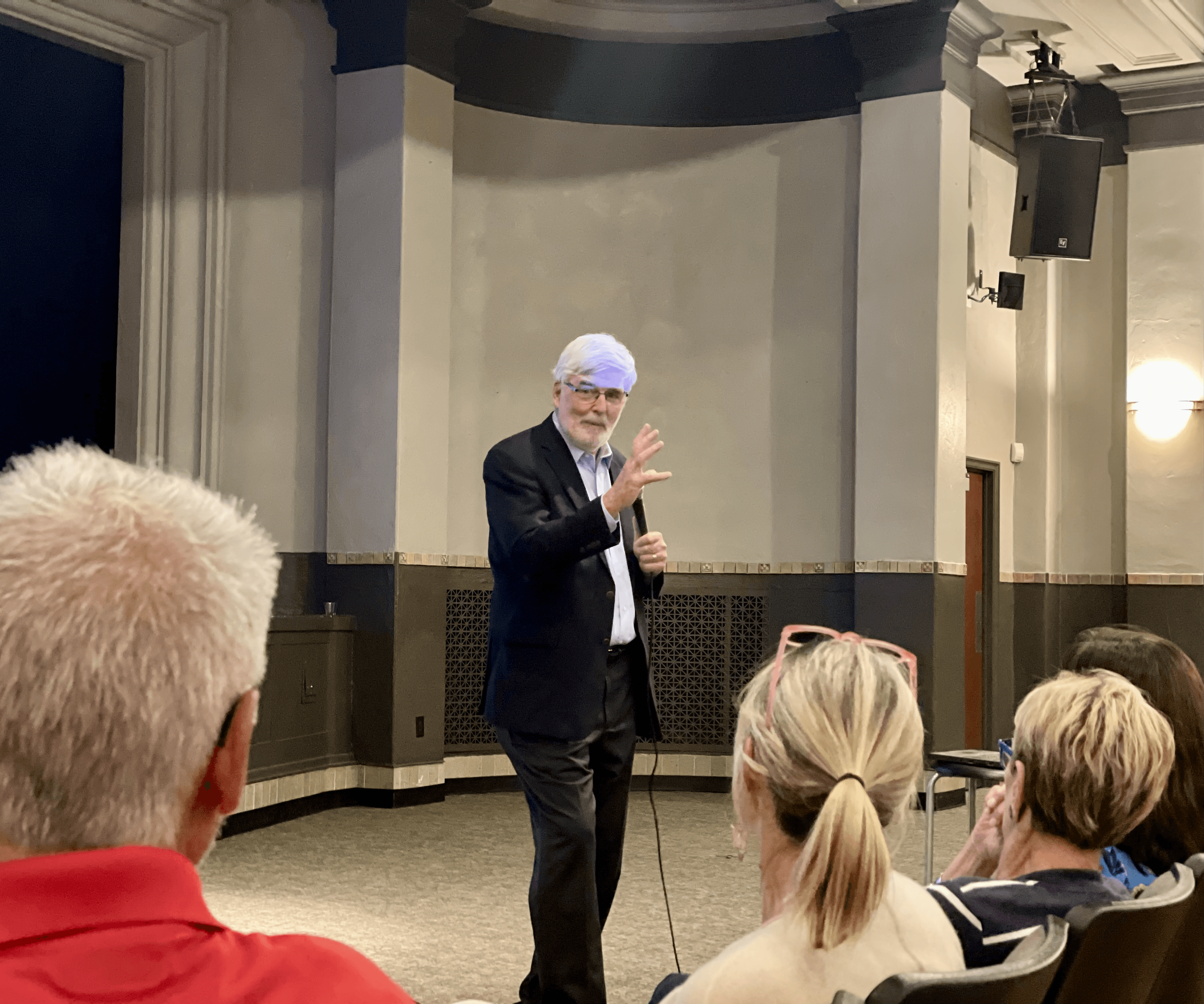 PCEF's free Educator and Student Wellness Speaker Series launched with a truly eye-opening presentation from renowned author and psychologist Dr. Michael Thompson. 
When COVID hit, Dr. Thompson expected work to go dark for a bit - and it did. But then, the calls began.
Parents, educators, coaches, administrators - he got dozens of phone calls. All of them with the same question: "Are the kids going to be alright?"
In light of the CDC's recent proclamation of the adolescent mental health crisis, Dr. Thompson says - emphatically - "YES - most of the kids are alright." 
Now, the parents on the other hand... That may still be up for debate. 
All joking aside, Dr. Thompson's presentation, "Are the Kids Alright? Post (or Late) Pandemic Assessment" provided fantastic expert insight and analysis about how our students are really doing – and those surprising results were heartening and encouraging. 
Here is the presentation, authored by Dr. Michael Thompson, for the PCEF Speaker event on Wednesday, August 24, 2022. 
---
Parents and educators have been worried about children's health and mental health from the start of the pandemic. They've worried their children were being traumatized by lockdowns, isolation, fears of death. 
We have been through a lot, but the vast majority of children have not been traumatized.
We are not seeing many traumatized children in schools.
We are seeing social immaturity and higher levels of group conflict. 
First - what is trauma? 
Trauma is an emotional response to a terrible event like an accident, rape or natural disaster. Immediately after the event, shock and denial are typical. Longer term reactions include unpredictable emotions, flashbacks, strained relationships and even physical symptoms like headaches or nausea. 
Trauma is dose related. It leads to feelings of overwhelm... helplessness...shock. 
For the majority of kids, the pandemic was stressful, not traumatic. So, what protects children in a stressful time?
Four protective factors:
Attachment → The responses of parents or surrogate caregivers play a key role in the responses of children. 
 
Community → Culture and school. 
 
Faith → Hope and believe that life has meaning.
 
Intelligence → Let our educators guide and teach problem-solving capabilities, self-regulation, and self-direction. 
---
The world's psychological immune system turned out to be more robust than we expected. 
- "The Pandemic Did Not Affect Mental Health the Way You Think," by Lara Aknin, Jamil Saki, and Elizabeth Dunn | The Atlantic, 2021 
However, the pandemic has hit different populations unequally. 
"The mental health impacts of the pandemic seemed to ripple along the fault lines of inequality... leaving many children who were already at a disadvantage suffering the most." - Donna Pincus, Professor at Boston University. 
"A cry for help" - CDC warns of a steep decline in teen mental health. 
The most vulnerable teens lived in homes where: 
-- Family members died of COVID. 
-- There wasn't enough to eat. 
-- Children were exposed to domestic violence or abuse. 
All students were impacted by the pandemic, but not all students were impacted equally," the CDC's Ethier said. 
Support for these children continues - and continues to evolve. 
---
"Schools nurture many of the adaptive systems in the individual that generate capacity for resilience over the course of development." 
- Ann S. Masten, Distinguished McKnight Professor, University of Minnesota
What should schools be doing? 
Provide positive relationships with competent and caring adults.
Welcome students to a warm, safe oasis.
Create structure and predictability.
Hold students to high expectations - reasonable expectations at the very least! 
Build motivation and self-efficacy through role-modeling.
Scaffold, individual goal-setting, and guided mastery experiences. 
---
What should parents be doing? 
1 - Trust your child's development and resilience: most children are resilient most of the time!
2 - Manage your own anxiety, even when a child is facing challenges. 
3 - All children must play! Mixed-age free play away from adults is the best possible antidote for anxiety. 
4 - Trust in teachers, educators, camp counselors, and other child health workers. Hand your children over to their capable hands, step back, and let them work their magic! 
---
Some suggestions to support mental health in schools: 
- Support starts at the top. 
- Care for the caregivers. 
- Train teachers to recognize and manage "the therapeutic moment."
- Reassure parents. 
---
A HUGE thank you to Dr. Thompson for his presentation, which was warm and light-hearted but full of depth, empathy, kindness, and best of all, reassurance. 
Dr. Thompson's presentation was the first in a series of upcoming PCEF Educator + Student Wellness events. The free Speaker Series is just one of the ways we are working alongside school leadership and the community to instill resources for resilience in our students and educators, who need these tools now more than ever - in the classroom and beyond. 
Wellness is an essential subject, and this is why PCEF created the Educator and Student Wellness Initiative. The initiative, which has significant, consistent funding, is fully dedicated to the support of educators & students – beyond pure academics. Because fostering more wellness leads to more teacher and student success. 
Dr. Thompson, a psychologist specializing in children and families, has written and co-authored 10 books, worked with more than 700 schools across the globe, and been featured in national news outlets like 60 Minutes, NPR, The New York Times, The Washington Post, and many more. Dr. Thompson also wrote, narrated, and hosted a nationally-broadcast PBS documentary entitled "Raising Cain."
If you would like to support PCEF's Educator + Student Wellness Initiative,
we invite you to click here.