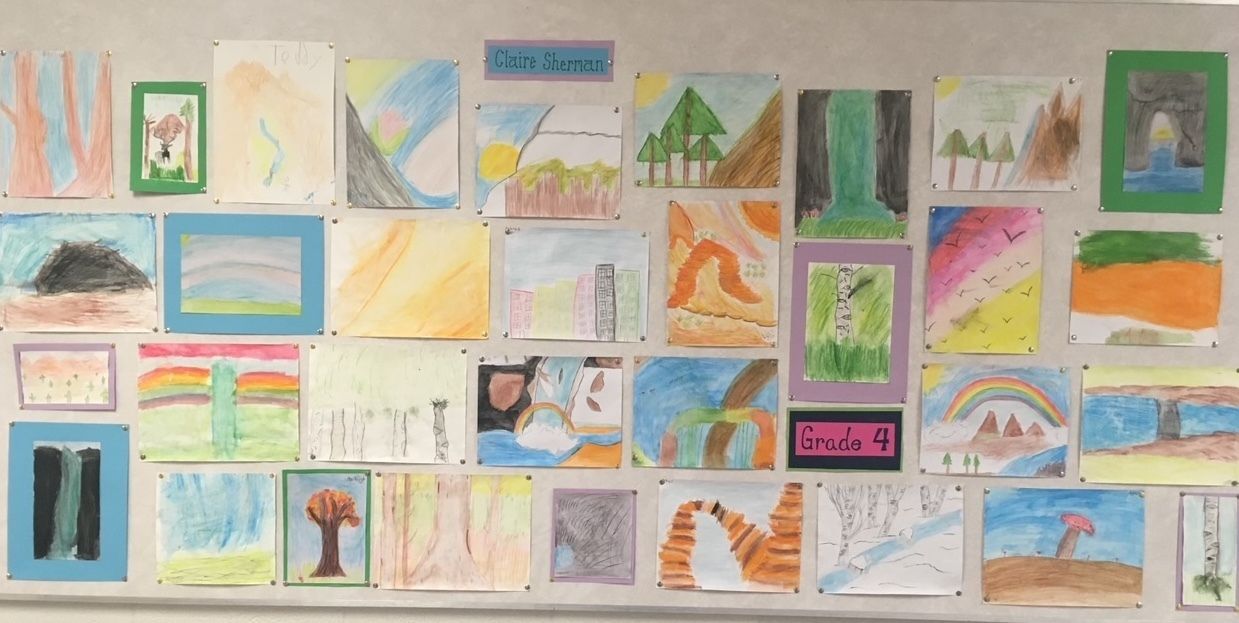 SEPTEMBER
Frank Lloyd Wright - Stained Glass Windows
Materials:
Clear acetate or vellum
Sharpies (black and colors)
Black construction paper
Tissue paper if using contact paper
Geometric shape stencils
Graph paper
Stained

Students will learn about Frank Lloyd Wright (1867 - 1959), a famous American architect known for designing houses, buildings and interior spaces and for stained glass created using color, geometric shapes and patterns. Students will use elements of art to create their own 'light screen' compositions.
Objectives:
Learn about the life and work of Frank Lloyd Wright
Explore the Elements of Art
Use colors and shapes to create a balanced transparent design
Bio:
Frank Lloyd Wright (1867 – 1959) was an architect, interior designer, writer, and educator from the United States, who designed more than 1,000 structures, 532 of which were completed. Wright believed in designing architecture that harmonized people and its environment, an idea he called organic architecture. Fallingwater (1935), is an example of this idea and has been called "the best all-time. In 1991, Wright was recognized by the American Institute of Architects as "the greatest American architect of all time." He also designed many of the interior elements of his buildings, such as the furniture and stained glass. He referred to the windows as "light screens" because they interacted with the view behind them rather than covering or obscuring it, as stained glass windows often did. Wright's designs featured geometric patterns that abstracted natural elements such as plants, waterfalls, and rivers. He used mostly clear or neutral-colored glass with accents of color and iridescence.
1. Introduce students to the work of Frank Lloyd Wright. Take a closer look at the buildings he designed like the Guggenheim and Fallingwater. These structures are unique, talk about them. Point out his interest in geometry and name the shapes he uses.
What do you notice?
Where do you see 'organic architecture'?
How is an architect an artist?
2. Now take a closer look at the stained glass by Frank Lloyd Wright and point out the elements of art you see.
How are these light screens different from other art forms (like a painting for example?)
How is he inspired by nature?

"Nothing is more annoying to me than any tendency of realism of form in window-glass, to get mixed up with the view outside." - Frank Lloyd Wright, 1928
3. On graph paper, have students sketch out their light screen designs with pencil using geometric shapes. Pause to check for a balanced composition and remind students to explore only geometric shapes taking inspiration from nature.
4. Place the clear material - a clear piece of vinyl, adhesive paper, vellum or transparency - over the graph paper. Outline the design in both thick and thin black sharpies to replicate the lead used in the light screens. With colored sharpies, have students fill in their designs with color as they choose. If using clear contact paper, students can cut colored tissue paper to fill in the design.
5. When finished, punch a whole for string or mount a black paper frame to showcase the students' light screens in a window.
EVA +: Using rulers and shape templates imagine a building in harmony with the environment. This could be an art museum or a home.
Grade Differentiation: older students focus on complexity of shapes, inspiration from nature // younger students practice using templates and basic shapes.
---
OCTOBER
Louise Bourgeois - Spider Sculpture
Sculpture wire or pipe cleaners
Tissue paper
Air dry clay
Paper mache paste
Cups
Tin foil
Wire cutters (for teacher)
Objectives:
Explore the life and work of Louise Bourgeois
Learn about symbols in art
Create a 3 dimensional sculpture
Bio:
Louise Bourgeois (1911 - 2010) was a French-American artist. She is best known for her large-scale sculpture and installation art. She was born in Paris, France, and was the middle child of three. Her parents owned a tapestries repair shop. Tapestries are thick pieces of fabric with pictures or designs, which are made by weaving different coloured threads. As a child, Bourgeois would often draw designs for tapestry sections that needed to be repaired.
In school, she first studied mathematics and geometry. In adulthood, her mothers death affected her deeply and she decided to study art. After art school, she opened a gallery, married an American and moved to New York City. When she moved to New York she started making sculpture. She created her first pieces on the roof of her home. Bourgeois exhibited with the Abstract Expressionists and her work has much in common with Surrealism and Feminist art. Bourgeois art was inspired by many sad memories that happened in her childhood – the horrors of the First World War and her mother's illness. She loved spiders, and made hundreds of drawings and sculptures of them throughout her career.
1. Introduce students to the life and work of Louise Bourgeois.
What symbolism do you see in her sculpture?
What do you think the spider represents?
Bourgeois described the spider as an artist - It could create webs. She was inspired by her parents tapestry workshop where her parents wove thread to repair them. Many of these sculptures are called Maman, which is French for mother.
What qualities do spiders have that might make Lousie Bourgeois see them as motherly?
If you were to be symbolized by an animal, what animal would it be?

2. Talk about the materials and the process Louise Bourgeois used to make her sculptures.
How do you think these sculptures are made?
Why do you think she created them on a large scale?
How do you think Louise prepares for making these very large sculptures?
Often artists create a maquette - a model or practice for a larger piece of sculpture to see how it might look and work out any problems with the materials.
What are ways that you prepare for making an artwork? (sketch, brainstorming,...)
3. Some people think spiders are scary. Explore facts about spiders.
4. Notice how Bourgeois spiders are not 100% realistic. Encourage students to make sketches of spiders in their own way. Use these sketches as inspiration for their sculptures.
5. Create spiders with sculpture wire, modeling clay, paper mache paste, tissue paper and paint. Start with the body and then add legs. Sculptures should dry before painting them.
6. Students can collaborate and sketch out a web.
EVA+ : Draw an animal that is a symbol for an idea or someone you know.
Grade Differentiation:Younger students can use modeling clay and pipe cleaners. Older students can work with paper mache and wire.
---
NOVEMBER
John Nieto - Native American Culture | Western Animals
Materials:
Pencils
Bristol paper
Paint pens or paint sticks
Neon colors
Objective:
Learn about John Nieto and Native American cultures
Look at local and symbolic animals and practice how to draw them
Create a painting using bold colors and paint sticks
Bio
John Nieto (1936-2018) was an American artist who painted Native Americans cultures with bold colors. Nieto was born in Denver to Natalia Venegas Nieto, who was of Mescalero Apache and Hispanic descent, and Simon Nieto of Navajo and Hispanic ancestry. Nieto had 14 brothers and sisters and studied fine art at Southern Methodist University in Dallas. During his career, Nieto served on a number of advisory boards, including those of the Wheelwright Museum of the American Indian in Santa Fe, the American Indian College Fund in New York and the Native American Preparatory School in Pecos, N.M. Over a 40-year career, during which the artist produced bronze sculptures, etchings, lithographs, silkscreen prints, and beautiful pen-and-ink, charcoal, and pencil drawings, Nieto became best known for his distinctive, high- chroma paintings focused on people and animals native to North America. Included in his signature style were also homages to other master painters who inspired him, including Rufino Tamayo, Paul Gauguin, Vincent van Gogh, the Fauves, Henri Matisse, Willem de Kooning, and — perhaps most especially — Pablo Picasso.
He said: "I employ a subject matter that is familiar and express it the way I see it". He is considered one of America's most well known and dynamic contemporary artists and his art is exhibited world-wide.
1. Introduce students to the life and work of John Nieto.
What kind of subject matter is John Nieto interested in?
What do you see that reminds you of Cubism?
Cubism was a revolutionary new approach to representing reality invented in around 1907–08 by artists Pablo Picasso and Georges Braque. They brought different views of subjects (usually objects or figures) together in the same picture, resulting in paintings that appear fragmented and abstracted.
What do you see that you want to know more about?
What kinds of colors is John Nieto interested in?
What does he do with the background of his paintings?
2. Utah is home to approximately 60,000 Native Americans, representing more than 50 Tribal Nations, with eight being federally-recognized. These Tribes are Northwestern Band of Shoshone Nation, Confederated Tribes of Goshute, Skull Valley Band of Goshute, Ute Indian Tribe of the Uintah and Ouray Reservation, Ute Mountain Ute Tribe, San Juan Southern Paiute Tribe, Paiute Indian Tribe of Utah and Navajo Nation.
Each has their own contemporary traditions, festivals and lifestyles, as well as a unique heritage that can be found among the state's many dwelling sites, petroglyph and pictograph panels and museum exhibits. Today, these people continue to live on the lands of their ancestors.
3. Look at a map of Utah and talk about the land. Use first person testimony to share about traditions and history from different tribes or Nations.
4. Discuss how when artists make artwork that is personal or from personal experience it can be very meaningful. In Native American traditions, animals are sometimes used to communicate the values and spiritual beliefs of Native communities. Animals' importance is also evident in the creation stories of many tribes. Animal imagery is often used to share family, clan, and personal stories.
5. Learn about local wildlife using local resources. Together, make a list of animals that you might encounter in this area. Then practice drawing animals, breaking down complex forms into basic shapes. Start first with the large shapes and then add details.
Once students have practiced on sketch paper, they can draw out their animal on bristol paper and add color with paint pens, paint sticks and neon colors. Encourage students to fill in the paper to make it pop and to add a background that contrasts with the animal. Remind students that the colors do not need to be realistic.
Grade Differentiation: For mini artists focus on a simple animal for the whole class so that students can practice drawing basic shapes together and build confidence with drawing. Older students can choose their own animals from source reference materials.
EVA +: Explore how with art or drawing people can create and propagate cultural stereotypes. Look at artists who are dealing with that idea.
Develop art appreciation and take a closer look at art objects made by Native American peoples in Utah.
---
DECEMBER
Wayne Thiebaud - Still Life of Sweets
Materials:
Pencils
Brushes
Puffy paints or chalk pastels
Bristol or canvas board (for paint)
Wayne Thiebaud (born 1920) is known for his unique and bright still life paintings of sweets. Students will learn about the genre of still life, color and painting as they create their own image of everyday food.
Objectives:
Learn about the life and influences of Wayne Thiebaud
Explore different painting styles and color palettes
Make art inspired by everyday life
Bio:
Wayne Thiebaud (born 1920) is known for his unique and bright still life paintings of sweets. As a teenager he worked for a brief time as an animator for the Walt Disney studios. During a trip to New York he became influenced by the artists of his time, the abstract expressionists. He used the same thick paint but chose to work realistically with his own subject. He began a series of very small paintings based on images of food displayed in windows. He developed a signature bold way of showing light and shadow, using thick paint, and bright pastel colors. Although his works are often classified as part of the American pop art movement, because he painted everyday foods, Thiebaud also painted portraits, but even these retained his signature broad treatment of light and shadow, thick paint, and bright Kool-Aid colors.

1. Introduce the students to Wayne Thiebaud and his art. Look first at the texture of the paintings (this is hard to see in photographs and it might be helpful to bring in an actual oil painting).
What colors do you notice that Wayne Thiebaud likes to use?
What colors does he use in the shadow?
What do you think it feels like to make these paintings?
Why do you think he likes to paint pictures of food?
2. Bring in treats and put them on display (donuts, cupcakes, etc). First start with a practice sketch of food and explore drawing items in perspective. Talk about how and where to add shadows.
3. Demonstrate how to use materials for the final piece. Show students how to layer pastels or how to use paint.
4. Draw out sweets on a final piece of Bristol or a canvas board and add color.
Grade Differentiation: For the youngest classes use pastels and learn about pressure and layering on bristol paper. Older students can work smaller on canvas boards and experiment with textured paints. Bring out additional paint and brushes if needed to fill in the background.
EVA+: Look at other works by Wayne Thibaud and draw a street using pastels.
---
JANUARY
Roy Lichtenstein - Cartoons and Dots
Materials:
Drawing paper
Pencils
Colored Pencils and black markers,
Ben Day Dot copied templates

Objectives:
Learn about the artist Roy Lichtenstein and his art work,
Understand how his style was inspired by comic strips.
Understand facial proportions and create a comic self portrait.
Bio:
Roy Lichtenstein (1923-1997) was an American painter who is well known for his pop art paintings of everyday objects. Roy Fox Lichtenstein was born in New York City in a family with a German-Jewish background. He grew up on the Upper West Side of Manhattan with his father Milton, a real-estate broker, his mother Beatrice, a homemaker, and his younger sister Renee. As a child, Lichtenstein spent time listening to science fiction radio programs, visiting the American Museum of Natural History, building model airplanes, and drawing. As a teenager he nurtured his artistic interests by taking watercolor classes at Parsons School of Design, and in high school he started a jazz band . In his art He takes inspiration from comics for his subject matter and his paintings often use the Ben-Day dot patterns present in the commercial printing of comic books, newspapers, and other mainstream media. Roy Lichtenstein's work along with that of Andy Warhols, heralded the beginning of the Pop art movement, and, essentially, the end of Abstract Expressionism as the dominant style.
1. Introduce the work and life of Roy Lichtenstein and take a closer look at comic book art from the 1930s.
What do you think inspires Roy Lichtenstein?
Do you think comic books belong on the walls of an art museum?
What colors do you see? And What patterns create the colors in Roy Lichtenstein's art?
Where do you see lines in this artwork?
Do you read comics? Which ones?
2. Using examples of newspapers, share how printing looked in the 1930s. Ben day dots are small colored dots that are closely spaced, widely spaced, or overlapping to create an optical illusion. Magenta dots, for example, are widely spaced to create pink, or a pattern of cyan and yellow dots might be used to produce a medium green. The technique has been widely used in color comic books, especially in the mid 20th century, because it was less expensive to create shading and secondary colors.
Why do you think Liechtenstein used dot patterns in his art?
What do you think about this process?
3. Students will use a patterned copied paper with Ben day dots for their artwork. Talk about how cartoon artists simplify features. On a blank sheet of paper practice self portraits with cartoon features. Encourage students to include a unique and personal facial expression and to add speech bubbles with text in their sketches.
4. Once students have a sketch, transfer it to the Ben Day dot paper with pencil. Trace over the outlines with bold black marker and fill in the ben day dots with color pencils.
Grade Differentiation: Encourage older students to draw themselves as a cartoon and to add unique details and style including speech bubbles. Younger students can focus on a cartoon head and practicing the cartoon style.
EVA+ : Think about the comic book hero. Create a comic book hero based on a person (family member, friend, themselves) or based on overcoming a personal fear or obstacle.
---
FEBRUARY
Wasatch Back Student Art Show Them | MYTH Artist TBD
Materials:
Small Cardboard boxes something like
Glue
Magazines
Cardstock
Scissors
Markers, paint sticks, or colored pencils
Pencils
Objectives:
Learn about myths in art
Write a story
Practice collage
Construct a diorama that tells a story
For conversations:
What are elements of a myth?
Share many examples of various myths: the beginning of the world, heroes, creatures, stories around natural phenomenon. Forces behind good and evil, morality.
What kind of story do you want to tell?
What is the mood?
Who is the main character?
Sketch out the diorama, including background, foreground, characters and objects.
Dioramas have layers of background, they should be made in a box or frame that is several inches deep. The container must have an open-faced front so that viewers can see the scene.
Start with the background, setting the scene using collage, construction paper, paint sticks or markers. Include details on the bottom of the box as well. You can use pictures, paint, or modeling clay to create a realistic ground or floor for the diorama. Work from the back of the box toward the front, and cut out shapes of cardstock for various items.
Create overlap for a more interesting scene. Lay everything out before gluing
Grade Differentiation: Encourage older students to cut out many layers of space for their diagram and show them how to create 'tabs' to glue layers of aper upright. Younger students can spend more time on the background and use modeling clay.
EVA +:Write a story or draw an imaginary creatures Creature from a myth
---
MARCH
Georgia O'Keeffe - Watercolor Flowers
Materials:
"Through Georgia's Eyes", by Rachel Rodriguez.
Magnifying glasses
Watercolor paints and brushes
Watercolor paper
White paper to sketch out ideas
Flowers, shells, leaves, sticks etc. and photos of flowers
Pastels
Objectives:
Learn about Georgia O'Keeffe
Learn about examining an image or object in greater depth and detail by taking a closer look
Learn about O'Keeffe's style of art, particularly her flowers, and abstraction
Create large scale paintings and drawings of flowers
Bio:
Georgia Totto O'Keeffe (1887 – 1986) is best known for her paintings of enlarged flowers, New York skyscrapers, and New Mexico landscapes. Georgia O'Keeffe grew up on a farm near Sun Prairie, Wisconsin. She studied at the Art Institute of Chicago and the Art Students League in New York where she learned to paint realistically. Her style changed when she studied the revolutionary ideas of Arthur Wesley Dow. He taught that instead of copying nature his students should find their own interpretation and focus on creating harmony. So Instead of painting the entire object, like a whole flower, O'Keeffe started looking for the most important part. She experimented with bright colors, making everything large and adding many details. O'Keeffe moved from New York City to New Mexico because she found this landscape inspiring throughout her life; she traveled often to find landscapes to inspire her paintings.
1. Introduce the students to Georgia O'Keeffe and her art by reading the book "Through Georgia's Eyes" Have samples of O'Keeffe's flowers to show to the students. Ask students:
Are these recognizable to you?
Is this abstract art? What is abstract art?
Is Georgia copying nature exactly?
How does looking at something up close change the way it looks?
Why do you think she chose to paint close-ups of flowers and not something else?
2. Pass out images of flowers for students to use as reference, watercolor paper, pencils and erasers. Demonstrate how to draw a flower in proportion filling the entire paper. Start with the center and then draw the petals or leaves. Students can use magnifying glasses to crop or to capture the details.
3. Put the drawing aside, pass out scrap paper, brushes, water, and watercolors to practice and demonstrate using watercolors. Demonstrate wet on wet techniques, how to control colors or let them blend to create a gradient. Focus on filling in the entire paper instead of using lines.
4. As students start to watercolor their drawing of a close-up flower, encourage them to use multiple colors and emphasize different aspects of their flower.
5. Once dry, students can use pastel or crayons to add details and create contrast.
6. When finished, share the artworks and ask students to talk about their process of taking a closer look at something. Ask students if they noticed anything new about flowers or nature.
Grade Differentiation: Older students can choose their own source materials from nature magazines and explore more complex color combinations, younger classes can follow along using the same reference image step by step.
EVA+: The desert was also inspiring to Georgia O'Keeffe. Using reference images from Utah, and watercolor create a landscape painting of the desert to further practice using watercolor and drawing the natural world.
---
APRIL
Alma Thomas - Mark Making
Materials:
Paint
Brushes
Limited palette
Images of the natural world and phenomena
Canvas board or large cardstock
Objectives:
Explore the abstract art of Alma Thomas
Understand how Alma Thomas conveyed mood in her art
Understand how Alma Thomas used the natural world and current events to inspire her
Create their own abstract art in the style of Alma Thomas
1. Explain to students that Alma Thomas was inspired by the natural world, space, and current events. In the late 1960s and early 1970s, the United States was deeply engaged in space exploration. When the first astronauts traveled to the moon, Thomas wanted to capture that event with brushstrokes. Abstract artists are more interested in how things feel than showing how they look exactly. Looking at her art:
What did you notice about the shapes, colors, and lines?
How did Alma Thomas capture in her artwork the places and events by which she was inspired?
Step back and look at the painting from far away. What do you see?
Step forward and take a look at the painting close up. What do you see now?
Imagine you could step inside the painting. What would it feel like?
2. Students will work from their imagination to represent a place or a moment from nature. This can be a historic event or place or a personal one.
3. First practice making marks with the brush, and noticing what shapes you can make with different brushes. Look at warm and cool colors and talk about what mood they show,
4. Before starting on the final piece, remind students to think about how they feel when thinking about their chosen place or object.
Grade Differentiation: Younger grades can work on the same subject or idea. Older grades can write a story to go along with their abstract piece and practice more complex color mixing.
EVA + Collaborate on a large abstract artwork that represents something local to Park City. Explore other artists that used marks and patterns in their artwork.
---
MAY
Local Artists - Plein Air

Materials:
Large cardboard pieces or clipboards for outside use to hold art paper
Sketchpaper and Watercolor Paper
Watercolor Pencils
Watercolor Brushes.
Pencils and erasers.
Water cups.
Students will learn about Plein Air (French for "open air" or "outside") painting and some Utah landscape artists such as Doug Braithwaite, John Hughes, Susan Gallacher, Kate Starling, Roland Lee, Suzette Gertsch and more. Understanding that there are many ways to draw and paint outside, students will review landscape painting basics and head outside to create their own Plein Air landscape in its natural setting with natural light.
Objectives:
Learn about Plein Air painting.
Practice drawing and painting images in their natural settings outside.
Discuss a variety of Utah Plein Air painters and their diverse styles.
Learn how to use and blend paints and/or oil pastels

Create a Plein Air drawing/painting outside using a style they learned about or developing their own method.
Artists have portrayed the landscape in art for hundreds of years. Before the 19th century, landscape painting was used as a backdrop for stories and was often idealized or imagined. Artists sometimes sketched outside but always painted in the studio. At the time, painters made their own paints by grinding and mixing dry pigment powders with linseed oil. This took effort and was a messy process that was hard to do outside.Two inventions made plein air (French for "open air" or "outside") painting possible around 1941 : Winsor & Newton and the collapsible tin paint tube and the 'French box easel' or 'field easel' that was highly portable. Though painting outdoors took considerably more work, artists found that it was worth it so that they could study the true effects of light on the color of the landscape at any given moment.
1. Show students samples of Plein Air paintings both from history and from modern day Utah. Discuss how they captured the setting outside and look at the details of light, value, composition etc. Also take a closer look at painting styles
What makes each artist's style unique? (Look at brush strokes, colors, perspective…)
2. Review the fundamentals of drawing the landscape. Point out the horizon line,the background middle ground and foreground. Choose a place close to school to set up for a plein air painting. Students set up their outdoor workspaces by sitting down, placing the cardboard or clipboard on their knees and laying the paper on top of that.
3. Begin with thumbnail sketches to find the most interesting composition. Draw 2 boxes on the first sheet of paper. Demonstrate using basic shapes to block in a composition.
4. Students can choose one of their compositions and start their painting on the heavier paper. Remind students to look closely at all the details that make up their composition like a tree, shrub, walkway etc.
5. If time and/or weather are limiting factors, photographs can be taken of the location to capture the effects of natural light. The photographs can help students complete the work of art in the classroom if daily outings are not possible.
6. Reminding students not to worry about drawing perfectly. It's their impressions of what they see and they are making their own work of art. Students may choose to lightly sketch in things like a tree trunk with branches so that they can fill in details with paints, pastels, colored pencils etc. later.
7. When paintings are completed have students display their works and discuss the following talking points
What did you focus on?
What was important to you in the landscape
What do you think of your composition ?
Talk about your unique style.
How do you feel about plein air painting?
EVA +: Paint your favorite place from your imagination.