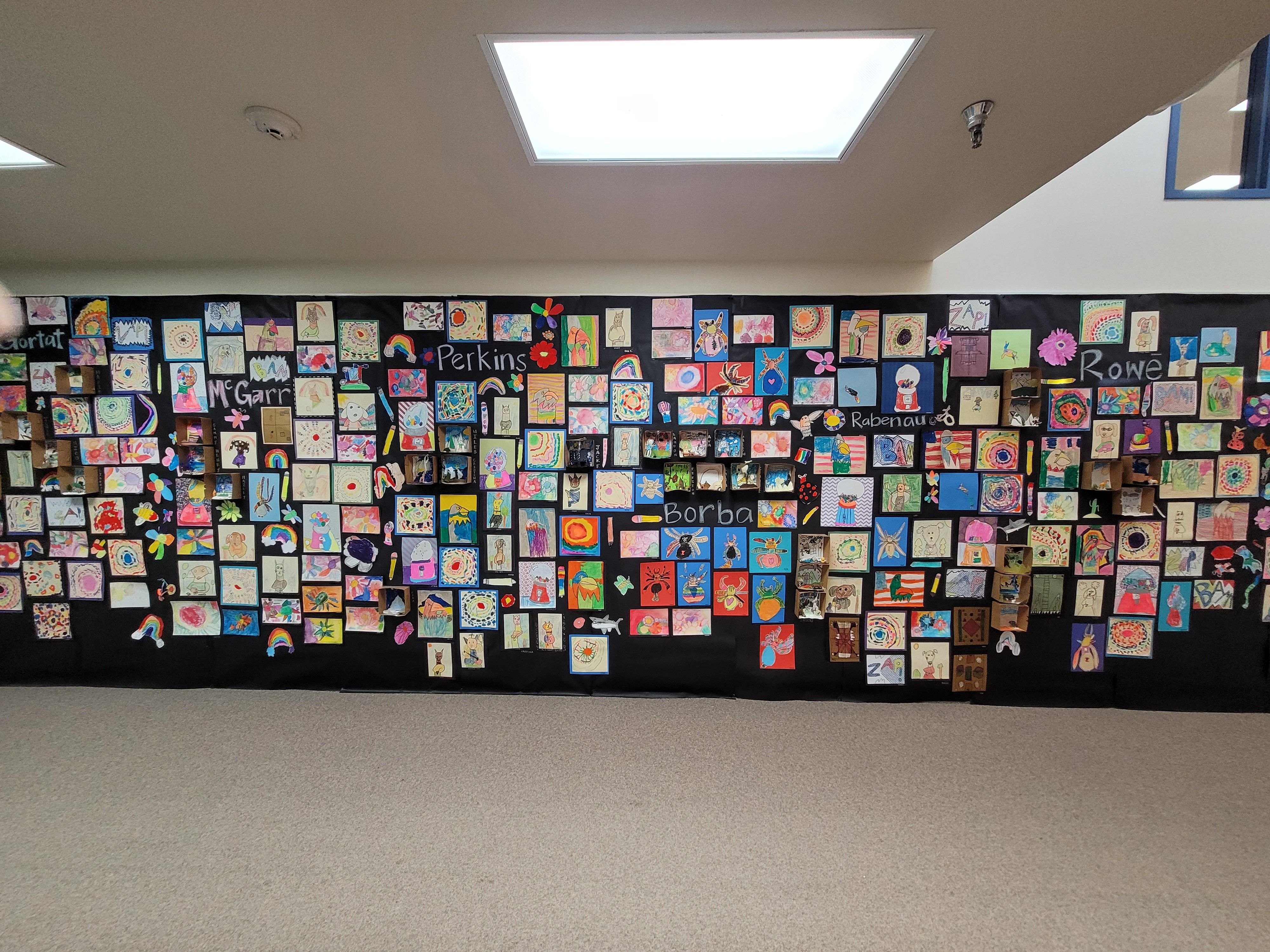 Remember that sense of excitement when you took your parents to school, roamed the halls and toured school corridors and classrooms together? Whether it was Back to School nights, Parent-Teacher Conferences, extracurricular activities, or sporting events…presenting something you made at school was a proud moment. Flash forward to today, and that same sentiment resonates when elementary school students show mom and dad, teachers, and friends with their creations in real-time.
Parley's Park Elementary Visual Arts (EVA) Educator, Melissa Allen said, "Kids LOVE to see their artwork on display in the hallway! I love watching the children stop in the hallway on their way to lunch to admire their pieces."
Showcasing students' artwork in the school hallways reinforces a sense of accomplishment in learning.
"When we have the big end of the school year Arts Festival celebration, kids will stare endlessly at all the art on display from the school year. I get approached by children randomly throughout the year asking, 'I didn't see my art up, when are you putting our class up?' They know and they are proud!" Allen continued.
It seems simple, but allowing students to incorporate art into their school days along with the freedom to create is an essential balance to academic expectations in the classroom. Art is the bright side, or balance, to quantifiable and measured learning. Art plays a unique role in student success. It encourages imagination, creative thinking, and confidence – each important to nurture at an early age, and to continue to cultivate, and develop a new generation of critical thinkers and innovators.
"I feel so lucky, I get to see each and every kid in the school as they move through the EVA program at Parley's," Allen said. "Art brings joy to all students and provides a gateway to explore different cultures."

Art funding was eliminated from Utah's elementary school curriculum in the 1980s, but in 2012 PCEF, parents, the school district and the Kimball Art Center came together to create EVA. As one of PCEF's 8 Signature Initiatives, it's offered to all elementary schools; McPolin, Parley's Park, and Trailside participate.
The EVA arts program is provided by the Park City Education Foundation in partnership with the Kimball Art Center.