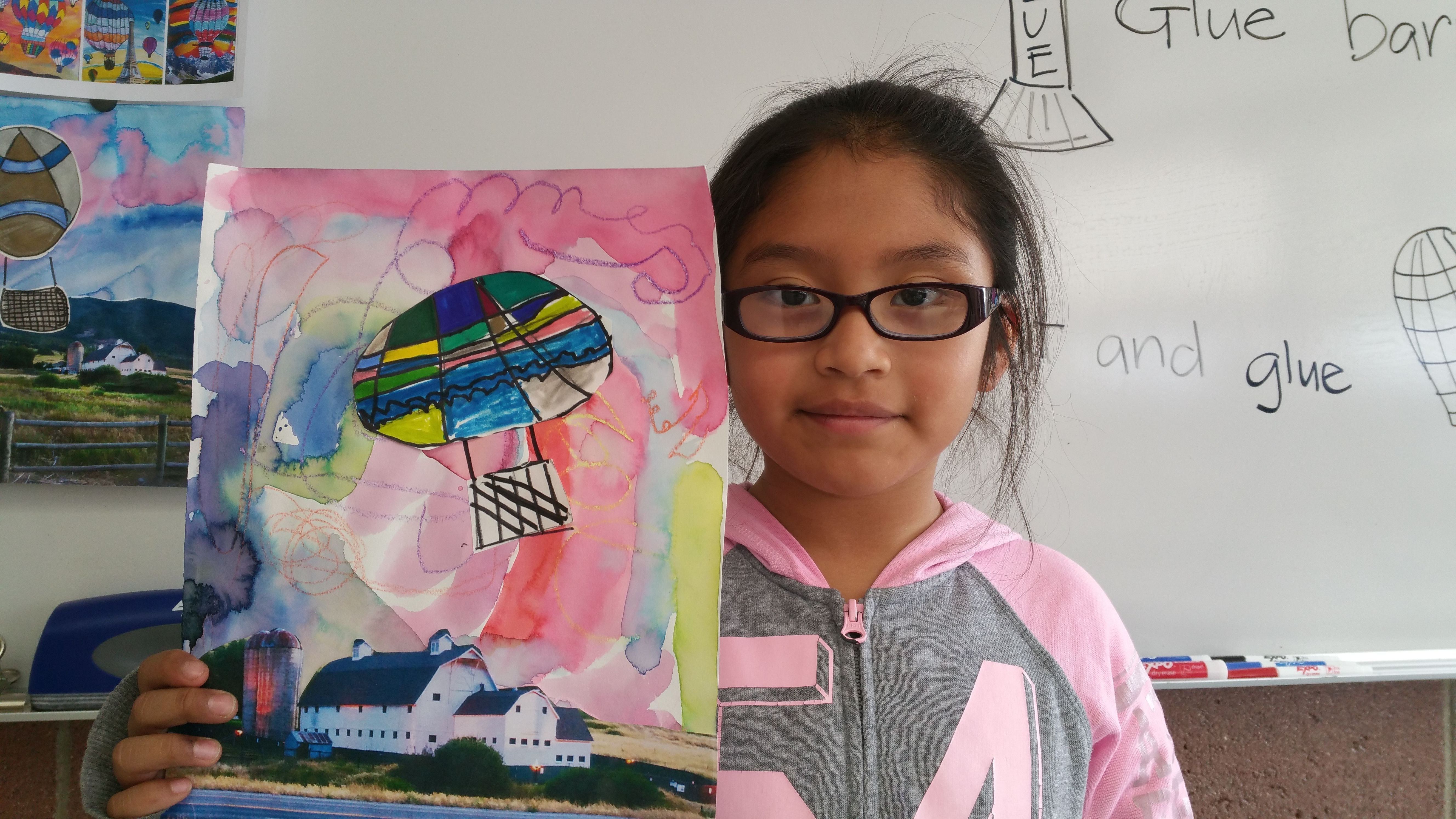 Nurturing growth and expression through art helps students to better connect to the world around us. Each month of the school year, EVA will highlight a featured artist, teaching the artist's work, exploring an array of techniques, mediums and materials, and guiding students through a hands-on artistic process to create their own inspired artwork. In February, students will have the unique opportunity to participate in creating artwork for the Wasatch Back Student Art Show. Participating EVA elementary schools include: McPolin, Parley's Park, and Trailside.
2023-2024 EVA CURRICULUM
September
Alex Calder, founder of the mobile, creates 3-dimensional, kinetic and expressionist sculptures. Students will create their own colorful sculptures that use the elements of art, balance and composition.
October
Faith Ringgold (born 1930) is an American Multi-media artist, Social Activist, Author and Art Professor who became famous for her innovative "story quilts." Each of these artworks, which are pieced together of painted canvas and fabric, tells a story. Students will learn about Ringgold's work and create a quilt that tells a story about their community.
November
Marie Watt (born 1967) is an American artist, a member of the Seneca Nation of Indians. Her work draws from history, biography, and Indigenous teachings to explore storytelling and community. Students will use thread, fabric and beads to create a collaborative image or quilt.
December
Lee Ming Wei (born 1964) is a Taiwanese-American contemporary artist currently living and working in Paris, France and New York, USA. Lee Mingwei creates participatory installations, where visitors can explore ideas by participating in an activity or installation with the artist or each other. Learn about his work currently on display at Kimball Art Center and create artwork inspired by his art practice.
January
Romero Britto (born 1963) born in Brazil, is known for his neo-pop artwork. A self taught artist, Britto combines elements of cubism, pop art and graffiti painting in his work, using vibrant colors and bold patterns to show hope and happiness.
February
Students will participate in creating artwork for the Wasatch Back Student Art Show.
March
Jeff Koons (born 1955) is an American artist known for his sculptures that copy popular culture objects. Students will learn about Jeff Koons and his artwork. Using clay, students will make their own Koons like balloon animals while exploring working in three dimensions.
April
Jean-Michel Basquiat (1960-88) is an American artist known for his use of graffiti and words in his art. He had a great influence on the art world of the late 20th century. Students will learn about his life and experiment with new art processes to create layers and use lines to create a self portrait.
May
Gustav Klimt (1862–1918) was an Austrian symbolist painter whose decorative paintings stood out from the traditional art of his time. Students will learn about the elements of art and how they are used in Klimt's artwork. Students will use these elements to create their own "Tree of Life", one of Klimt's most famous works, in his decorative and symbolic style.
Interested in getting involved in the EVA program at your child's Elementary School? Potential volunteers will need to complete the PSCD Volunteer Process, and email the EVA Educator at their respective school: McPolin Elementary School: Lucia Ferrazzoli, Parley's Park Elementary School: Melissa Allen, and Trailside Elementary School: Giuliana Mendiola.
The EVA arts program is provided by the Park City Education Foundation in partnership with the Kimball Art Center.