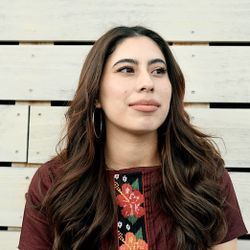 Another cohort of PCEF's Bright Futures students is preparing to graduate from Park City High School in May of 2022, which means: there will be 4 full BF college cohorts by Fall of 2022! 
This milestone is momentous for many reasons – not least of which is that:
PCHS Bright Futures students have a 98% matriculation rate straight from high school. This number is especially stunning when compared to the national average - 52% - for first-generation low-income students. 
During Park City High School years, BF works hand-in-hand with award-winning partners Latinos in Action (LIA) and Dream Big. This three-pronged approach securely plugs students into:
College/career readiness through education, community service, and leadership skill development (LIA).
Advanced Placement (AP) class success - and the foundation to excel in post-secondary education (Dream Big).
Student and family college knowledge, 1-1 college coaching, four-year budgets, planning for the "hidden costs" of college, and personal and professional mentorship from a network of staff, volunteers, board, and community members (Bright Futures). 
After high school, Bright Futures shifts into high gear. This is when the work begins to get students to → and through ← college. 
The continuity of support in college has surfaced as a singularly critical piece for BF student success, and it brings forward another striking number:
PCHS Bright Futures students have a 91% college student retention rate (versus the 11%: national average for first-generation low-income students). 
As more cohorts graduate, with increasing numbers of students in each group, Joana Acevedo, the new College Program Manager for PCEF's Bright Futures Park City, will be an instrumental force to ensure BF students' continuing success. 
"As a first generation graduate myself," Acevedo shared, "I am excited to join the BF team because I want to empower more first generation students to achieve their higher education goals." 

To ensure BF students thrive, the staff continuously reaches out to check in and provide support to each and every student as they navigate a journey no one in their families has ever taken. Acevedo's unique blend of experience and expertise will propel the Bright Futures initiative to an even higher level of success.
"My goal is to increase the number of first-generation college graduates, to create a ripple effect as they become role models for other first-generation students and peers," Acevedo said. "I also hope that as these students go into their professions, they'll create spaces where more first generation students can join them."
Acevedo will be dedicated to checking in on students, making sure they're familiar with resources available to them at college, being available when things go awry, and connecting students to help networks when they come up against unexpected obstacles - whatever it takes to make sure students are not derailed from college graduation.

"I can't think of a better person for the College Program Manager," said Jennifer O'Brien, BF Program Director. "Joana has walked the path of these students and is familiar with the challenges they face."
Acevedo, a first-generation college student who graduated from David Eccles School of Business at the University of Utah in 2020, has previously worked as a Youth Development Program Specialist at the Natural History Museum of Utah, as a College Access Advisor at the Utah College Advising Corps, and helped first-generation college students at Granger High School navigate college admissions and financial aid. Acevedo is proud of her Mexican roots and passionate about supporting students as they achieve educational goals.
---
Bright Futures' very first cohort is preparing to graduate college in Spring 2023 - the culmination of 7 years of wraparound support. 
Each successive cohort is larger than the last; we invite you to consider a gift to support first-generation students' college dreams!
---
BRIGHT FUTURES PARK CITY PROGRAM DATA*
2021 | 2022 is Bright Futures' 6th year in operation
108 students in the program
First BF cohort on track to graduate college in Spring 2023
48 college students (Fall 2021)
12 third-year college students (PCHS Class of 2019)
16 second-year college students (PCHS Class of 2020) 
20 first-year college students (PCHS Class of 2021)
98% matriculation rate straight from high school (52%: nat'l average for low-income students)
91% college student retention rate (11%: nat'l average for low-income students)
On average, 30% of our students participate in internships each year
On average, 90% of our college-aged students participate in career mentor programming

*September 2021