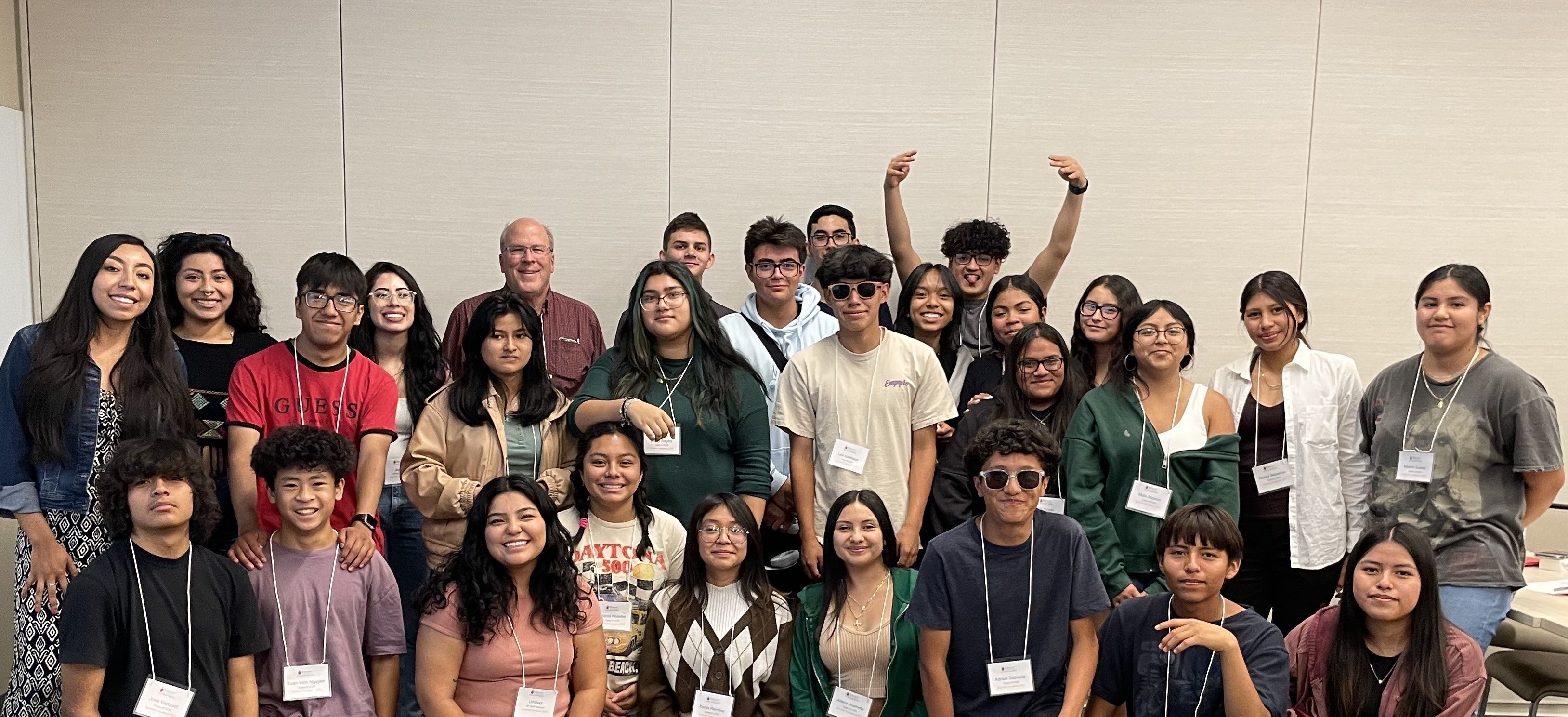 "The effort we put into coming to the United States was worth it…
because we got the chance to see our daughter receive her diploma."
- Rosy Padilla and Isidro Carreto
Bright Futures Park City Parents
---

Rosy Padilla and Isidro Carreto are proud of their daughter.
To be fair, anyone would be: Bright Futures alum Lindsay Carreto has accomplished many lofty goals in quick succession - emphasis on quick.

Lindsay (PCHS 2020) spent just three years at Utah State University (while also working and helping with things at home), before she became the first in her family to graduate college. Mere weeks later, she landed the job of High School Program Coordinator with the Bright Futures Park City team!
For Padilla and Carreto, pride doesn't even begin to describe how they feel.
"It means that the effort we put into coming to the United States was worth it," they said, "because we got the chance to see our daughter receive her diploma."
Lindsay's path to success, which started with hard work as a PCHS student in Dream Big and Bright Futures, has circled back to Park City, where she now works for the PCEF Bright Futures program, in collaboration with Dream Big..
Her story is the embodiment of why Bright Futures exists:
To provide a cycle of opportunity and support to positively impact first-generation students - and the Park City community - for generations to come.
Bright Futures provides a college-readiness curriculum, individualized coaching, peer support, and financial assistance all the way through college graduation (a minimum of seven years). And it starts in 10th grade, with BF's Summer Academy, a 3-day kickoff event. And, nearly all Bright Futures incoming sophomores also take the 4-week Dream Big summer course.

This year's Summer Academy (SA) included something brand-new: a panel featuring Bright Futures parents. Padilla and Carreto were on the panel and discussed how they supported their daughter and what the program has meant for their family.
"[Bright Futures is] a great opportunity for first-generation students," Padilla said. "We are sure that this program works because our own daughter graduated from university and the Bright Futures program."
"It's a great program that helps motivate parents just as much as their students," Carreto added.
Along with introducing students and parents to Bright Futures, Summer Academy has a number of goals. Among them: to deepen what PCEF calls "college knowledge" – and to rally the cohort to support each other through the hard work ahead.
The thought of everything it takes to get to college can be overwhelming, and the risk of students giving up just as preparation years begin - right around 10th grade - is very high, which is why BF starts with rising sophomores.
This year, there are 29 students in the new cohort - the PCHS Bright Futures Class of 2026.
"Our incoming 10th graders are amazing; they are motivated, energetic, and supportive of each other," said Joana Acevedo, Bright Futures College Program Manager. "I can't wait to walk alongside them through their high school and college years!"
Nationally, just 11% of first-gen students battling structural economic barriers graduate college. But when students work through programs like Bright Futures, there is an astounding 80% graduation rate.
As the new students begin the journey toward their own college graduations (like 8 BF students did in Spring 2023!), their families will witness first-hand how hard work with Bright Futures pays off.

"We hope that this program never stops and we are very thankful to the whole Bright Futures team," Padilla and Carreto said. "And we hope they continue helping the next generations."
---
Those in a position to make donations to PCEF are welcome; if you wish to direct funds to Bright Futures assistance, please visit THIS LINK and scroll down.
---
The Dream Big and Bright Futures programs provide a full spectrum of support for PCHS students who are the first in their families to go to college. Together they ensure Park City's motivated first-generation students have what they need to get TO college.
Dream Big provides access to a rigorous academic curriculum, preparing first-generation students for success in AP and concurrent enrollment classes. A network of PCHS teachers ensures students receive expert subject prep and year-long support.
Students and their families work with Dream Big and Bright Futures staff on everything from preparing for college, choosing the right school, creating and following college budgets, finding scholarships, completing financial aid forms, touring campuses, and gathering dorm room essentials.
Once students are in college the PCEF Bright Futures team continues comprehensive coaching, mentoring, and providing resources until they get THROUGH college. Coaching may focus on how to ask for help, how to find and access resources, how to set up for career success through internships, emergency assistance, and more,
"Dream Big gets us to college, Bright Futures gets us through college. They're each a community that comes together to form an even bigger community." - Jose Hernandez-Bello PCHS Class of 2023