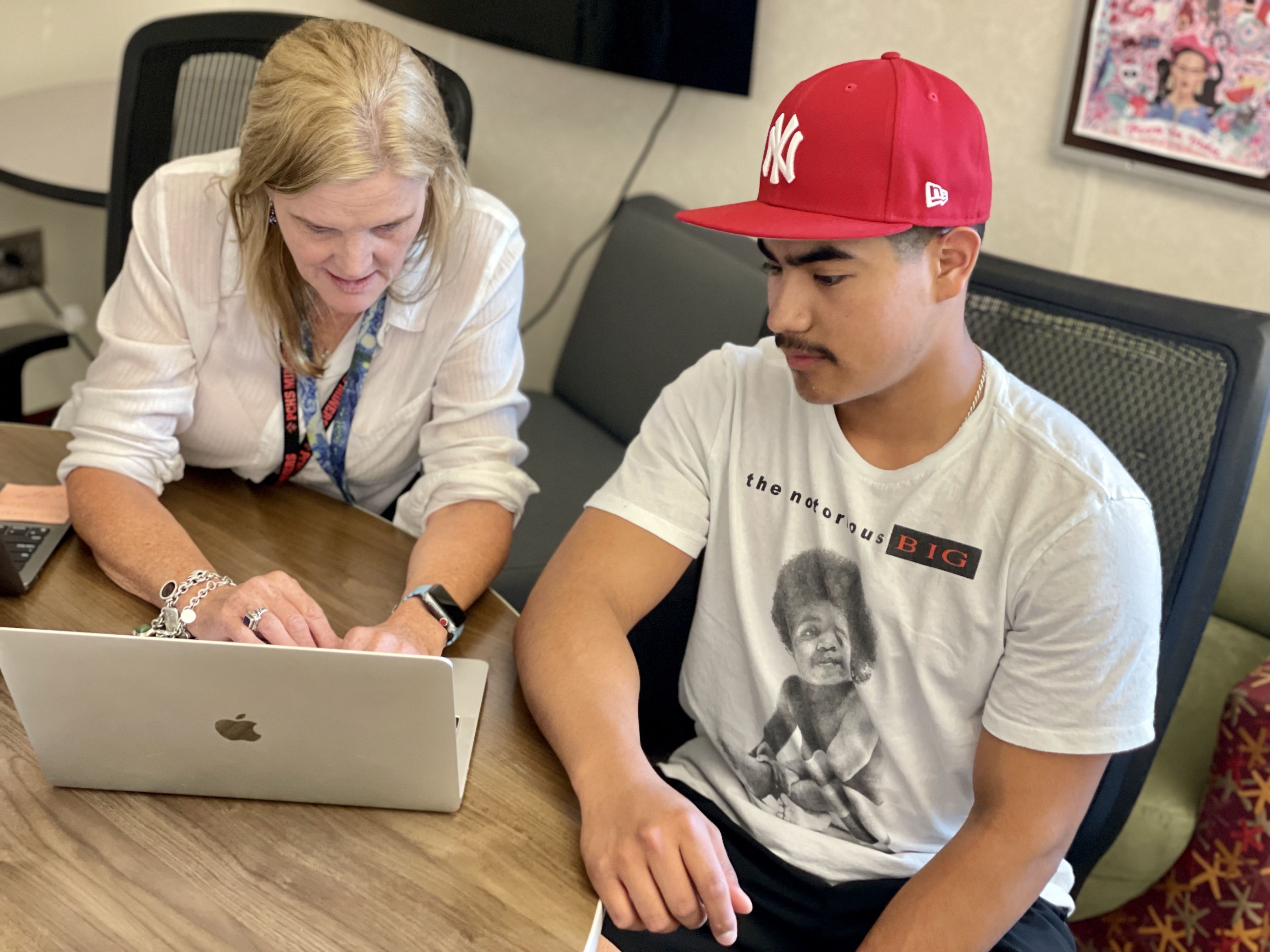 "You have the power to define your future."
Dream Big students see this sentence on the whiteboard as they walk into a classroom on a bright, beautiful summer day.
70 rising 10th-, 11th-, and 12th-graders at Park City High School toil in classrooms to make sure daylight shines on their dream to become the first in their families to get to and through college.
They dedicate four weeks of summer, hours each day, in the rooms and halls of Park City High School. They work in summer courses - and throughout the school year - to prepare for a rigorous academic curriculum in AP and concurrent enrollment classes.
And it can only happen with a network of PCHS teachers, who ensure students receive expert subject prep and year-long support.
Nearly every Bright Futures student also participates in Dream Big. And Dream Big gives them the academic background to succeed in these classes - and beyond.
---
A DREAM BECOMES REALITY

PCSD teacher Melanie Moffat came up with the award-winning Dream Big program on the soccer field.
"It hit me - I realized how much I was preparing my son [for ACT testing] and saw that the gap between his prep and what his first-generation teammates got was huge. I had to do something."
Moffat was uniquely positioned to do something. She has a master's in Special Education, taught in PCSD for years, and founded Educational Advantage - which she ran for decades.
Dream Big launched in 2016 with a grant from Utah State University, one year after the start of Bright Futures. In the years since, Moffat has harnessed decades of expertise, a web of dedicated teachers, a couple of partners, and a bit of trial and error to create the undeniable results the program sees now.

---
IN THE BEGINNING…

Moffat observed that the average ACT score for aspiring first generation students in a cohort class was 14.5. Moffat knew it would take more than ACT prep to prepare first generation students for college. "You can do as much ACT prep as you want - but students MUST have the exposure to so much more rigorous material."
She approached Utah State University Education Department with a pilot program to prepare first generation students for college.
Her idea was to create a program that uses strategies to teach structural foundation, academic language, background knowledge, and context, through a specialized intensive summer program. The same group of students would continue to be supported in a class throughout the school year. The program proved successful the first year and grew to include 10-12th graders.
"When you read, for example, an AP History text - it's academic language overload," Moffat explained. "Conversations in AP classes use that academic language."
She continued, "if your family speaks one language at home, and schoolwork is in a totally different language - where would you get the exposure to the academic language? That exposure is key. It sets you up for success in these classes."
Perhaps the most important thing students learn in Dream Big: they can do it.
"Students get to know their AP teachers really well in the small group summer classes - and the teachers get to know the students," said Moffat. "Students get comfortable with the subject matter, and the classwork goes over the academic language and a preview of some of the school year content."
When students gain this context, they feel confidence and a strong sense that they do belong in these classes. The support continues throughout the school year…
"Over the summer, teachers really see that students know their skills. They build relationships with them. Kids used to come to myself and (LIA teacher) Anna Williams with all their questions - but now, students go straight to their AP teachers, because they feel more comfortable asking questions or for help!"
---
THE TEACHERS
"No one could do anything without these teachers," Moffat said. "8 teachers invest weeks of the summer to teach these classes, to make sure Dream Big students are prepared." PCHS teachers Gaylynn Mooney, Kelly Yeates, Anna Williams, Meagan Shaw, Lars Nordfelt and Ed Mulick have all been a part of this process since the beginning of Dream Big.
Dream Big Classes Summer 2023:
Math 1050/1060
English 1010
Anatomy
AP U.S. History
AP Environmental Science
AP Language
AP Chemistry
AP Physics
AP Biology
Government*
Health*
Financial Literacy*
Sociology*
Yoga*
*For credit
---
THE PARTNERS
"Dream Big gets us to college, Bright Futures gets us through college. They're each a community that comes together to form an even bigger community." - Jose Hernandez-Bello.
Prep for high school courses, touring campuses, choosing the right college or trade school, creating and following college budgets, finding and applying for scholarships, completing financial aid forms, gathering dorm room essentials, and more - Dream Big and PCEF's Bright Futures work closely together to provide a spectrum of resources and support for first-gen students battling structural economic challenges.
Many Dream Big students are also enrolled in Latinos in Action. LIA classes are offered from 6th - 12th grade, teach leadership & community service skills, and focus on the strength of students' bilingual capabilities and multicultural experiences.
For most, Bright Futures rounds out the experience with college-readiness curriculum, individualized coaching, peer support, and financial education and assistance from 10th grade all the way through college graduation - a minimum of seven years.
---
THE STUDENTS

A sunny day at the end of June finds a group of rising juniors in Kelly Yeates' classroom. They raise their hands to weigh in with their close-read observations of an English essay.
Irony and juxtaposition within the text are discussed: negative connotations are highlighted in one color, positive connotations in another, and what it all means when it's all put together is something the students feel confident enough to debate, out loud, with each other.

18 students participated in Dream Big's 2016 pilot. The following year, it expanded to 50 students. This year, the 2023/2024 school year, more than 80 students have committed to the Dream Big program.

There's no debate about what that means when it's all put together… program numbers show a resounding success.
---
THE RESULTS
"The hardest part about starting Dream Big," said Moffat, "was hoping we were doing things right."
The results speak for themselves:
Dream Big's Class of '23 collectively saved more than $300,000 in college credits with concurrent enrollment courses at PCHS.
The same group earned more than $500,000 in college scholarships.
85% of Dream Big students are continuing through college and receive support through Bright Futures.
A number of other school districts are observing Dream Big for possible implementation.
The state of Utah lists Dream Big as

a model program on its website

.
At least one school district will pilot its Dream Big program in Fall of 2023.
The Class of 2024 cohort scored an average of 20.4 on their first ACT - up six points from when Mel started the program.
The result Mel Moffat is most proud of?
The enormous impact Dream Big has on its students and families.
"Just to see the kids succeed," Moffat said, "that's when I get emotional. And it's all THEM. We provide some opportunities, context, resources. But it's their work that gets them to this point."
And when Dream Big students prove to themselves they have what it takes to reach this point - they know they can go even further. They know they have the power to define their future - and make their dreams come to life.