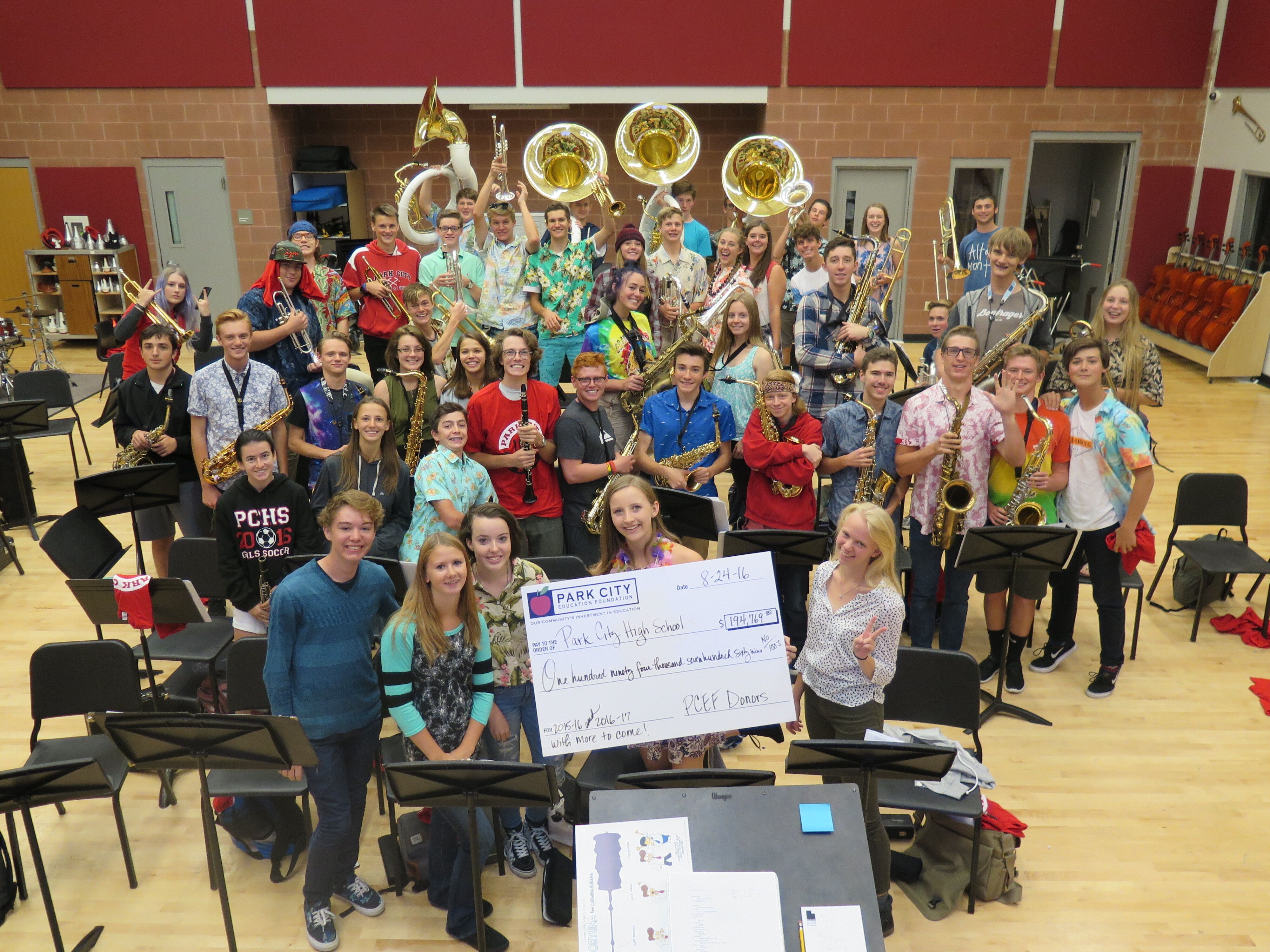 Give $180 to ☎ Beat the Call ☎
At a Glance:
Support PCEF with $180 dollars per child ($1/school day).
Scholar Circle: support PCEF with a $1,000+ donation ($5.55/school day).
PCEF directly funds PC classrooms via 8 Signature Initiatives. 
---
School hasn't started - but Park City Education Foundation has already committed more than $1,500,000 in funding for Park City schools! 
This school year alone, our students will benefit from: 
$460,000 into classrooms via Classroom Grants (the highest amount ever) 
$1,000,000+ into remaining Signature Initiatives:

Preschool
Elementary Visual Arts (EVA)
Afterschool
Educator + Student Wellness
Real World Learning
Bright Futures
Innovation Lab
Through the Signature Initiatives, PCEF funds nearly 100 programs – which impact every single PCSD student in every single PCSD school! 
---
PCEF works to fill huge gaps in federal & state funding - to make sure our students have the opportunities and skills to become tomorrow's innovators, contributors, and leaders. 
---
$1 DOLLAR = A LIFETIME OF IMPACT 
PCEF used to say that a gift of $180 per child, per school year, came out to "less than a cup of coffee a day." But now that a single dollar won't even come close to buying a coffee, the message doesn't really work…
So - when you consider the prestigious, accessible, and long-term (with impact on students ages 3 - 23!) opportunities our children get in our free, public Park City schools, it becomes clear that an investment of one single dollar per school day could be the best deal on earth*!
---
SCHOLAR CIRCLE → A "LATTE" OPPORTUNITIES
It may seem wild, but even the $1,000 dollar investment you make to join the PCEF Scholar Circle is an incredible value: 
$1,000 annually 

$85 per month 

$5.55 per day 

Or, approximately the cost of a large latte. 
Instead of buying a lot of lattes, consider investing in Scholar Circle to make a "LATTE" impact on Park City students. Joining Scholar Circle ☎ Beats the Call!
---
BEAT THE CALL 
When you  Give $180 or join the Scholar Circle, you "beat the call" - which means you won't get a phone call from the kind PCHS students who volunteer their time to ask you to contribute. 
AND!
When you donate, you help your child's school win thousands in HUGE cash grants from the UPS Stores Park City (Check out the cash amounts - along with last year's winners! - here)...

☎ Beat the Call for Pre-K → 9th Grade:
ANY gift of one dollar or more until September 16th counts!
You can help your child win a class party! 
For all schools EXCEPT PCHS, you BEAT THE CALL by giving BEFORE September 16th. 
NEW FOR '22 →
☎ BEAT THE CALL ☎ PCHS IS SEPTEMBER 12 - 23RD!

We are doing something BRAND NEW this year for PCHS → →
Its Beat the Call dates are Sept. 12 - 23rd – to fall after Homecoming – with some priceless prizes to win!
Anyone who donates July 1st through September 23rd will be in an opportunity drawing for a VIP PARKING SPOT for the entire year for their student!
Parents of seniors who donate before September 23rd will be entered to win 6 VIP seats at graduation! 
 
Prizes and pizza parties are awesome - but even better: the knowledge that your gift supports Park City teachers and students. It also funds classroom-centered, research-based programs that prepare every Park City student for a lifetime of success. ♥
Related Links:
---
*In our humble opinion.