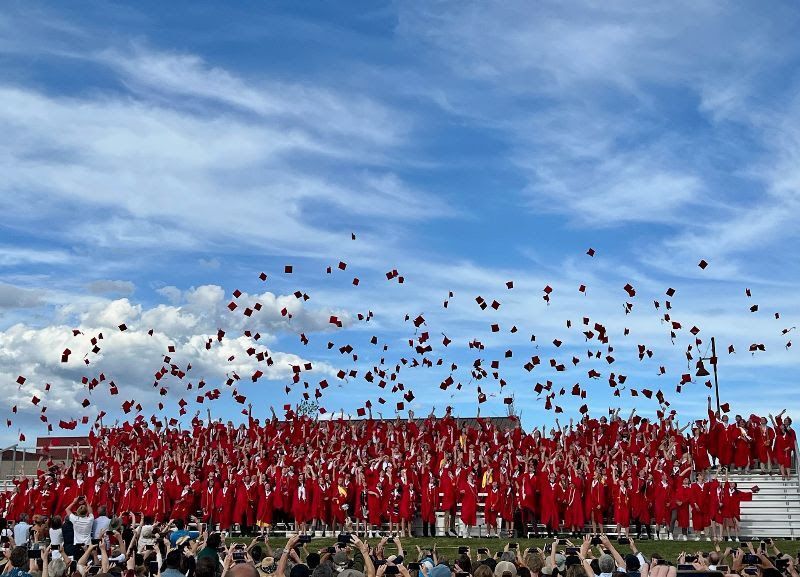 The caps flew high over Dozier field Friday, June 3rd, as the class of 2022 celebrated graduation. It was a beautiful night with a full stadium and a field of family and friends surrounding the graduates.   
A special congratulations go to all of the Seniors in Special Education. This year the graduation rate was 100% with all students set up for continued success. 
Many of the seniors will be attending college in state at the University of Utah, Utah State, Weber State, Salt Lake Community College, and the newly renamed Utah Tech University. 
A few are traveling across state lines to attend schools for their specific majors, like Montana State for environmental science and Humboldt State for marine biology. Others are heading off on their desired career path. A few students will continue their education and spend a few more years preparing for their transition outcomes and follow in the footsteps of this year's post-high program graduates. 

Whatever the next adventure brings, we wish all the Seniors bright and successful endeavors in the future!
---
PCEF and Special Education by the numbers:
5 Classroom Grants awarded for 2022/23 School Year 
9 Classroom Grants awarded for 2020/21 & 2021/22 School Year
6 Express Grants awarded in 2020-2021 School Year
13 Emergency Express Grants awarded in Spring 2020 
---
PCEF is a longtime supporter of Park City's Special Education program, which is a standout among districts.

If you'd like to support this incredible program, please click here to donate!