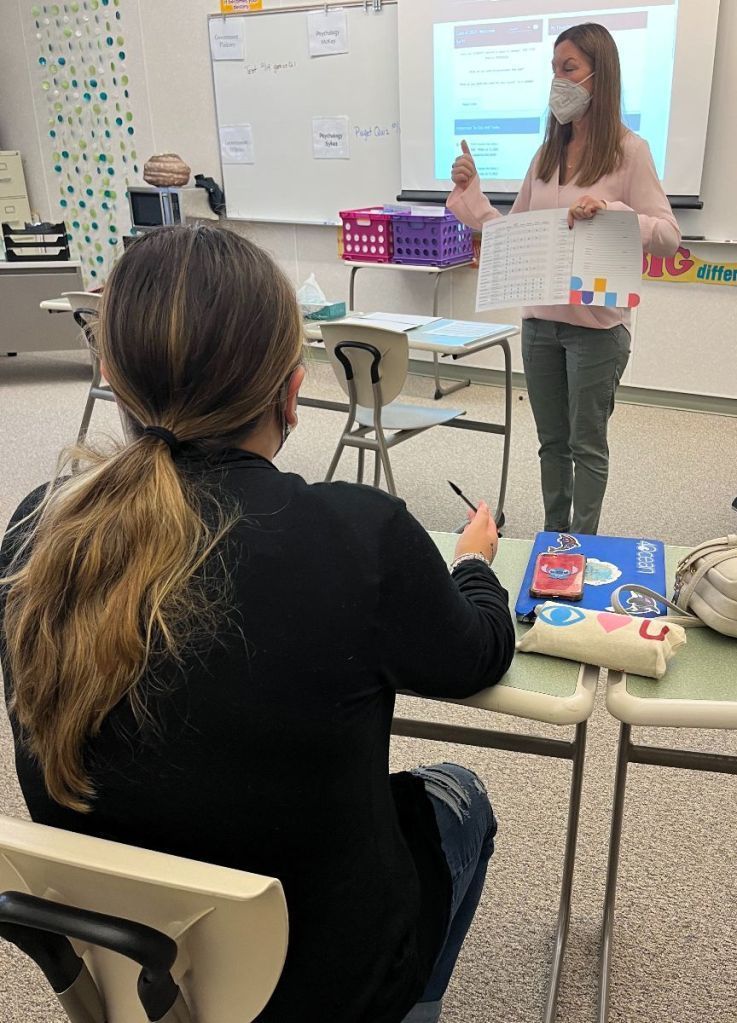 "The show always must go on - and teachers keep on teaching, no matter what."
-Kara Brechwald, PCSD Special Education Teacher Leader

The news that Park City School District's Special Education students improved or held steady with outcome measures throughout the pandemic is only shocking if you've never seen this team in action. 
"Special Education (SpEd) educators are really quick to adapt to new settings, said Ms.Brechwald, "and the transition to at-home learning and teaching was seamless." 
In fulfilling its mission to inspire all students to reach their academic and lifelong potential, PCEF has been a longtime supporter of SpED.  PCEF regularly provides seed funding so the department can try different, innovative programs and options; and also helps fund classic programming like the Essential Elements. This teaches dozens of students specialized curriculum, social skills, and community learning and participation. When COVID hit, PCEF pivoted as quickly as SpEd!
"I need to do a huge shoutout to PCEF," said Ms. Brechwald, "every single [Emergency Express Grant] request was granted. And that meant more to us than just getting the resources. Always knowing that there was someone out there supporting us and saying, 'Hey, we've got what you need and we've got your back' meant that we could continue with what we needed."
Ms. Brechwald credits three things for the success of SpEd students in the midst of the pandemic: the already incredible collaboration across the SpEd team, co-teaching, and support classes. 
 
COLLABORATION
The SpEd team stretches across all school buildings and is made up of approximately 35 teachers, specialists, and district support staff. When buildings shut down, the team immediately reached out to each other to collaborate, share best practices, and support each other.   

CO-TEACHING
Co-teaching is a methodology that has long been in place at Ecker, Treasure, and PCHS. The partnership between SpEd and General Education (GenEd) blends students in one classroom and includes centers, small groups, formative assessment specialization, and intentional progress with the curriculum. Special Education students join the GenEd classes, taught by experts of the content, and the SpEd educators specialize in instruction differentiation. 
"This model, as you might imagine, is great for ALL the kids in that classroom! GenEd kids HUGELY benefit from the differentiation techniques," said Ms. Brechwald. "Teachers work together to make sure their instruction meets the diverse learning needs of the group. Over the last few years, it has become very collaborative and the teams really understand and anticipate the needs of the students well."

SUPPORT CLASSES
Support classes supplement each co-teaching class for SpEd students. Teachers re-teach - and in many cases, pre-teach, the content. This is revolutionary for SpEd students because not only does it drill down on the content they need to learn, it also teaches students how to approach teachers to connect over the pieces they need more support with. 
"This is HUGE for students," Ms. Brechwald raved. "It's been in place but keeps getting better, partially thanks to a great two-year state training program for this model. Really, the kids just rave about it." 
---
PCEF and Special Education by the numbers:
13 Emergency Express Grants awarded in the Spring of 2020

6 Express Grants awarded in the 2020-2021 School Year

9 Classroom Grants awarded for 2020/21 and 2021/22 school year 
---
GOING THE DISTANCE WITH DISTANCE LEARNING 
With the collaboration, co-teaching, and support pieces already in place, it makes sense that Special Education outcome measures for every single school in PCSD remained strong because their teaching methodology remained consistent. 
The model quickly adapted: Two teachers ran virtual co-teaching classes, and would split students into breakout rooms for differentiated instruction. SpEd support classes were also held online for pre-teaching and re-teaching. 
When learning abruptly went remote, PCHS junior Bentlee Harhi said things got MUCH easier after students found ways to acclimate to the new routine. 
"It was way tougher at first than it got at the end," said Harhi  "My content link teacher helped me a lot during that time. Their whole goal was to help us move through trying to get our homework done and understand the curriculum. I liked that you could go at your own pace."
Harhi, who wants to be a pilot and an investment property entrepreneur, said one of the best things about the time he spent in remote learning was being able to make his own schedule, which helped with time management when he went back to in-person learning.
Educators also brought a lot of that access back into the physical classroom.
"We gained the power to be even MORE flexible and offer more support when we returned to in-person learning," said Ms. Brechwald.
Now - teachers are able to check in with their students over Zoom - sometimes even *during* GenEd classes. And, if students are having a tough time making it to a class, they can still participate remotely. 
"Maybe they need to have their own space, but want to attend class and access content - they still can!" Ms. Brechwald said. "It's also REALLY helped our ability to work with families. We need to have a lot of meetings with families, and those happen during busy school hours. It is super helpful to have that capability to meet remotely during the day."
 
THE IMPACT 
"It's fair to say that Park City School District stood out among districts," Ms. Brechwald smiled. "Everyone improved in at least one area -- and EVERYONE remained relatively level!" 

Especially huge Special Education success at TMJH and PCHS, where ALL students with disabilities improved greatly in Language Arts, Math, and Science proficiency. 
At EHMS, student proficiency went up in Language Arts and Science; Trailside students improved in Language Arts and Math; Jeremy and McPolin students improved in Science! And, where the SpEd students didn't technically "improve" - those proficiency scores stayed relatively the same over time - from before the pandemic hit.

It will come as no surprise to learn that the educators, Harhi said, made all the difference:
 "I understood that they had a lot to do, and they still made it easier for us. They helped me a lot through all of that."