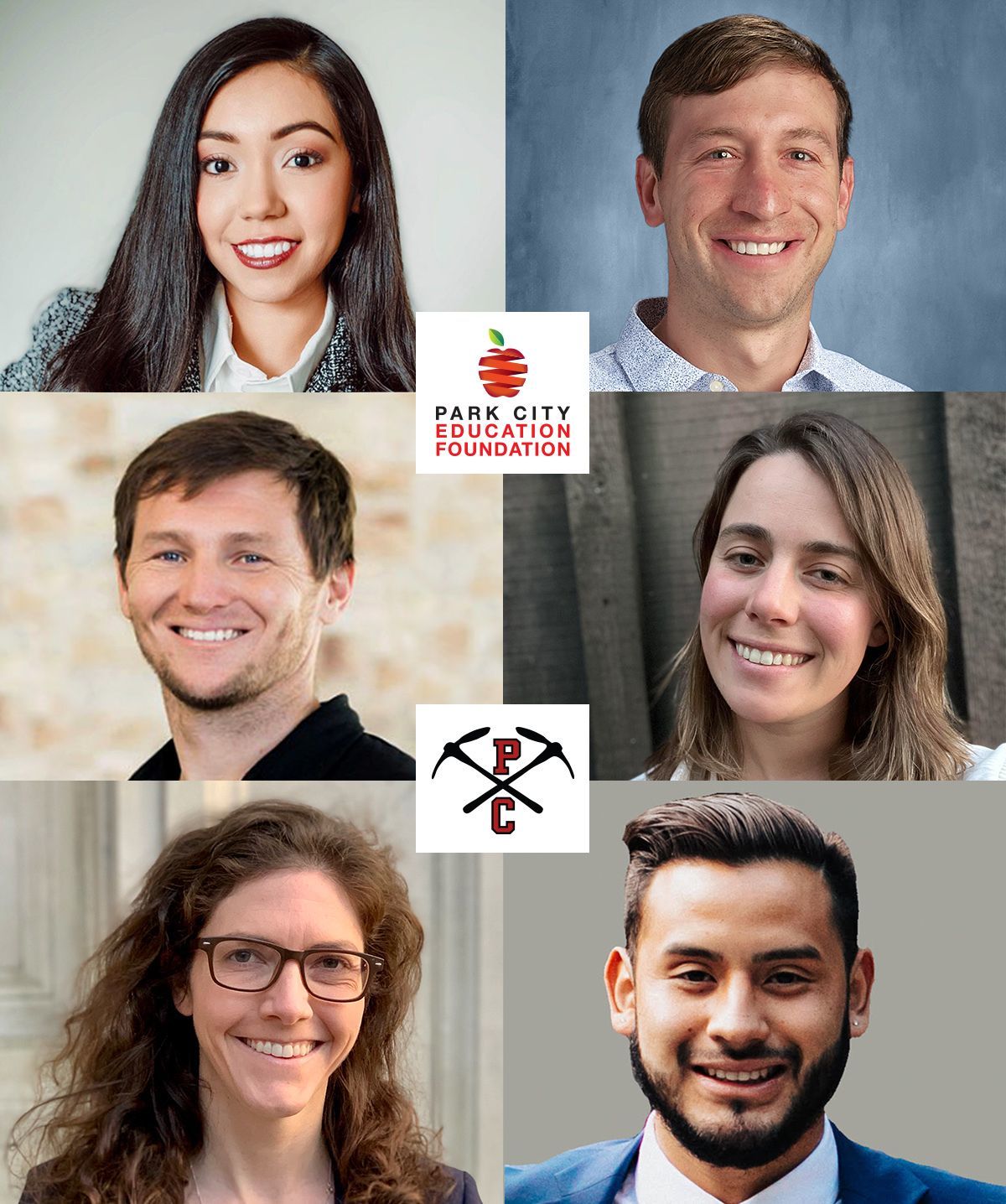 Read the bios of our six fascinating PCHS alumni panelists about the unique and inspiring work they're doing taking on some of our world's biggest challenges, and how their time at PCHS informed their path.
 
Click here to watch the PCEF 2022 Alumni Showcase!
Caleb Fine, PCHS Class of 2004 | Challenge: Education
Caleb Fine is the Principal at Treasure Mountain Junior High in Park City, Utah. In that position, he currently oversees a Faculty and Staff of 80 team members and 827 students in grades 8 and 9. Prior to serving in this role, he was also an Assistant Principal at Park City High School for 3 years and a Business and Finance Teacher, and Varsity Boy's Basketball Coach for 7 years. Caleb's passion for education came to life while he was working at an aids orphanage and school in South Africa outside of Capetown in 2009. Caleb is a believer in progressive, personalized, data-driven, and relationship-oriented education. When he is not at work you will find him spending time with his 3 children, Jack (6), Grace (3), and Lily (1), and his wife, Jackie, or on the trails in Park City on his bike.
Dalia Gonzalez PCHS Class of 2011 | Challenge: Healthcare for the Uninsured
Dalia is the Director of Operations for People's Health Clinic. In her role, she is responsible for ensuring successful day-to-day clinical operations and delivery of clinical services. She provides clinic leadership and support for all clinic staff and volunteers. Dalia grew up in Park City, UT, and was the first in her family to attend college. She received two bachelor of science degrees from the University of Utah: Health Promotion and Education & Human Development and Family Studies.  Dalia loves to serve and give back to her community, especially the youth and uninsured residents. Dalia currently lives in the Heber Valley with her lovely husband and two adopted dogs. 
Justin Guay, PCHS Class of 2000 | Challenge: Climate Change
Justin Guay is the Director for Global Climate Strategy at the Sunrise Project. He has a decade of experience in nonprofit advocacy and foundation strategy development.
Prior to joining Sunrise he managed grant-making and strategy development for global coal campaigns at the ClimateWorks Foundation and Packard Foundation. At the Packard foundation he oversaw a $40 million grant making portfolio across all climate and energy priorities in India, China, the US, the EU and South East Asia. He also assisted in leading the Foundation's Innovation in Climate Solutions strategy and energy focused Program Related Investments (PRIs).
He has also run the Sierra Club's International Coal Campaign as the Associate Director for the International Climate Program.  The program focused on global efforts to transition energy systems beyond coal to clean energy with a special focus on international finance. He worked for the Sierra Club since 2009, in roles involving lobbying, media relations, policy research and advocacy.
He has lived and worked in Mumbai, India where he supported local community groups advocating for clean energy solutions and partnered closely with distributed solar companies serving poor communities. Justin received a Master's Degree in International Development from the University of Denver and received his Bachelor's degree from the University of Utah.
Skye Mooney, PCHS Class of 2013 | Challenge: Renewable Energy
Skye Mooney is a Strategic Development Analyst at AES Clean Energy. She has been working in renewables since graduating from Stanford with her M.S. in Civil & Environmental Engineering | Atmosphere and Energy and B.S. in Human Biology | Human Health and Climate Change in 2018. Initially interested in pursuing a career in public health or medicine, her studies evolved to be centered on human health and the environment with a strong focus on air pollution management and renewable energy solutions. Growing up in the mountains inspired a deep love for the environment, and classes like AP Environmental Science at Park City High emphasized the urgency with which we need to act to mitigate the effects of climate change. Skye has worked as a wind resource analyst, solar analyst, development engineer, and now finds new project sites and creative solutions for renewable energy projects. If you find yourself heading south on I-15 past Spanish Fork, you'll see an 80 MW solar project that Skye optimized and designed with a team of engineers in Salt Lake City. Her greatest achievement was seeing that project start operating and being part of the clean energy transition in her home state. 
Watch this Discovery Channel Video on Skye!
Enrique Sanchez, PCHS Class of 2016 | Challenge: Immigration
Enrique Sanchez is a graduate of the University of Utah, holding a degree in Political Science and a degree from Salt Lake Community College in Criminal Justice. Enrique spent time in Washington D.C. completing an internship with the Ibarra Strategy Group. A long-time Park City resident, and Park City High School Class of 2016 graduate, Enrique worked as a Community Specialist for the Park City Police Department and Park City Municipal Corporation for almost five years prior to joining the American Business Immigration Coalition. Enrique is a board member of the Park City Youth Football Ute Conference and the Park City Community Foundation. Prior to making strides in the Utah leadership realm, Enrique spent time in Courchevel, France as part of a foreign exchange program. As a proud DACA recipient and activist, Enrique is excited to bring his perspective as a Utah-raised Latinx immigrant to the table and is passionate about promoting sensible immigration reform.
Dr. Alex Woodcock, PCHS Class of 2009 | Challenge: Maternal & Reproductive Health
After graduating from PCHS in 2009, Alex attended Harvard University, graduating with a major in Anthropology. She then attended the University of Utah School of Medicine, graduating with her MD in 2018. Since that time she has been completing her residency in OB/GYN at Albert Einstein/Montefiore Medical Center in the Bronx, NYC and is now in her final few months. She will be coming back to the University of Utah in July to complete a fellowship in Family Planning- specializing in complex contraception and abortion care.