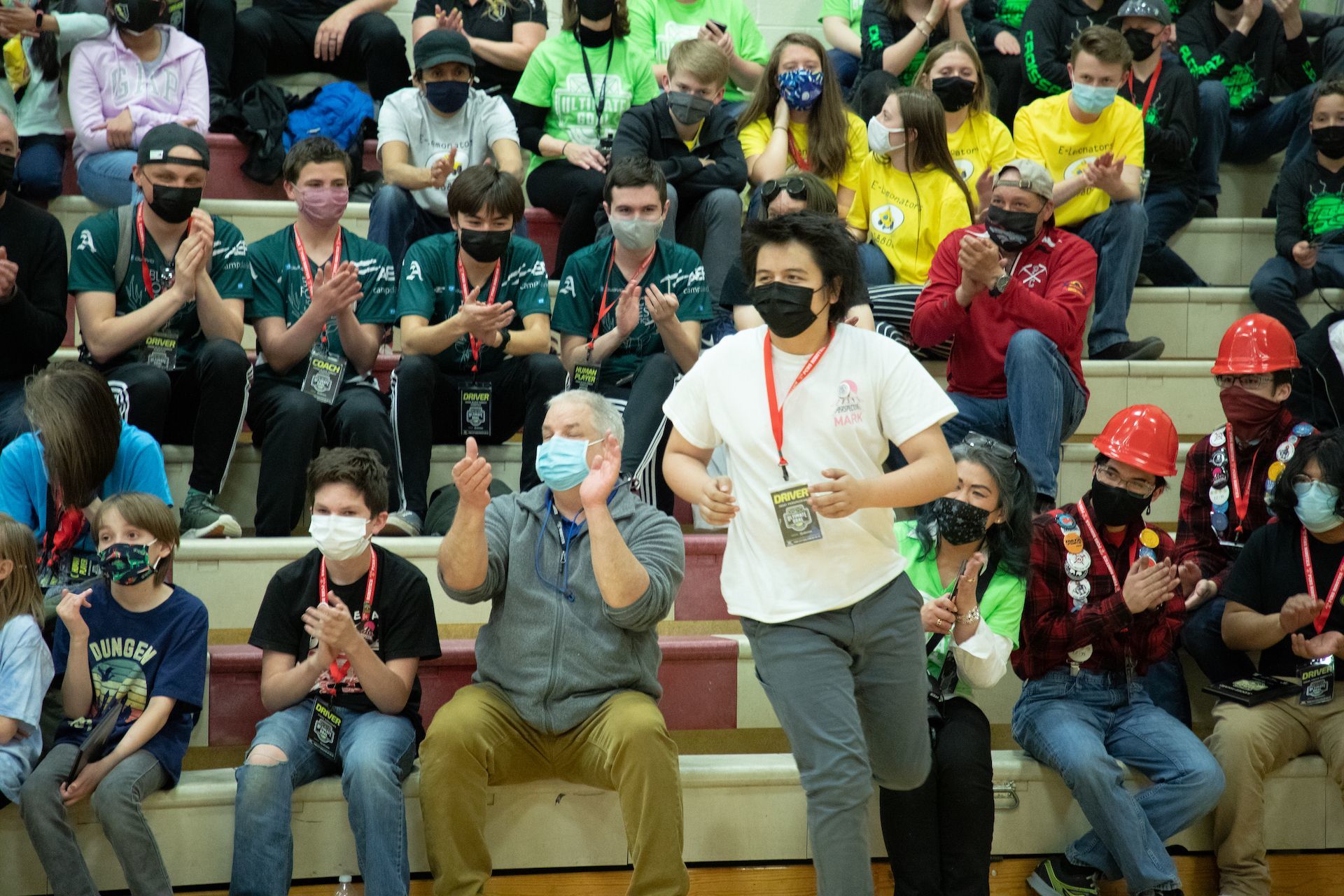 Success doesn't happen "automagically"– it takes a lot of debugging, seeking, and troubleshooting before you can "send it!" 
This particular formula for success is something PCHS Robotics students have truly mastered.
"I first got involved in robotics in fourth grade, and fell in love with the problem-solving skills and design challenges involved," said Mark Pilzer, a senior and captain of PCHS Robotics team 18591 Perspective. 
Mark was a part of the team Checkmate 12384 from ninth to eleventh grade. Last year, it was the ONLY Utah team to qualify for the World Championship. 
Meteoric elation - followed by a quick descent. The competition was canceled due to COVID. 
Mark, who said that huge blow made it feel like all their hard work and effort had been reduced to nothing, moved on to what you might call… a bit of debugging. 
"After that, I decided to come in with a different mindset, to try and not focus on simply winning, so factors outside of my control wouldn't impact me as much," he said. "I started a new team with 2 friends who haven't been in robotics before in order to have more fun as friends while trying more fun and unique ideas." That's how team 18591 Perspective was born
This brilliant pivot is EXACTLY why PCEF donors fund nearly $160,000 in STEM (Science Technology Engineering Math) initiatives. These programs teach students to think in non-linear ways, take risks, collaborate, and learn through trial and error. All of which better prepares them for the future. All of which better prepares them for real life. 
Mark plans to study Mechanical Engineering in college at Caltech. And then, he expects to be prepared to "send it," no matter what comes his way. 
"I expect my experience with setbacks and problem solving through robotics to be extremely valuable going forward. I still have no idea of what career I intend to pursue, but am excited to engage in more complex and nuanced engineering and design challenges going forward."
And, how did Mark's neophyte team do this year when 'having fun with friends and trying fun unique ideas' was the goal? Well, they came in 2nd at the State Championships! 
To get a taste of Robotics, enjoy these photos of the Park City Qualifier, held at PCHS the first weekend in April. Learn more about PCHS Robotics at parkcityrobotics.com
And, congratulations to all the PCHS Robotics teams, including State Champ 12351 Nuclear Minds, who with the alliance of 5667 Robominers and 12376 Yolk set a world record in the state finals! 
PCHS Robotics is supported in part thanks to PCEF donors through STEM - one of eight key programs PCEF funds.
Help us support students like Mark. YOUR DONATION provides STEM programs from K-12 across our district! Thank you.