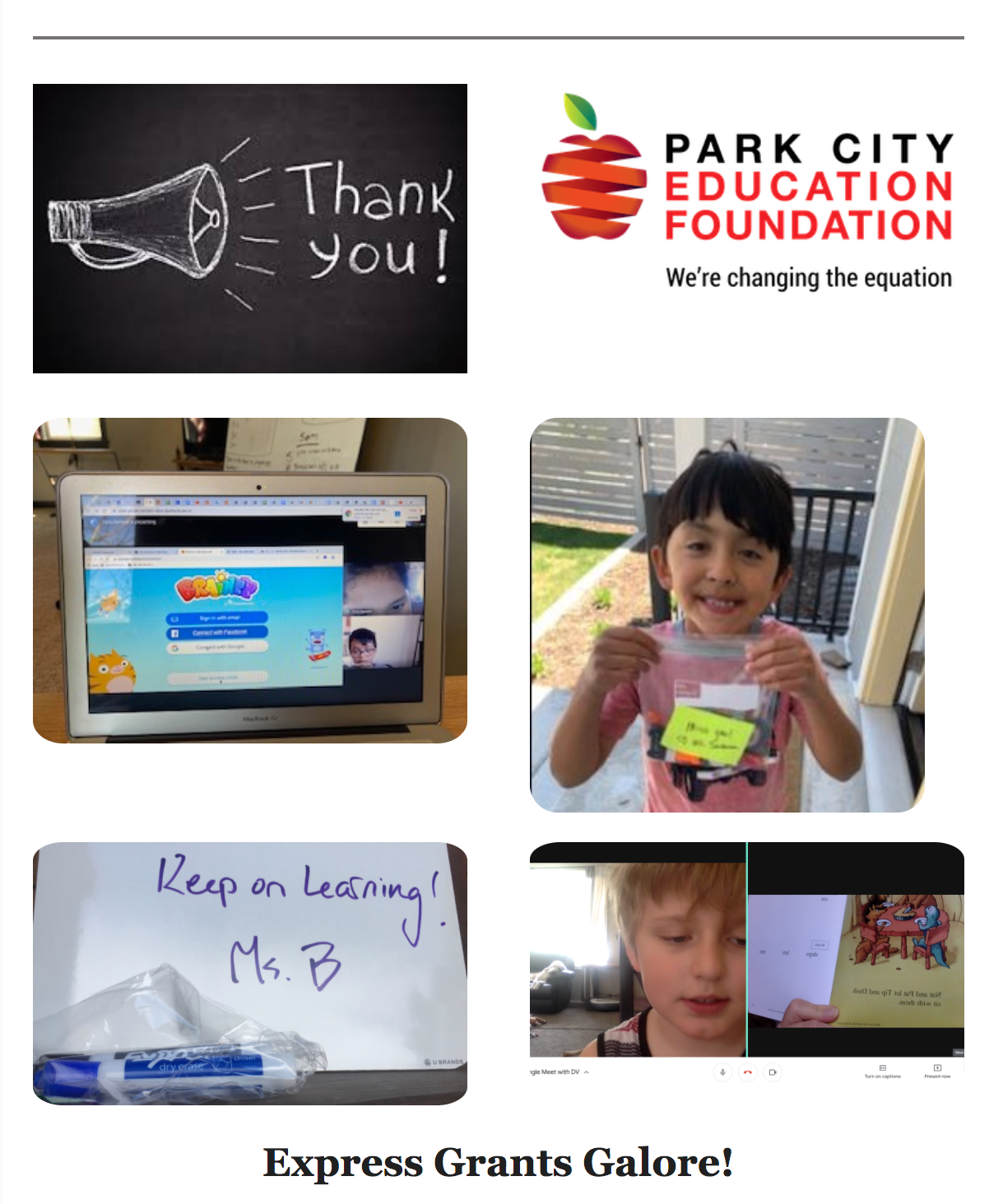 Update! For the current 2020 - 2021 school year, we have funded an additional 24 Emergency Express Grants through December.
PCEF Coronavirus Donor Impact Fast Facts
Thanks to your donations, we are able to meet the emerging and critical needs of teachers, students, and their families who are facing unprecedented challenges. Take a look at what you have helped us accomplish:
Express Grants: An Immediate Success
It happened so fast. $280,000 in revenue lost due to the cancelation of Running with Ed seemed the least of our worries as the school district shifted 4700 students and 700 employees to distance learning overnight. Over a weekend, hundreds of Park City families lost their jobs along with the ability to put food on the table and pay for rent.
But thanks to you, PCEF was able to support our schools, teachers, students and their families immediately. We announced the expansion of our Express Grant Fund to support teacher and student at-home learning needs. We promised we would turn the grant around within 48 hours. 
By March 30th the first teacher Express Grant came through, asking for classroom supplies for low-income families who had none at home. Two months later, by the end of the school year, nearly 70 Express Grants totaling $42,000 had been requested and distributed!
"As the world of learning evolved, so did the needs of teachers and students.  Grant requests ranged from basic learning materials of whiteboards, school supplies, and sensory materials to online resource platform subscriptions and motivational incentives for students to keep up their great work online  Express was the operative word in these grants, often with a quick turnaround of hours to get the resources to the teachers when the need was the greatest." - Kara Brechwald
"Thank you so much for funding my grant request. Distance learning, a foreign concept a few weeks ago, became a quick reality. Teachers are turning their homes into remote classrooms while trying to learn how to effectively teach, communicate, and foster relationships through a computer screen. We are building the airplane in the air.

"Thankfully, PCEF is a great support. Thank you for lessening the burden and helping make the magic happen." – Lori Drivdahl
Bright Futures: College Dreams in Jeopardy
At the start of the crisis, the Park City Community Foundation reported 93% of all Latinx lost their jobs. Just recently, they reported that 51% still have no work, and only 12% are working over 30 hours per week. These are the families of 99% of our Bright Futures students. 
Bright Futures students and their families are expected to contribute to college expenses, but right now, income is being diverted to pay for food and shelter. However, In less than three months, you've donated over $85,000 to Bright Futures college tuition assistance! That's over half the expected shortfall for our current college freshman and the PCHS seniors who just graduated. 
"Bright Futures provides opportunities, a platform, and security that as first-generation college students it is valid for us to dream, and one day our dreams will be our reality."
- Sadie Ortiz, PCHS Class of 2019, rising college sophomore at the University of Utah Honors College/David Eccles School of Business
"With a college degree, I can be in a more stable position to help my family in the future." - Ashley Nava, PCHS rising senior
Your gifts are making a life-changing difference for the children of Park City's backbone workers. There is more work to do, so please spread the word so others may help our Bright Futures students' college dreams come true.
Give to Bright Futures tuition assistance.