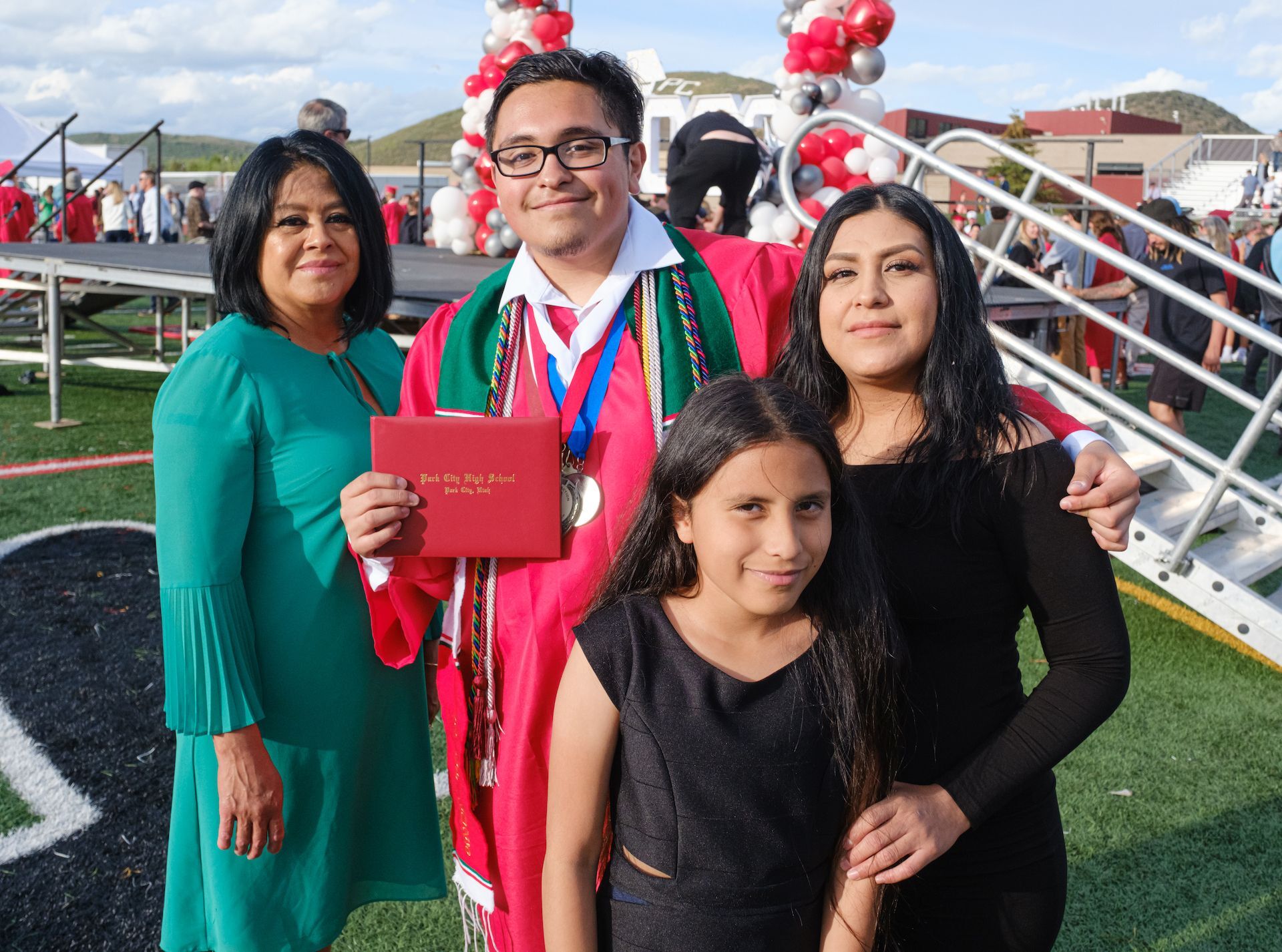 Jose Hernandez Bello, PCHS Class of 2023 and University of Utah freshman, is majoring in biomedical engineering and wants to become a research physician.
He credits the support he received in both Bright Futures and Dream Big with helping him reach his goals. The programs work hand in hand to help ensure Park City's first-generation students get to – and through – college.
The Bright Futures team helped Jose find his summer of 2022 internship at the Huntsman Cancer Institute, where he was a PathMakers Scholar. And, while his time in The Rutter Lab focused on the biochemical work of enzymes, metabolism, and proteins - what he really learned was more existential: you might call it chemistry of the soul.
"I learned research is a work of heart," said Jose. "It's a lot of different people coming together to better society. I used to think research was for introverts (like myself), but a scientist doesn't always look or think the same – in fact, scientists are a lot of different kinds of people.
"I learned that there is a place for me in science. I may not always look like a scientist or feel like one but science is a big field and it's diverse. I have a place in science - and so does anyone who has that passion."
Jose credits Dream Big with having a critical impact on so many Bright Futures students like himself. "It ensures we (first-generation students) receive the support needed to succeed academically with AP level coursework. My first semester at the U has been a challenge due to the workload but not because of the concepts, which I already learned at PCHS." In fact, Jose was the PCHS Sterling Scholar nominee for science – a first for Park City and made possible thanks to the academic rigor of the Dream Big program.
And now, Jose is taking another step along his path. Sponsored by the PathMakers Scholars program, he is heading to the SACNAS conference at the end of October.
The conference is the largest multidisciplinary and multicultural STEM diversity event in the country. It's a gathering which serves to equip, empower, and energize participants for their academic and professional paths in STEM.
"Without Bright Futures, I don't know if I would be on this path," says Jose. "It's a community, and trust me when I say that if you join BF and you work to stay in the program you will achieve anything you set your mind to. Bright Futures has taught me so much. Without them, I wouldn't even know where to start. But while the BF program does help - it's really up to you to act."
In fact, Jose's actions are already inspiring the next Bright Futures students, like PCHS junior Brian Rea. "I'm that weird kid who wants to go to the doctor to see what happens 'back there,". "I broke my humerus playing football - it wasn't good - but I found the x-rays fascinating and then enjoyed learning about gamma rays in chemistry. It's really cool - and made me want to go into medicine."
Brian earned a paid internship with People's Health Clinic this past summer. "But when I talk about going to college and participating in these programs, my mom worries. She always wants me to feel safe and included."
It's at this point, Brian said, that representation is key. "I talked with my parents about Jose. I've even read them parts of Jose's story. Jose is really someone I look up to. And the Bright Futures and Dream Big programs always include our parents – so they feel better about us going to college, they see those ahead of us succeeding in college."
As Jose puts it, "Dream Big gets us to college, Bright Futures gets us through college. They're each a community that comes together to form an even bigger community. Thanks to Bright Futures I can continue to dream and turn hopes into reality during my college years."