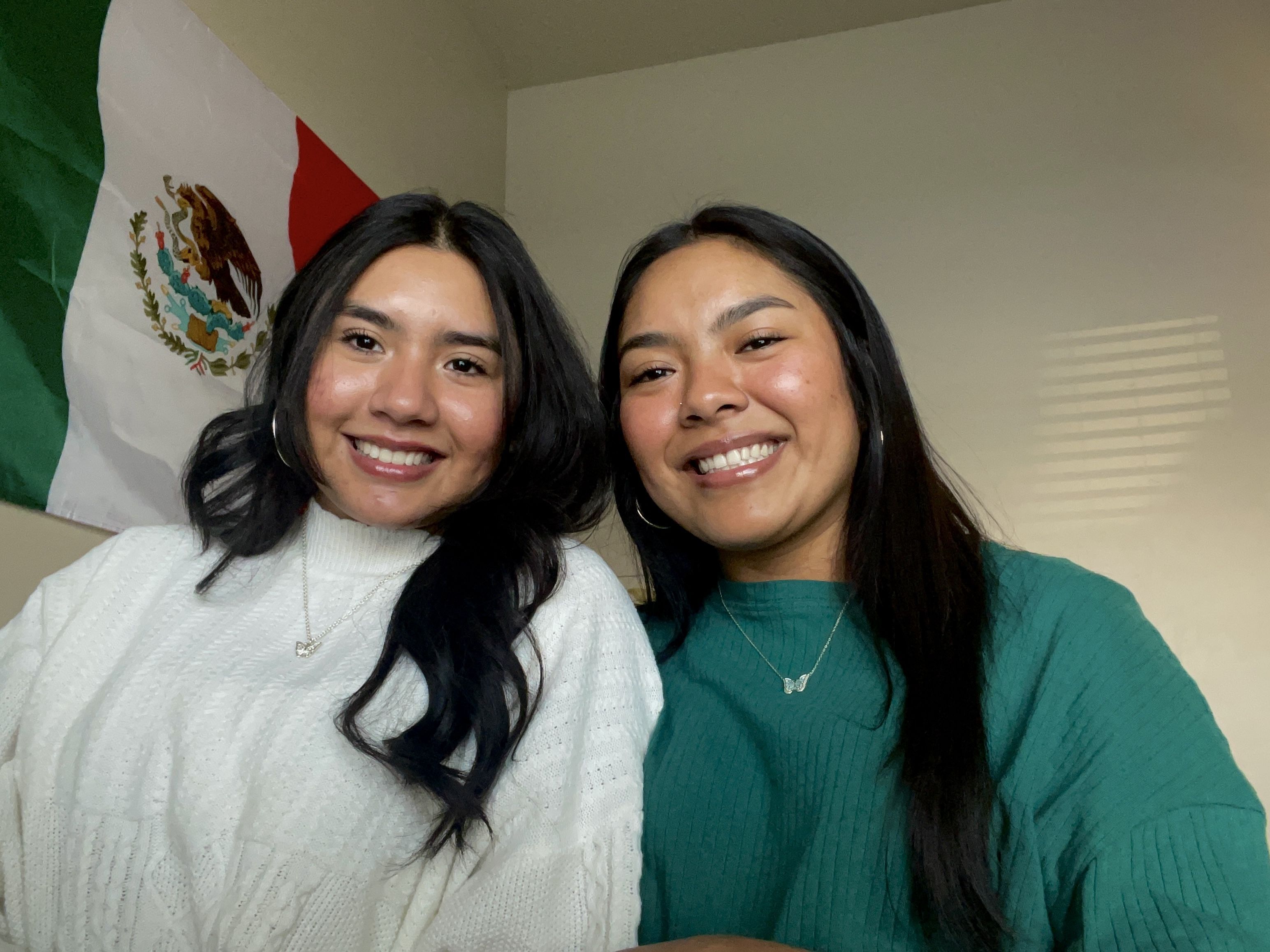 "I was really pushing [little sister] Anayeli towards Bright Futures. And when she joined, I kept telling her, 'you have to stay in it!'" said Argelia Nava, a PCHS 2020 grad and Bright Futures Park City student who is in her junior year at Utah State University.
Those big sister orders were followed: Anayeli joined BF (one of PCEF's eight signature initiatives). Now - she and Argelia are first-generation college students - and attending the same college at the same time!
Argelia, an Elementary Education major, and Anayeli, taking exploratory classes as a freshman, always had college in their sights - and say Bright Futures was a critical part of making it happen.
"I had no other option," Anayeli declared. "I always knew I wanted to go to college. Bright Futures is a great opportunity and a great program - I've always really trusted [College Program Manager] Joana [Acevedo]. I always go to her and Bright Futures. I love that they are always there for me when I need them"
Argelia agreed, "Bright Futures is a good support system that has really impacted us. We're not alone. Knowing that we have others to advocate for us and who are willing to help us at any time - it feels so nice. It's very comforting to know someone will be there when you're struggling or overwhelmed."
Bright Futures walks alongside Park City's first-generation students as they work to get to and through college. The program commits to at least seven years of support for each student - which includes college-readiness curriculum, individualized coaching, peer support, and financial assistance.
---
SISTER, SISTER
As to how these two ended up at the same college - the comfortable familiarity of family had a bit to do with it.
"I came to visit my sister, I knew how the campus looked, and it was really nice to know I had my family," said Anayeli. "My sister was going to be there – so I knew it was going to be ok."
For Argelia, having Anayeli join her was a little bit stressful - at least at first…
"She wanted me to tell her exactly where to go and I didn't know what to tell her - I had never been in that building before. I had to tell her, 'you gotta figure it out yourself!'"
Anayeli admitted "I kept texting her - I bugged her way too much! But I was so nervous. All I could think about was to ask my sister. I eventually got the message and she was right - I had to figure this out on my own."
---
BRIGHT FUTURES
Anayeli is in the process of being on her own in a more geographic way - with a transfer to the University of Utah. Her first outreach - Joana, BF's College Program Manager.
"When I started thinking of a transfer, the first person I thought of was Joana. She's guiding me toward the steps I need to take to get to the U."
"Bright Futures is going to be there for you every step of the journey," Argelia added. "They really do care about us. Even my parents see that. Now that we are out of high school, they REALLY see all of the benefits. They are super thankful that we are in the program."
---
GETTING TO COLLEGE
Getting to college was not negotiable for the Nava sisters.
"Our family really values education," said Anayeli. "It has always been: we were going to do anything we can to go to and get through college. Our parents wanted to see us in college."
What started with a family goal quickly became personal for Argelia.
"In the beginning, I came to college to please my parents. I'm growing more and reflecting, and now that I'm here, I know I'm doing it for me – because I want a better future for myself."
Both sisters know exactly what a better future looks like for them.
For Anayeli - "a stable job in the field that I want to be in - something I enjoy doing."
And for Argelia - "Being able to buy whatever I want. Not worrying about money and making ends meet. And having a home - that's how I envision success. A home that's paid off and being able to help my community and family members."
In fact, the sisters picture a future together again in Park City - with some time spent to support a new generation of Bright Futures students.
Argelia "I want to advocate for our community so that they can all have the same opportunities that we've had - to go to college."
---
STAYING IN COLLEGE

As these motivated first-gen students work to reach their goals, the Bright Futures team supports their efforts to get to and through college - especially when the unexpected (inevitably!) happens.
"We don't make enough money during summer break to be able to pay for school, so we have jobs during the school year," said Anayeli. "I worked during high school as well, but the hourly wage was a lot more in Park City."
"The pay is not even close to what Park City pays," Argelia agreed. "It makes it really difficult to even have money for groceries."
When there aren't enough hours in the day for classes, studying, and to work enough to make ends meet, Bright Futures' emergency fund can bridge the gap. This ensures that once BF students get to college, they are able to stay there - and to focus on academics.
---
RELATED: Bright Futures Students are Succeeding at Unprecedented Rates
---
GOING IT ALONE
Argelia and Anayeli both have that laser focus on academics - which they'll lean on as they continue their college journeys on different campuses.
"It's scary to think of being alone. I was just starting to get comfortable - and now that she's transferring it's hard," admitted Argelia. "I'm trying to cope with the fact that I'm going to be by myself, but I want her to be happy. If that's what makes her happy, that's what I want her to do."
Starting the transfer process wasn't easy for Anayeli, either…
"I was scared… I am going to leave my sister and that's nerve wracking. But I know she's strong. She's going to do well without me!"
The strength to get through things alone and be ok - whether it's finding the right classroom or becoming the first two in their family to get to and through college - is something the Argelia and Anayeli will always share. And for these sisters, no amount of physical distance will ever get in the way of that.
---
Bright Futures' very first cohort is preparing to graduate college this spring (2023) - the culmination of 7 years of wraparound support.
Each successive cohort is larger than the last; we invite you to consider a gift to support first-generation students' college dreams!