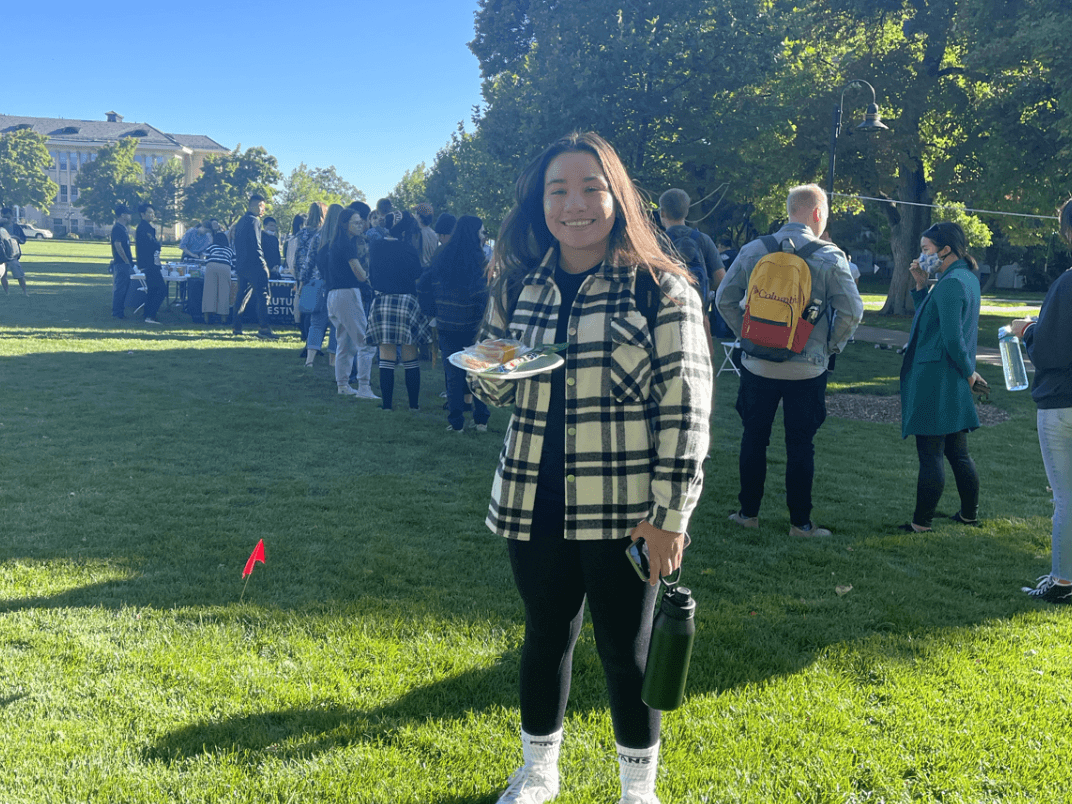 One of the most valuable things Siclali Garcia (PCHS Class of 2021) has learned in her first year of college didn't come with a single credit hour.
"My first semester at Utah State University was really difficult," Siclali said. "I had to figure out how to be my own person, and how to just be comfortable being uncomfortable."
College wasn't originally in the picture for Siclali - until a Bright Futures (BF) meeting opened her eyes to a totally different life outcome. "I liked school and learning. So when it came up, I was already in LIA (Latinos in Action) and all my buddies were into the idea of finding out about Bright Futures. It was something we felt like we needed to do."
That single meeting led to years of work with her friends as they prepared for college, something they planned to all do together.
"In the beginning, I committed to the University of Utah. All of my friends decided to go there," Siclali relayed. "Then, one of my teachers pulled me aside. She thought I would do so much better at USU; she said she knew what I was capable of – and I needed to create my own definition of success."
As Siclali considered the idea, the right course of action became clear. "I really had to do this for me - I had to see what's out there. I trusted that teacher with everything and I knew she had my best interests at heart." 
During the first few weeks of school, Siclali saw her friends having fun together at the U. They were having the "whole college experience" while she stayed in her dorm room, very homesick and very sad. 
"This was especially hard for me. In high school I was so involved that I was known for wanting to do EVERYTHING," Siclali recalled. "Not seeing what was out there for me  - not seeing what my teacher saw in me - it was difficult at first. I was starting over with a totally blank slate." 
 
HAPPINESS THROUGH PURPOSE
Siclali talked with her parents more, confided in her Bright Futures college coach, and made herself attend study sessions. "I realized that I have to find my own happiness. I have to make it - I can't just wait for it."
"My next step was giving myself a job. I found a perfect fit: I became a mentor for a program called Aggies First Scholars. I'm now mentoring 200 students who are first-generation college students."

Mentoring has always been part of Siclali's vision. Initially, she thought that would manifest itself in becoming a teacher. 
"In the beginning, I had my goals - I couldn't conceive of dreaming differently," she said. "I love traveling and I love different cultures and getting to know them. I thought the only way I would get abroad was to major in teaching and Asian Studies and teach English overseas."

The freedom to experiment with a career path she hadn't previously known existed led to a switch in learning. Siclali remains focused on Asian Studies – and is now in the process of exploring Marketing and/or International Business as a major.
As Siclali acclimated to a brand-new environment on a journey no one in her family had ever taken, she started allowing herself to dream big. It turned out, to give herself permission to do that, Siclali had to reconcile one thing: 
"It's hard to think of doing more in life than your parents," she said, "but that's the reason they did what they did for us. The reason they're here in this country is for us to have better opportunities." 

BRIGHT FUTURES 
"Bright Futures," Siclali said, "is an eye-opener for everything. Where I am right now is because of Bright Futures. Learning about deadlines, scholarships, budgeting, basic needs, knowing what to worry about and what not to worry about, Bright Futures was clear at the beginning that they were here to support me."
The high school preparation and learning were huge for Siclali's cohort. 
"Everyone I went to that first Bright Futures meeting with," Siclali said, "is now in college." 
BRIGHT FUTURES → THROUGH COLLEGE ← 
It's after high school that Bright Futures shifts into high gear. 
The continuity of support to get students THROUGH college has surfaced as a singularly critical piece for BF student success. Part of the process includes visits to each college student.
"At the beginning, [Bright Futures College Coach] Nikki came to visit me on campus. She knew right away I wasn't in a great place," Siclali said. "She asked me what was wrong - she knew something was wrong." 
That's when it clicked for Siclali - it was ok to ask for help. 
"I wanted to tackle it on my own. I didn't want to seem like a burden to anyone. It wasn't a financial issue - it was personal!" 
That personal support is part of the Bright Futures program. So much so that BF recently added a College Program Manager to expand its ability to provide outreach and resources to students specifically during college years.
Those first lonely weeks, so tough for so many, have become a valuable piece of Siclali's learning. To those about to embark on the journey, she has a few thoughts...
"Take it day by day. Really try to experience some of what college has to offer. Attend one activity, even by yourself. It builds and builds, and you start feeling like a real student here, like a part of something bigger."
But most of all, Siclali said, "You don't know what you don't know. And what I didn't know, at least at first, is that you're not alone. At all."
---
First-Generation Task Force
Through Bright Futures and First-Generation Task Force partners, a full spectrum of support is provided for PCHS students who are the first in their families to go to college. 
Dream Big is an award-winning 8-week PCHS summer school class preparing these students for the academic rigor of AP classes and the ACT.
The Latinos in Action classes offered from 6th - 12th grade teach leadership and community service skills, focusing on the strength of students' bilingual capabilities and multicultural experiences.
Bright Futures expects to serve 150 college and high school students by 2023.
PCEF donors improve the odds for Park City's first-gen college students with program support, tuition assistance, and helping to bridge the gap between actual college expenses and what is covered by scholarships, financial aid, and students' jobs. 
If you'd like to help make college dreams come true - we invite you to DONATE HERE!