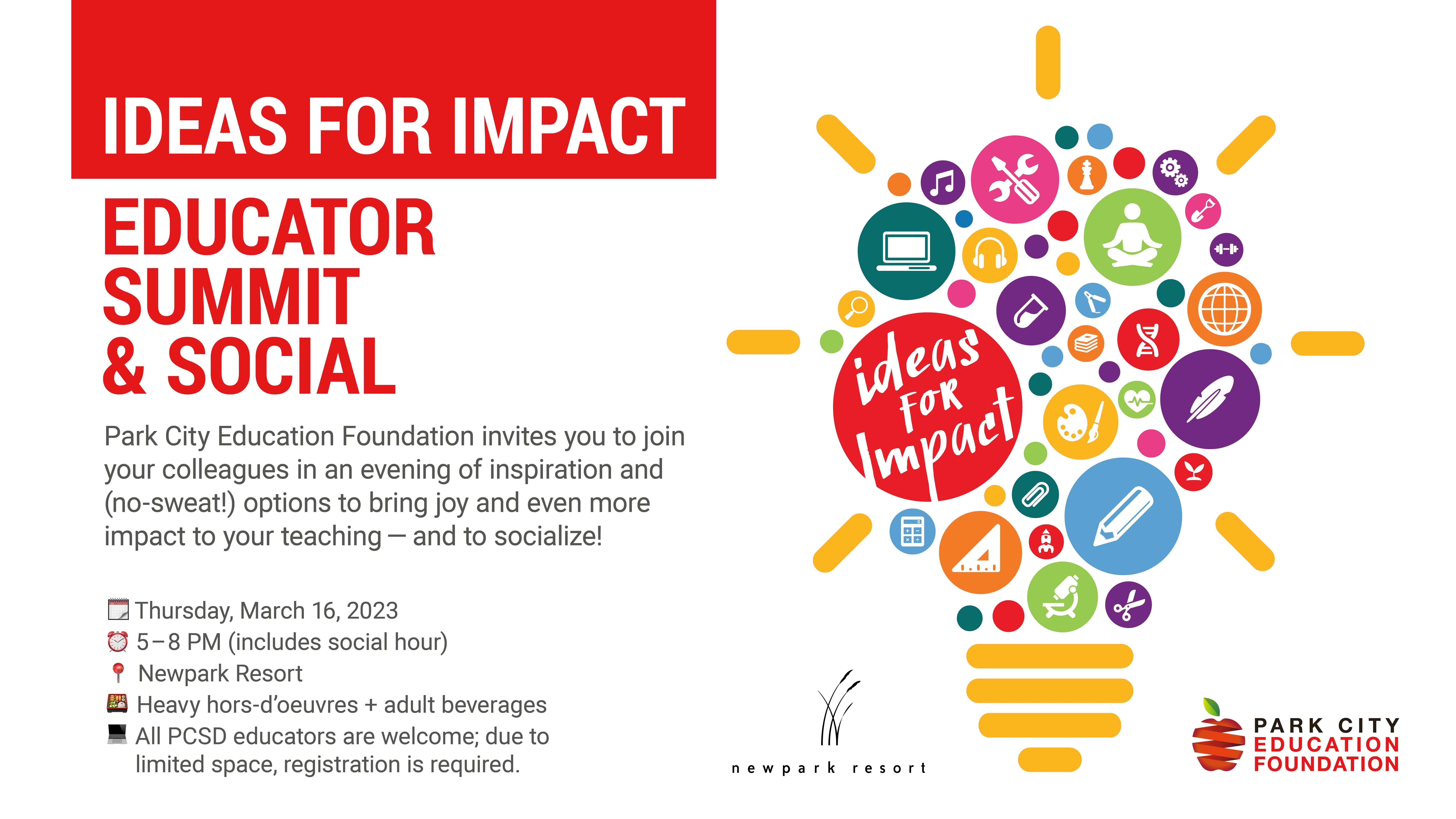 SCHEDULE
5:00 pm
Social Hour: Mix and mingle with colleagues in the Sky Bridge Lounge.
Classroom Grant Help Desk with Co-Chairs Jodey Fey & Jose Mellin in the Hallway between Cottonwood + Preserve and Wasatch Rooms. Available throughout the evening.
---
5:45 pm
Welcome & Keynote Address featuring Hoby Darling in the Sky Bridge Lounge.
---
6-7:45 pm
Birds of a Feather: Roundtable discussions in the Wasatch Room.
Session #1:  6:00 - 6:45 pm
Choose your own adventure. Join in a few 15 minute conversations:
Reconnect To Your Purpose and Mission with Melissa Nikolai
Artificial Intelligence (AI) in Education with Mike Burton
Teaching in French DLI Small Groups with Isabelle Héré
Kinder Academy with Julie Yeager
PCBL and the Modern Classroom with Molly Forster & Larissa Fomuke
Session #2:  7:00 - 7:45 pm
Choose your own adventure. Join in a few 15 minute conversations:
Innovation Fatigue Therapy: A Sentimental Man and Woman here to Pump You Up! with Nikolai Jensen & Kristen Hall
Effective Use of Technology in the Classroom with Shelby Cornett & Christina Sutherland
Supporting Multilingual Learners with Tracy Scheriff
Structured Conversation with Jill Thompson
PCEF Open Forum Roundtable with Abby McNulty & Jennifer Billow
---
6-7:45 pm
Posters and Interactive Demonstrations in the Cottonwood + Preserve Room.
Topics include:
Integration of CS with World Languages Curriculum
Drones in Classrooms
Creating Orbital Motion Using the Finch
Energize your Classroom with Laser Cutting
Using Scratch in ANY Classroom
Computational Thinking with Ozobots! 
Code and Go Mouse Using Computational Thinking Skills
Incorporating Computer Science Into School Counseling
Classroom Management and Reinforcement
Tier 1 Differentiated Instruction 
School & Class Culture
Science in a Second Language
Effective DLI Partnerships
"To and Through" College for First Generation Students
PCHS Flair--Ideas for Increasing Student Engagemen
---
---
A huge thank you to Newpark Resort for donating their space.
We would also like to express our immense gratitude to the Ideas for Impact Planning Committee members.
Holland Lincoln, Chair
Kathy Anderson
Ashley Ballew
Hoby Darling
Mike Burton
Allison Boxer
Brad Gannon
Dr. Jill Gildea
Rebeca Gonzalez
Lyndsay Huntsman
Niko Jenson
Traci Evans
Summer Marshall
Caleb Fine
Melissa Nikolai
Maddy Shear
Melissa Perry