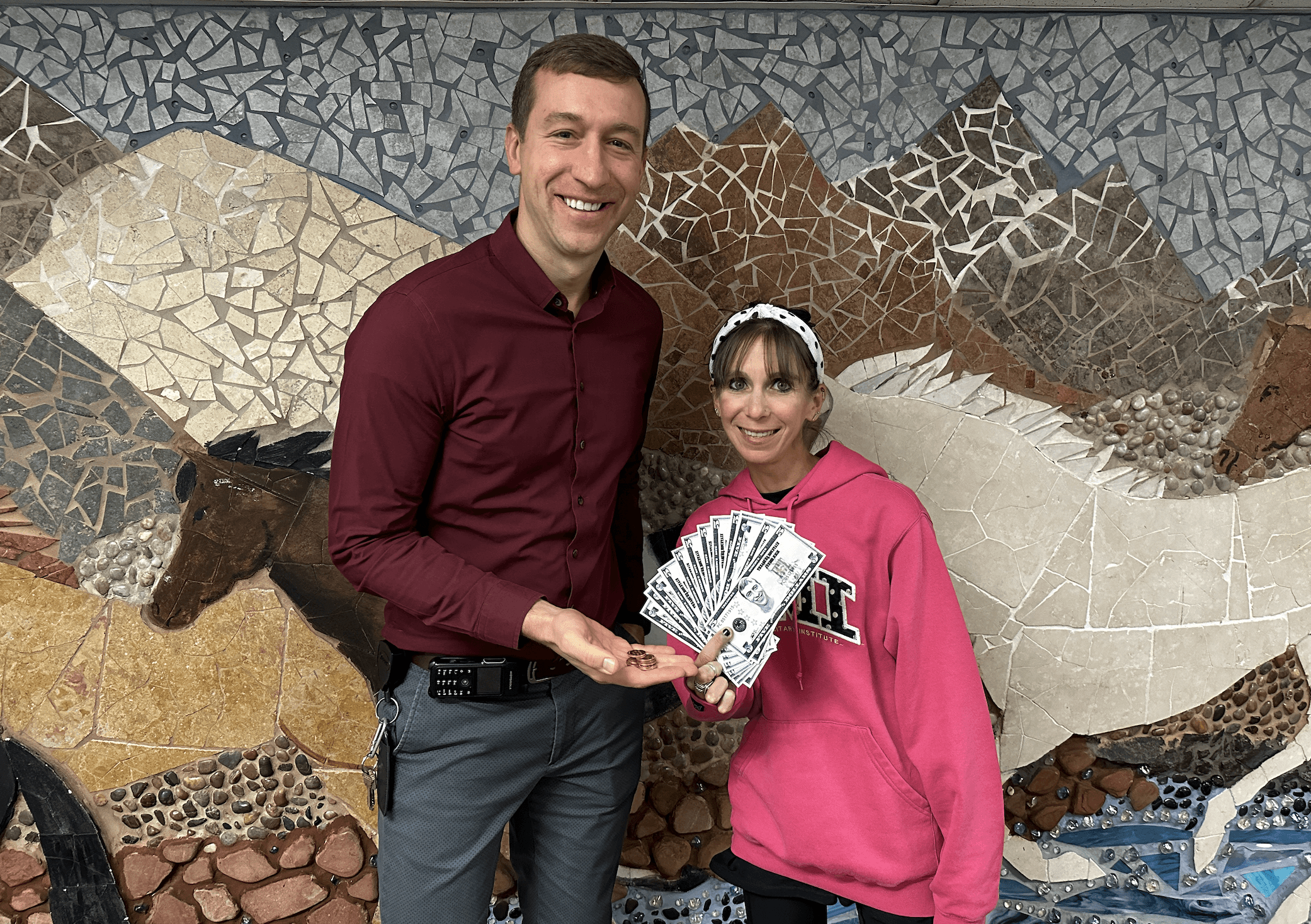 Educator and Student Wellness. Wellness is an essential subject.

"Infinite worth and immeasurable value of every child is a core belief of mine," said TMJH Principal Caleb Fine.
Treasure Mountain Junior High (TMJH) is going "all in" in an effort to flip the script on the reactive response to students at the time of crisis by instead focusing on a systemic approach for prevention. TMJH is implementing a proactive strategy to overall student wellbeing, offering a powerful way to address personal and social development. Last spring, TMJH was given the green light to introduce a three-year pilot wellness program to the school, thanks to the generous support of a donor through PCEF funding, making this approach to prevention a reality.
The program launched at the beginning of the 2023/2024 school year with the appointment of Larissa Fomuke in the newly-created position of Multi-Tiered System of Support (MTSS) Coordinator - Wellness at TMJH. Fomuke will conduct a three-year pilot program infusing wellness best practices into Advisory classes and throughout the school integrating the Park City School District (PCSD) Wellness Plan, Utah State Board of Education Social and Emotional Learning Plan, and the Utah Portrait of a Graduate. The hope is that learnings from the pilot will then be used to inform practices to support students at Ecker Hill Middle School and Park City High School.

PCEF recently had the chance to sit down with Principal Fine, and Ms. Fomuke to learn more about the program's vision, and its current progress at the school.

"What comes first? The chicken or the egg?" Mr. Fine said as we began the conversation about the importance of focusing on both sides of the MTSS framework. MTSS can best be explained in that it integrates all students in a process that provides high-quality, research-based instruction targeted to learner needs. Needs are then monitored and tailored to individual progress. A duality exists within the framework – academics is on one side and is easier to measure with grades (we'll call it the chicken); while communication, including self-awareness, positivity, relationships, emotions, and empathy are the other and are more difficult to quantify (let's call this the egg). "You can't have one without the other," Fine goes on to say, "Schools are really good about focusing on the academic side of MTSS, but the wellness side is where some of the most exciting work is happening at TMJH. Teaching students to become effective communicators by creating organizational tools that work for each student, allowing them to develop empathy, connection, and relationships in a way that aligns to their own beliefs and values is what the program strives to achieve."
A glimpse at the Three Tier Program Approach at TMJH
As the program is set into motion at TMJH, every student has the opportunity to thrive through a Three Tier Approach that teaches and models empathy and connection:
-Tier 1: All students receive valuable lessons and strategies in their Advisory classes that emphasize positive behavior, communication, relationships, empathy, resilience, and important life skills.
-Tier 2: For smaller groups requiring extra support, one-on-one mentorship is key, facilitated by the school social worker or MTSS Wellness Coordinator, providing personalized behavior plans and learning opportunities.
-Tier 3: An even smaller group of students benefit from specialized action plans that cater to their unique needs.
What truly sets this program at TMJH apart is the dedicated coordinator position, which allows for individualized support extending beyond the classroom. Ms. Fomuke notes that TMJH teachers want to be innovative, and collaborate to help each student succeed in school, but their time is limited. Now that there is a dedicated MTSS coordinator, the school can dig deeper and become more intentional with the work that's needed to create a more nurturing and positive environment, and ultimately a healthier school community.

With this dedicated position, teaching tactics geared toward individual students and disruptive behaviors can be utilized within the boundaries of Safe Schools rather than simply sending a student home. Also, a newly minted reward system has great appeal to junior high students with the introduction of the Reward System and Fine Bucks…yes Mr. Fine has his own currency at TMJH. Dollars can be earned through a reward system and saved up for great prizes that have meaning to junior high students (think Starbucks, and even AirPods).

When asked if the program has yet made an impact, Fine said it's tough to measure since it just launched. But he noted early indicators of successful implementation, "We currently have a kinder school than we've ever had. There's fewer safe school violations, less vaping, fewer substantial discipline consequences." The hope, too, is that TMJH will soon see an academic impact with even better test scores. TMJH scores have steadily increased.

PCEF launched the Educator & Student Wellness Signature Initiative in 2022 as educator and student wellness has emerged as a critical area of need. Educator and Student Wellness is one of eight Signature Initiatives funded by PCEF to inspire all Park City students to successfully reach their academic and lifelong potential. Wellness is an essential subject.