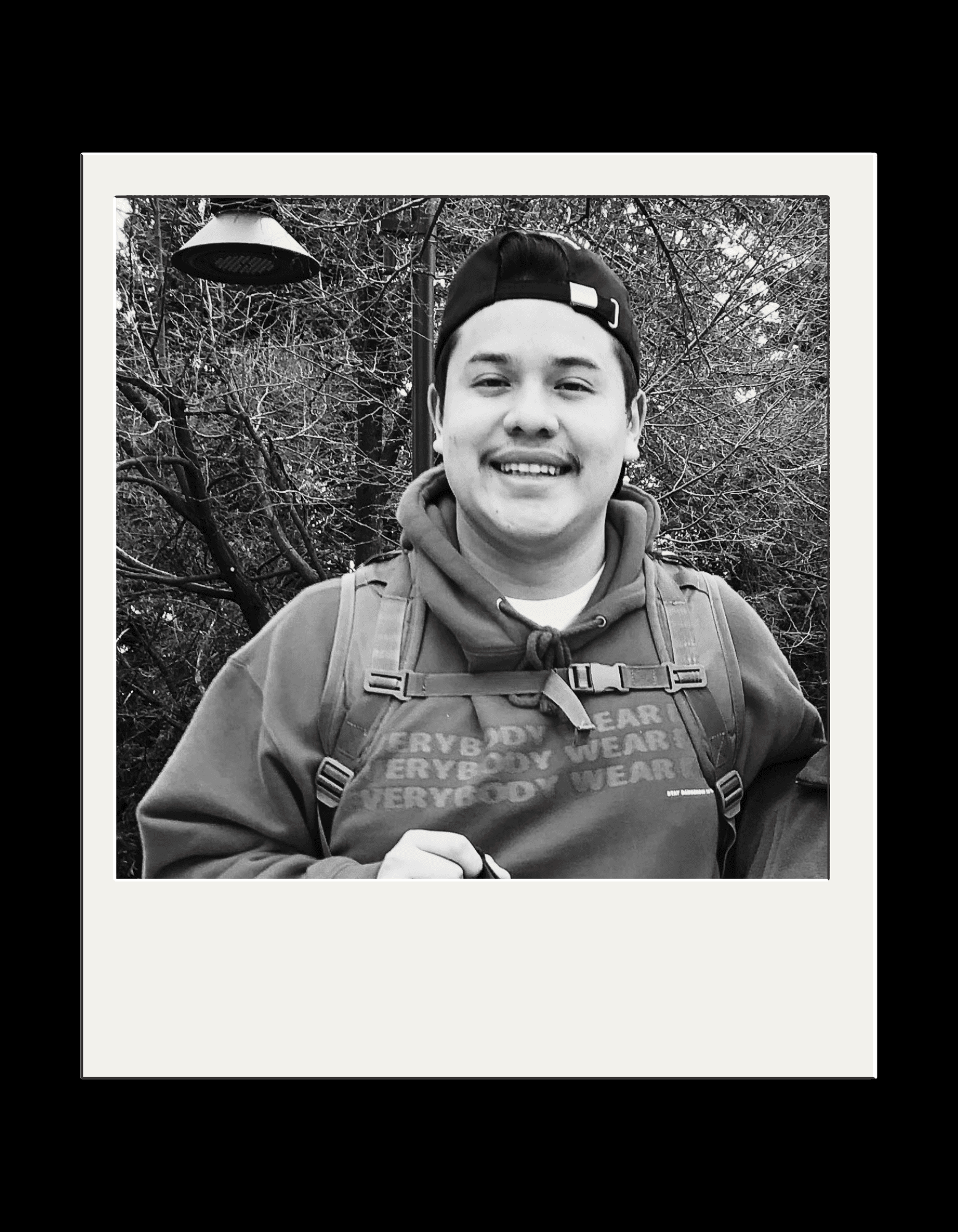 22-year-old Bright Futures student Miguel Morales opens with a disarming list of his perceived stumbles.
Thisclose to not graduating high school.
Gets interested in lots of different things and sometimes gets bored.
A junior in college after five years.
Not accepted into the nursing program he's been working toward.
"I did all my prerequisites for nursing - which is a really competitive program. I prepared for it for years, taking a few classes each semester, and I didn't get in."

It's only after a barrage of deflections – he openly admits he doesn't like talking about himself – that, for those who pay attention, Miguel's successes start to surface...

---
RESILIENCE

One of his biggest wins: the ability to re-focus on priorities after setbacks. He says it's "re-grouping," but most people recognize it as resilience.
Miguel is also an innate treasure-hunter: he seeks hidden gems in his life. He excavates them, holds them to the light, and appreciates the sparkle. This part of his nature is clear when Miguel discusses what he values most: his family, his roommates at Utah State University, and Bright Futures.

He says his roommates in Logan, all at different points in their college journeys, are inspired - and inspire him.
"[My roommates] focus on different things and timelines of when they expect to get things done. In high school, you really hear the narrative – four years and done with college.

But everyone has things happen, and things really might not be what you're expecting. Having these successful people around and seeing the diversity of things you can study keeps me motivated.

I'm not like, 'Oh, I'm in my fifth year, oh, man.' It helps when we say 'NO, the [done with college in] four years is not for everybody."
Despite working two jobs all summer to earn money for his fifth year of college, Miguel frequently drives home to work for a couple of days straight. Why come all the way back to Park City? It's because the hourly pay tends to be more than double the rate in Logan.
Outside of work hours, he's exploring what catches his attention. This semester, he's in three classes: finance, computer science, and chemistry.
"Nursing isn't my only option at this point, so I'm trying different things… I wanna say I've always been open to new things, I do like to see what captures my interest."
Miguel, who digs to find the good in so much, doesn't seem to extend the same kindness to himself. What he's doing in college right now - taking time and space to try new options and classes, to see what sparks and catches fire and becomes his own version of success - this is, at its core, the purpose of Bright Futures.
Unearthing a passion doesn't always happen on a convenient, prescriptive four-year timeline. For most, it's the work of a lifetime. But Miguel is already heeding something deeper.
"I find finance - the concept of investing stocks - really interesting. Putting it to use with formulas - it's fun but it's more drawn out, it adds another layer. And I actually have a little more experience with investing than most of my classmates."
As it turns out, Miguel has already dedicated years to learning more about his interest in investments, which started with a financial literacy class at Park City High School.
"We played a trading game. I was curious, so I studied it more on YouTube. I started a Robinhood account when I was 18 and moved into a Fidelity account when I learned more about its security."
Miguel says all of this with a little shrug of his shoulders. "Oh, and I also have a Roth IRA account," he adds.
He's also really into his current C.S. class: "I like working SQL, Structured Query Language, and transitioning to Python. It's early yet, it's basic Python coding, but I'm enjoying it."
Miquel's words about getting bored with things seem to be just that - words. Ultimately, his actions are much louder - and show that he tends to stick around for the long haul.
"Nursing isn't my only option, but I will apply for the program again. I put in a lot of work, so much work and effort. I feel like it would be unfair to myself if I don't apply again."

---
BRIGHT FUTURES

PCEF's Bright Futures Initiative has been alongside Miguel throughout these years of hard work. As for whether he recommends BF for first-gen students and their families, Miguel once again directs the attention below the surface.
"Do it! Bright Futures is one of those things you really won't see unless you are a part of it. It's all those small details - those things they do that you don't see. It's not on the front page of the newspaper; it's not super public, but it's there. The support is there."
Also walking beside Miguel all this time - his family.

"My parents really wanted me to go to college. My next-oldest brother graduated high school and got a college scholarship - but it wasn't enough and we couldn't afford to send him. He didn't get to pursue his dream, and my parents really wanted me to pursue college."
It took nearly losing the opportunity of a college education for Miguel to realize that college was actually his dream, too.
"I almost didn't graduate. I was failing English."
His teacher's phone call alerted his parents and the Bright Futures team. That, he says, was his wake-up call.

"I had put myself in that position. Everyone was upset, everyone was saying 'You're a smart kid and if you want to, you can graduate.' So I realized I had to do the work to do it."
Part of what made the predicament hit home was his job at the time.
"I worked at The Colony [at White Pine Canyon]. We'd go to the empty lots, cut all the dead trees, and make huge piles of wood.

I realized I didn't want to go to work right out of high school - and that's what I was looking at. I wanted a job that was better paying and not as labor-intensive.

It took what happened for me to see that, to say, 'I have a scholarship and I want to see where it goes.'"
His work at The Colony motivated him on another level, too.
"Working there, you drive by all these massive houses. I thought, 'Hey, if I put my mind to it, I can get to this one day.'"
Bright Futures was with Miguel as he worked to graduate high school - and it's with him as he works to graduate college. As BF says on its PCEF web page, it's "a minimum seven-year commitment" for each student in the program.
For Miguel, the flexibility with his college timeline has been crucial.
"They've supported me - they are by my side and understand my decisions and why I'm making them. I tell them what's going on in my life - for example, if I'm struggling with a class or something, I know they're going to be there to help me and help me find resources to help me solve my situation…

They don't solve your problems for you, but they will do everything they can to help you find things that will benefit you in the best way possible."
---
SUCCESS
Miguel doesn't shy away from the time and hard work it takes to discover things that impact him in the best way possible - which could also be called success.
His resilience, a big success in and of itself, will undoubtedly see Miguel through as he continues his journey to discover his passion and purpose.
"When I need to get back on track, I think back to my goals, the things I want in my life… I think back to my family; I think about the sacrifices they make day to day that I never see. And I realize the least I can do is make a few sacrifices to help me reach my dream."
Now, as he works toward that dream, Miguel's resilience is much more visible. It's above the surface, and it's sparkling in the light.