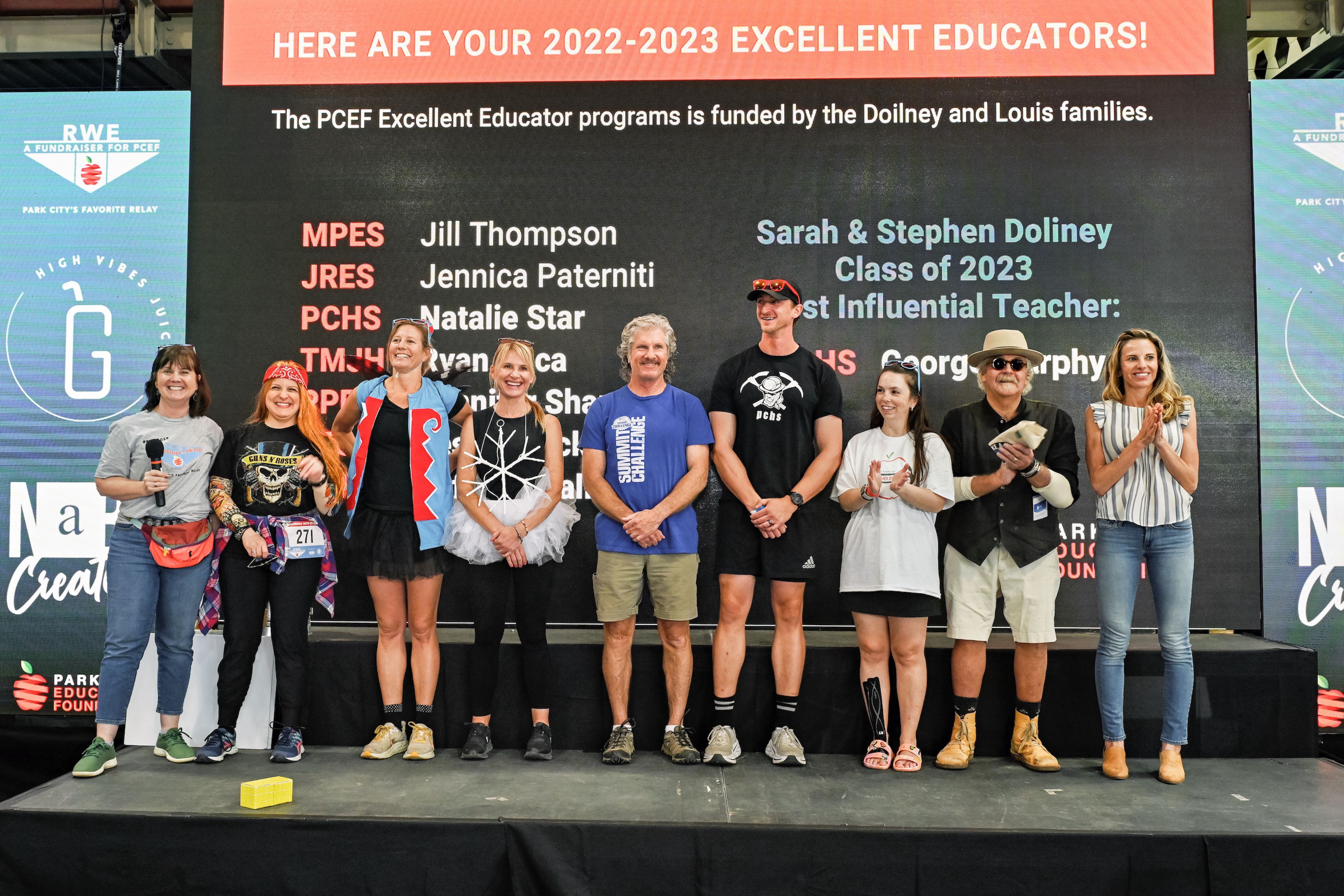 PCEF Excellent Educator Program
Funded by the Louis and Doilney Families
& The Sarah & Stephen Doilney Award
Eight Park City teachers have been honored by their peers and students as the best of the best! Every year, educators in each school vote to determine Park City Education Foundation's Excellent Educators.

PCEF's Excellent Educators for 2022/2023:

Ecker Hill Middle School → Jeff Schwalb


"Jeff has made an impact not only this year but across generations. He somehow knows all his students' names, not only while in school but when he sees them in our community he will greet them and ask about them and their families."



Jeremy Ranch Elementary School → Jennica Paterniti


"Jennica is truly the backbone of Jeremy Ranch. She is not only hard-working and extremely organized, but she is also kind, thoughtful, and is always available to help the staff and students at Jeremy Ranch. Although her official title is "Instructional Coach" she is more of a school Superhero!"



McPolin Elementary School → Jill Thompson


"Jill goes above and beyond for all of her students ALL of the time! She is a master differentiator as well as problem solver. Her classroom management is beyond exceptional and her students LOVE coming to school to learn with her. Always a team player and always willing to learn new ideas. What more could you ask for!"



Park City High School → Natalie Star


"Natalie has taken the photography program from barely a full time position, to one that is now bursting at the seams. Natalies classes are always overflowing with students. She is a master at being able to reach all students and make photography and art-making accessible to all."



Parley's Park Elementary School → Jennifer Shane


"She keeps us all laughing and going and is there for everyone. Her students have fun, feel loved, and feel included. She has a gentle way when helping her students and everyone feels like part of the family in her room."



Trailside Elementary School → Lesley Rockwood


"Lesley is an all-renaissance woman. She is a teacher with many talents and knowledge. Lesley is thoughtful and caring. She keeps her students engaged and has the best positive reinforcers for anyone who steps through her classroom door. She is also a team player and is flexible when needed. She is a great asset to TSES."



Treasure Mountain Junior High → Ryan Duca


"

Ryan leads our after school program and gives the option for all students to have a space to feel comfortable and be themselves. This is an enormous undertaking and is incredibly beneficial for the students who participate."



Sarah & Stephen Doilney Award Winner → George Murphy

The Sarah & Stephen Doilney Award is voted on by the Senior Class at Park City High to honor the most influential educator of their school career. PCHS Spanish teacher George Murphy is this year's recipient; here is what some of the nominations from his students said:

He makes me excited to come to class. I know that what he is teaching me will prepare me to face the world.


Murph is the best teacher I have ever had. He always makes class fun and does everything he can to support you and help you do your best. I am grateful for how much Murph has helped me improve my Spanish and for all of the academic and life lessons he has taught me over the years.


Murphy has consistently shown appreciation, kindness, and assistance to all of his s students. Murphy has made a significantly positive impact on my high school career!


He puts in so much work into all his teaching, extracurriculars, and other endeavors. He has truly given so much to the school district and continually sacrifices himself.


He embodies the values of helping others, doing what's right, and trying your best, and he encourages every single one of his students to do the same.


Simply – The GOAT

Congratulations to Park City's Excellent Educators! In addition to award celebrations at each school, The Excellent Educator Program, funded by the Louis and Doilney families, includes a sweet treat for every PCSD educator, and one more token of appreciation…

"We hear so much that Running with Ed is our teachers' favorite event of the year," said Jennifer Billow, PCEF's Vice President of Advancement. "So this year, thanks to the Doilney and Louis families, registration for all PCSD employees was free!"

Jim Doilney honors his mother – a former teacher – with his annual support of the Excellent Educator Program. The Louis Family joined the effort to celebrate Park City's Excellent Educators in 2019.

"The Louis and Doilney families sponsor the Excellent Educator Program because they know how critical educators are in shaping the next generation of leaders, innovators, and problem-solvers," said Abby McNulty, President and CEO of Park City Education Foundation.

"They see the work first hand, too, with their children and grandchildren in our schools - and want to support the very people who make our schools so great."
---
To support Park City's Excellent Educators and PCEF's educator-powered initiatives, click here!