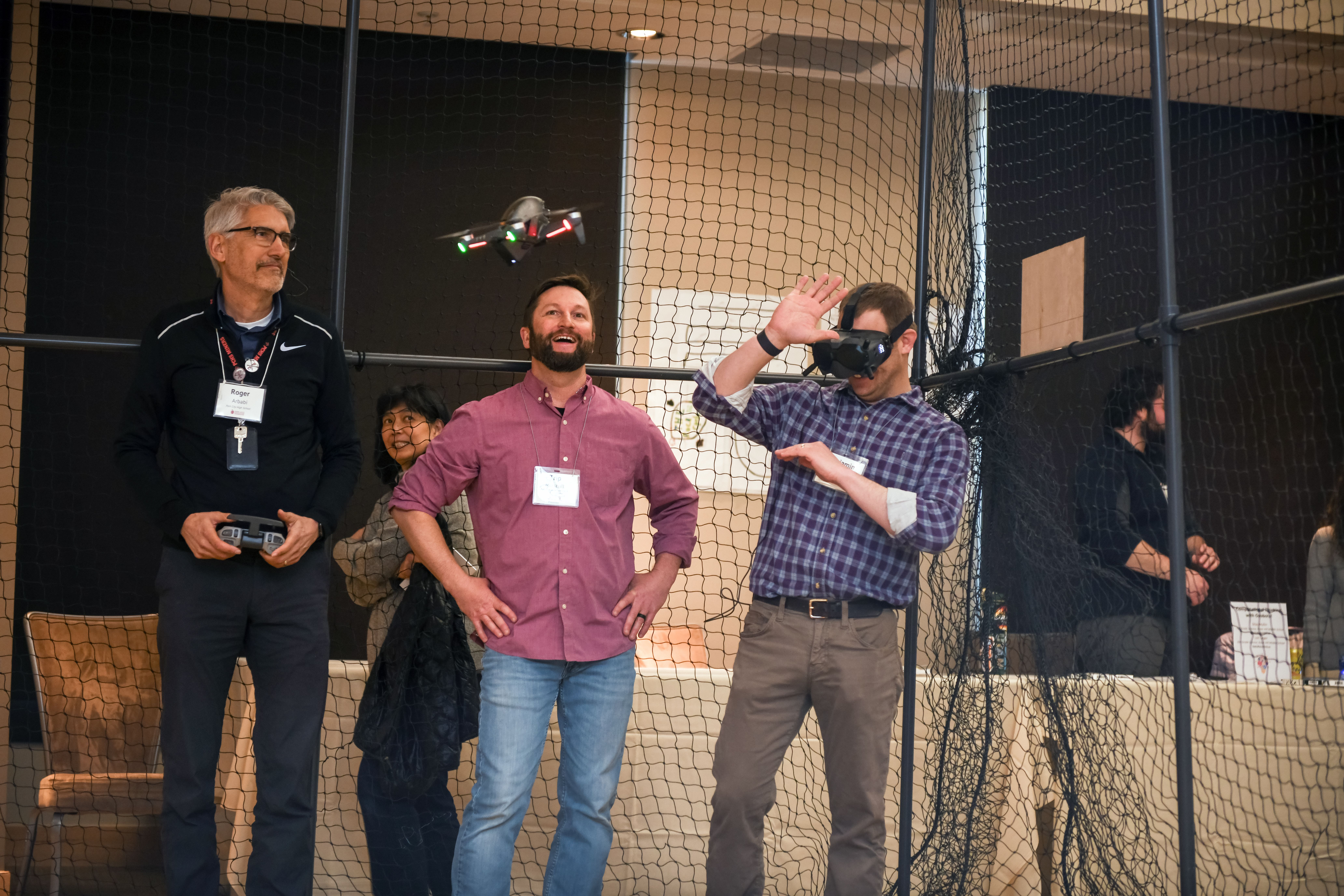 PCEF's Mission is to "fund educator-powered initiatives that inspire all Park City students to successfully reach their academic and lifelong potential." The heartbeat of learning, always, is our teachers, and PCEF has taken huge strides to not only include educator voices - but to center them in our efforts. Our excellent educators, after all, are second only to parents when it comes to influence on students!
"It was so nice to have a professional event as an opportunity to connect with others in the district. The food and socialization was good for the soul, and being able to connect with teachers both within my own school and at other schools was so great! I learned a lot from talking to educators at other schools and I feel like I walked away with things I could begin to think about and apply immediately."*
Nearly 100 of Park City's excellent educators attended Park City Education Foundation's first-ever Ideas for Impact Summit & Social event. Teachers from all PCSD schools were given room and time to gather, engage in discussions and demonstrations, share ideas, network, and socialize (a huge thank you to Newpark Resort for the donation of the event space!).
"It was a rejuvenating opportunity to connect with colleagues and find out what people are doing at other schools throughout the district."
---
PCEF INNOVATION LAB
Ideas for Impact, a project of PCEF's Innovation Lab, was guided by PCEF's Programs Director Kara Cody. It was designed by teachers with support from:
Lyndsay Huntsman | PCSD's Director of CTE & PCCAPS
Holland Lincoln | PCEF Board member
Caleb Fine | TMJH Principal
Traci Evans | PCSD's Executive Director of Educational Programs
Allison Boxer | Managing Director Impact Strategy, Sorenson Impact Center
Hoby Darling | PCEF Board member
"It was an evening of inspiration and joy," said Kara Cody, "and finding ways to bring even more impact to teaching. The best part was that many were simple enough for educators to implement immediately."
CLICK HERE FOR TONS OF PHOTOS!
---
PARTY… WITH A PURPOSE!
PCEF, with a focus on its goal to further integrate and amplify teacher voice in its operations, started its Teacher Voice project in 2016.
"PCEF invited teachers to be a part of the committee…[for] input [on] teacher grants and other PCEF initiatives," said Mike Burton, Technology Instructional Coach & Computer Science Teacher at Trailside Elementary. "PCEF is such an amazing organization for our schools and community. If there is ever an opportunity where PCEF is asking for teacher help I am willing."
After the pandemic sidelined the effort, the Ideas for Impact event was a chance to showcase its evolution - and to demonstrate PCEF's steadfast commitment to the power of our educators. And, while the goals were a bit different in 2016, Burton thinks both efforts had a common vision - "to find the best ways to support Park City educators and students."
"I absolutely loved this event! What a great platform to have talented teachers from our own district teach us about new and innovative ideas they are using in their classroom… PCEF is so incredible to fund this event for PC teachers - thank you always for your endless support!"
---
IDEAS FOR IMPACT 2023
"It was fun to see people I do not usually see. The presentations were well done and gave teachers new ideas to try in their classes right away."
98 educators attended the event, which kicked off with a keynote from Hoby Darling. After that, 31 teachers presented in various formats.
Sessions →
Reconnect To Your Purpose and Mission | Melissa Nikolai
Artificial Intelligence (AI) in Education | Mike Burton
Teaching in French DLI Small Groups | Isabelle Héré
Kinder Academy | Julie Yeager
PCBL and the Modern Classroom | Molly Forster & Larissa Fomuke
Innovation Fatigue Therapy: A Sentimental Man and Woman here to Pump You Up! | Nikolai Jensen & Kristen Hall
Effective Use of Technology in the Classroom | Shelby Cornett & Christina Sutherland
Supporting Multilingual Learners | Tracy Scheriff
Structured Conversation | Jill Thompson
PCEF Open Forum Roundtable | Abby McNulty & Jennifer Billow
Posters & Interactive Demonstration Topics →
Integration of CS with World Languages Curriculum | Janice LaFarga & Tonya Phillips
Drones in Classrooms | Trip Marshall
Creating Orbital Motion Using the Finch | Trindl Covington
Energize your Classroom with Laser Cutting | Brad Gannon
Using Scratch in ANY Classroom | Tonya Remillard Phillips & Janice Lafarga
Computational Thinking with Ozobots! | Silas Mullin & Lori Leger
Code & Go Mouse Using Computational Thinking Skills | Meredith McWilliams & Allison Atkin-Bagley
Incorporating Computer Science Into School Counseling | Kristen Thomas
Classroom Management and Reinforcement | Makayla Christensen
Tier 1 Differentiated Instruction | Suzanne Sheridan & Jana Tullis
School & Class Culture | Melissa Bott & Megan Luckan
Science in a Second Language |Linda Czarnecki, Austyn Borjigin, & Carla Grimaldi
Effective DLI Partnerships | Trevor Gilotti
"To and Through" College for First Generation Students | Jen O'Brien & Joana Acevedo
PCHS Flair → Ideas for Increasing Student Engagement | Laura Starley & Ed Potts
"It was about celebrating innovation that's happening in the district right now," said Holland Lincoln, PCEF Board member and Innovation Lab Chair, "and giving educators a chance to share and collaborate and celebrate each other."
PCEF would like to express our immense gratitude to the Ideas for Impact Planning Committee members:
Holland Lincoln, Chair
Kathy Anderson
Ashley Ballew
Hoby Darling
Mike Burton
Allison Boxer
Brad Gannon
Dr. Jill Gildea
Rebeca Gonzalez
Lyndsay Huntsman
Kristen Hall
Niko Jenson
Traci Evans
Summer Marshall
Caleb Fine
Lisa Rasch
Melissa Nikolai
Maddy Shear
Melissa Perry
Another huge thank you to Newpark Resort for donating space for this event.
---
Below are a number of quotes from many of Park City's excellent educators who participated in the event.
"Thank you so much for your continued support of our schools and our staff. We could not do what we do without your [PCEF] support."
"Great atmosphere. An event where educators felt energized, inspired, and valued."
"It was fun to socialize with my colleagues outside of school and listen to a lot of innovative ideas."
"This was a wonderful event that celebrated the hard work of our educators!"
"I enjoyed the opportunity to explore and discuss aspects of education"
"It was very enjoyable to see colleagues in a professional environment that involved food and drink in a nice setting. I was very impressed."
"It was great to see all the amazing things teachers are doing. For them to be able to showcase their awesomeness in a safe, supportive space is great."
"This was a fantastic event! It was so nice to see colleagues in our district recognized for their talents."
"Loved seeing teachers from around the district."
"I was extremely happy with the connections I made that day."
"It was a good experience just being able to share stories and programming."
"Really fun to share my excitement with PCBL!"
"Thank you so much for putting this together - what an event!"
"PCEF rules:)"
"I really enjoyed the opportunity to visit with other teachers and share."
"I really enjoyed myself. Thank you!"
"Thank you for the time and effort that was put into organizing such a wonderful event!"
"It was so refreshing to learn new ideas to implement in my classroom and network with colleagues."
"Was inspiring to see the efforts others in the district are making on behalf of our students. I liked that participants gathered together at the start, but then were able to choose where/how to engage. It was lively, social, inspiring and informative."
"I loved the opportunity to get together."
"It was so nice to visit with everyone during this time together. I did see some great ideas that helped stimulate some creative thinking."
"It was great having space and time to share ideas. The unstructured time to simply have conversation is something special."
"It was a great opportunity to see many colleagues and all of the great things that are happening in their classrooms."
"I loved seeing my colleagues, especially from other schools who are doing amazing things!"
"I thought the presenters were excellent."
"I thought that the event was well organized with time to socialize and share ideas. The presenters had diverse presentations that were interesting to look at and learn."

*All unattributed teacher quotes are from an anonymous post-event survey.