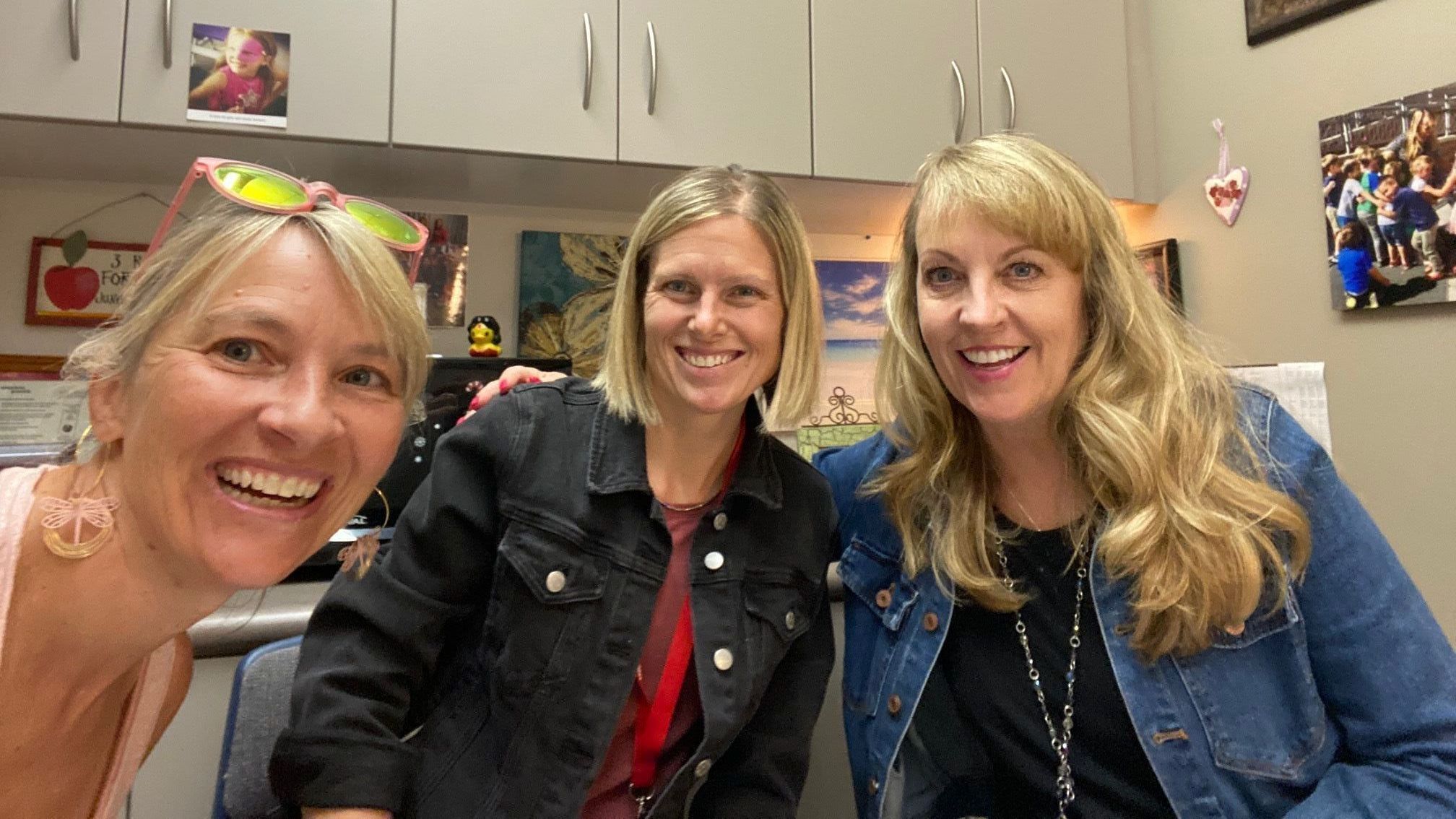 Congratulations to the wonderful Kathy Anderson, Director of the Park City School District's Preschool Program, on her upcoming retirement!
Kathy will retire in June after decades of service. She was recently honored with the Mary Alton Friend of Children Award at the 48th Annual Utah Early Childhood Conference at the University of Utah.
"The Mary Alton Friend of Children Award recognizes individuals who have made outstanding contributions to Utah's early childhood community through his or her many years of service as an advocate for children and quality programming. This award specifically recognizes the contributions made by the recipient because of their vision for and public commitment to children. The recipient is a long-standing educator of young children whose efforts have made Utah a better place for children to grow and learn."
This award is so well-deserved for Kathy, who started with PCSD in 1990 as a Kindergarten teacher and moved to the Preschool team in 2011.
Anyone who has ever crossed paths with Kathy knows immediately what a bright light in the world she is. For those of us who get to know her, that knowledge continues to grow. Her incredible impact on children, families, co-workers, colleagues, and this community could never be fully expressed. Suffice to say - Kathy is a rare soul who will be terribly missed.
Not only is Kathy a joy to be near, she works relentlessly to improve the Preschool program, which she created with a team of partners, including PCEF, 12 years ago. Under her guidance, PCSD's Preschool became the first school district Preschool program in Utah.
"When Kathy Anderson started PCSD's Preschool program 12 years ago, there was nothing quite like it - it actually felt a little radical," said Abby McNulty, President and CEO of Park City Education Foundation. "When Kathy transitioned from kindergarten to build PreK, she would always say, 'This is a wonderful program. It's about play, fun, love, warmth, early literacy, and early numeracy… I wouldn't have left kindergarten if we weren't building just the right environment for our littlest kids.'"
Since its inception, Kathy has shepherded the program from 60 seats to 190…
"She gave her stamp of approval from the very beginning and the program has continued to grow and develop under her love and care," said McNulty. "Kathy is dynamic, smart, dedicated, and an absolute joy to work with. She has made this program a beacon to moms and dads who want a loving, fun, safe, and rich environment for their children."
And, in true Kathy Anderson fashion, she leaves a legacy that includes a final, huge contribution. Ahead of her retirement, Kathy made sure to set the strategy for the Preschool program to grow to 600 seats, which will go a long way to mitigate many challenges of Park City's childcare desert.
We are so grateful for your endless, selfless support, Kathy Anderson! We love you dearly and will miss you so much.
And we aren't the only ones! Kathy's Preschool colleagues have shared a number of thoughts about her. We invite you to read them all below.
---
"Working with Kathy is the highest honor. She is kind, understanding, a great listener, and she loves everyone! The countless hours she works to make Preschool run smoothly do not go unrecognized. Kathy is truly an amazing human and she has changed the world with all she has done in her career. She is a positive influence in the Park City School District and our community. We are so grateful for her."

-- Lisa Rasch, JRES Preschool Teacher
---
"I first met Kathy 18 years ago when our boys were in school together. Our friendship led to many fun opportunities that have kept our relationship strong and allowed us to build a wonderful working relationship with each other. I have not looked back. There is no person who has been more committed to helping everyone on her team become more successful, be the best they can be, by her example, and one who is all about play!"
-- Kristen Robinson, PPES Preschool Teacher
---
"When my daughter started 1st grade my neighbor, Miss Kathy, called me and said, 'You have no children at home - you should come work for the PCSD!' I started in the reading program 23 years ago. Miss Kathy took me under her wing, and was a great example to me. When that program fizzled, I went with her to Preschool. Again, she taught me with such love and patience. I will always remember her inspiration and teaching technique that I try to do everyday. She will be missed in our district. Love you Miss Kathy!"
-- Lisa Clift, JRES Preschool Assistant Teacher
---
"In my 22 years of teaching in various states and school districts, I've never had an administrator/director like Kathy Anderson. Kathy approaches her job with enthusiasm and love for the children in our program and her staff. She supports us as early childhood educators and works tirelessly for us to get the proper compensation and respect. Everyone that knows Kathy loves them. She is the ultimate cheerleader, and an inspirational leader in the Park City School District. She will be missed."
-- Laurie Holbrook-Jorgensen, MPES Preschool Teacher
---
"I first met Kathy as my son's 2nd grade teacher 29 years ago. Not only was she a wonderful teacher but has turned into a treasured family friend and neighbor. Kathy has remembered important days in our lives brought us flowers, treats, meals when my husband was sick and always words of encouragement! Our students love her and so does our family. Kathy is truly the "BEST in ALL the LAND!"
-- Joanne Vincent, JRES Teacher Assistant
---
"For our students: Hands-down, Kathy Anderson is their favorite visitor to our classroom - she is a showstopper! She comes in with smiles and hugs and knows each student by name. On her visits, she sings songs, teaches a new game, brings her own (grown) children's best-loved stories to read to the class...or even passes around a puffer fish! Kathy takes the time to get to know each of the preschool students (parents and, even, siblings!). She makes every student feel special!
For me: As my "boss" - she is THE BEST… she can brainstorm ideas, come up with solutions, finish your sentence and order the thing you needed for your classroom but weren't sure what it was called... all before you even finish asking her! She makes every staff member feel special!"
-- Laurie West, JRES Preschool Teacher
---
"Kathy makes work fun! She puts a smile on our face and makes the hard days easier to get through."
-- Paula Larson, JRES Teacher Assistant
---
"Where do I even begin? Kathy has brought so much knowledge, fun, enthusiasm, and energy to the preschool program. Kathy's sense of humor and willingness to lend a helping hand will be greatly missed, but her legacy will continue to inspire and influence others for years to come. I consider Kathy to be an amazing leader, a teacher mentor, and truly just a great friend! Between traveling the world, planning parties, and taking care of her family- she always makes time for us.
She inspires me to be a better teacher, colleague, and mom. My own children call her, "Aunt Kathy" and love hanging out in her office or playing at her house. She is absolutely the best and I am so grateful to have her in my life."
-- Jenn Schwendiman, PCSD Preschool Special Education Director
---
"I've known Kathy for over 25 years as a teacher and a mom and finally as a part of her preschool team. We have shared many highs and lows that have shined a light on her many great qualities. She's an educator and my mentor. When I get over my head, she's there to lend a hand or new perspective. When great things come my way, she'll do a happy dance to celebrate. She loves our students and strives to bring the best experiences their way. She loves our preschool team and strives to bring out the best in each of us. Kathy, thank you for all the many opportunities you have provided. You will be missed!"
-- Jacki Uribe, JRES Preschool Teacher
---
"Kathy Anderson is not only an amazing person to work for but is ALWAYS caring towards students and staff and works endlessly for everyone. She has the most positive and joyful attitude of anyone I've ever worked with. She lights up the room and the kids love being around her!"
-- Vanessa Severini, TSES Preschool Teacher
---
"Though I have only known Kathy for the last two years, she has made a difference in my life. Kathy genuinely cares about what is happening in our lives and helps whenever she can, I have never had a boss that cares so much about her staff. She has such a kind, caring way about her that shows in everything she does. The support and help she gives all of us and our precious students is appreciated more than she'll ever know. Thank you, Kathy, for being a truly amazing, kind, caring friend to all of us!"
-- Cheree Frandsen, PPES Preschool Teacher
---
Kathy Anderson has been a champion for age appropriate early childhood education throughout the State of Utah. She has provided leadership to her team of educators that makes it hard to imagine working for anyone else. Kathy has provided her staff with ongoing professional development that has shaped our lives. Most importantly, she has been a friend. She will be missed but we look forward to the opportunities that await her in retirement!
-- Jen Bramson, MPES Preschool Teacher
---
"I have had the absolute pleasure of working with Kathy Anderson in the Park City Preschool for several years, and I can say with confidence that she is an outstanding educator and leader. From our first meeting, I was struck by Kathy's warmth, enthusiasm, and deep knowledge of early childhood education. Her unwavering dedication to creating a supportive, nurturing environment where every child can thrive is truly inspiring.
Kathy is a visionary leader who truly leads by example, always going above and beyond to ensure that Park City Preschool provides the highest quality education and care to its students. She is also a natural communicator and relationship builder, always making time to listen to the concerns and ideas of parents, staff, and community members. I am continually impressed by Kathy's leadership, and I feel fortunate to have worked with her. The ripple effect of Kathy's work in our community will last for years to come. Hands down, she is one of the best people I know. She will be sorely missed."
-- Julie Alvarez, MPES Preschool Teacher