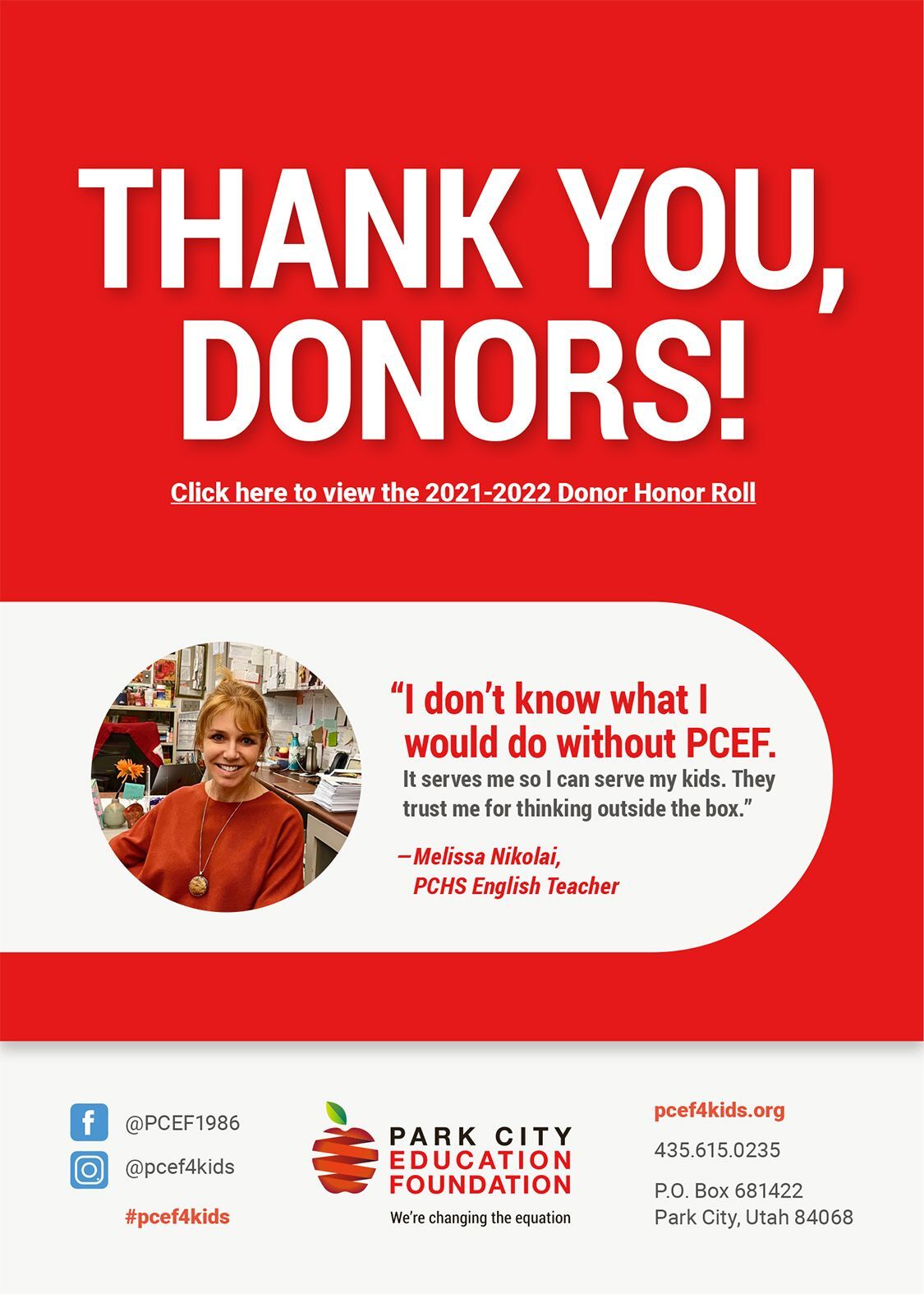 Incredible support from a great community means that last school year (2021-2022), the Park City Education Foundation infused more than $1.5 million into Park City schools.
PCEF launched in 1986 with one STEM-focused Teacher Grant of $2,000. Teacher Grants have evolved to Classroom Grants in the nearly 40 years since (with more than 840 grants awarded in that time!), but it remains the same in that every bit goes directly into classrooms and positively impacts every single Park City student.
Donor support allows PCEF to provide the "power" in educator-powered programming. Educators like Park City High School English teacher Melissa Nikolai share feedback like this:
"I don't know what I would do without PCEF. lt serves me so I can serve my kids... They trust me for thinking outside the box. They trust me."—Melissa Nikolai, PCHS English Teacher
When educators have support to bring innovative ideas, concepts, or practices to life, they are better able to prepare our students for the time when they take their place as the world's innovators, problem-solvers, and leaders—and meet their extraordinary potential.
We can't imagine a more powerful impact than that.
With gratitude,
Abby McNulty
PCEF President and CEO
---
See your impact in our Donor Impact Report for the 2021-2022 school year here. You can download it via this link.
---
El increíble apoyo de una gran comunidad significa que el año escolar pasado (2021-2022), la Fundación de Educación de Park City infundió más de $1.5 millones a las escuelas de Park City.
La PCEF comenzó a operar en 1986 con una subvención para profesores enfocada en STEM de $2,000. Las subvenciones para profesores han evolucionado hasta convertirse en subvenciones para el salón de clases en los casi 40 años transcurridos desde entonces (¡con más de 840 subvenciones concedidas en ese tiempo!), pero sigue siendo lo mismo en el sentido de que cada granito de arena va directamente a los salones de clases y tiene un impacto positivo en cada uno de los estudiantes de Park City.
El apoyo de los donantes permite a la PCEF proporcionar el "poder" de la programación impulsada por los educadores. Educadores como la profesora de inglés de la escuela secundaria Park City Melissa Nikolai comparten comentarios como este:
"No sé qué haría sin la PCEF. Me sirve para poder servir a mis alumnos... Ellos confían en mi por pensar con originalidad. Ellos confían en mí."-Melissa Nikolai, profesora de inglés de la escuela secundaria Park City.
Cuando los educadores cuentan con apoyo para dar vida a ideas, conceptos o prácticas innovadoras, están en mejores condiciones de preparar a nuestros estudiantes para el momento en que ocupen su lugar como innovadores, solucionadores de problemas y líderes del mundo, y alcancen su extraordinario potencial.
No podemos imaginar un impacto más poderoso que ese.
Con gratitud,
Abby McNulty
Presidente y Director General de la PCEF
---
Consulta tu impacto en nuestro Informe de Impacto de Donantes del curso 2021-2022 aquí. Puedes descargarlo a través de este enlace.