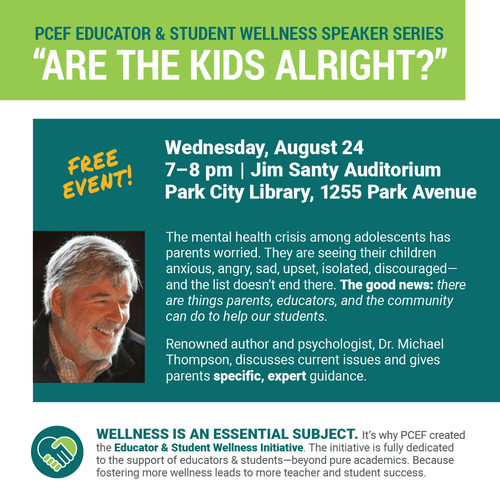 Dr. Michael Thompson's "Are the Kids Alright?"
Wednesday, August 24, 2022
7 - 8 p.m. @ Jim Santy Auditorium
Park City Library, 1255 Park Avenue
FREE Event
Park City Education Foundation invites the entire community to join our launch of the free Educator and Student Wellness Speaker Series, featuring renowned author and psychologist, Dr. Michael Thompson.

"Are the Kids Alright" will provide expert insight and analysis about how our students are really doing – with some surprising results...
Student mental wellness has never been more of a priority.
The COVID pandemic and its far-reaching uncertainty has sparked a mental health crisis among adolescents - and parents are worried. They are seeing their children anxious, angry, sad, upset, isolated, discouraged - and the list doesn't end there. 
The good news: there are things parents, educators, and the community can do to help our students. 
Dr. Thompson, a psychologist specializing in children and families, has written and co-authored 10 books, worked with more than 700 schools across the globe, and been featured in national news outlets like 60 Minutes, NPR, The New York Times, The Washington Post, and many more. Dr. Thompson also wrote, narrated, and hosted a nationally-broadcast PBS documentary entitled "Raising Cain."
In PCEF's first-ever Educator and Student Wellness Speaker Series event, Dr. Thompson will discuss the current state of mental health for children  -- and give parents specific, expert guidance, including:
The four "protective factors"  that will help our children. 
The children who are suffering most - and why.
Six ways schools can nurture mental wellness.
---
Dr. Thompson's August 24th speaking engagement is the first in a series of upcoming PCEF Educator + Student Wellness events. The free Speaker Series is just one of the ways we are working alongside school leadership and the community to instill resources for resilience in our students and educators, who need these tools now more than ever - in the classroom and beyond. 
Wellness is an essential subject, and this is why PCEF created the Educator and Student Wellness Initiative. The initiative, which has significant, consistent funding, is fully dedicated to the support of educators & students – beyond pure academics. Because fostering more wellness leads to more teacher and student success. 

If you would like to support PCEF's Educator + Student Wellness Initiative,
we invite you to click here.