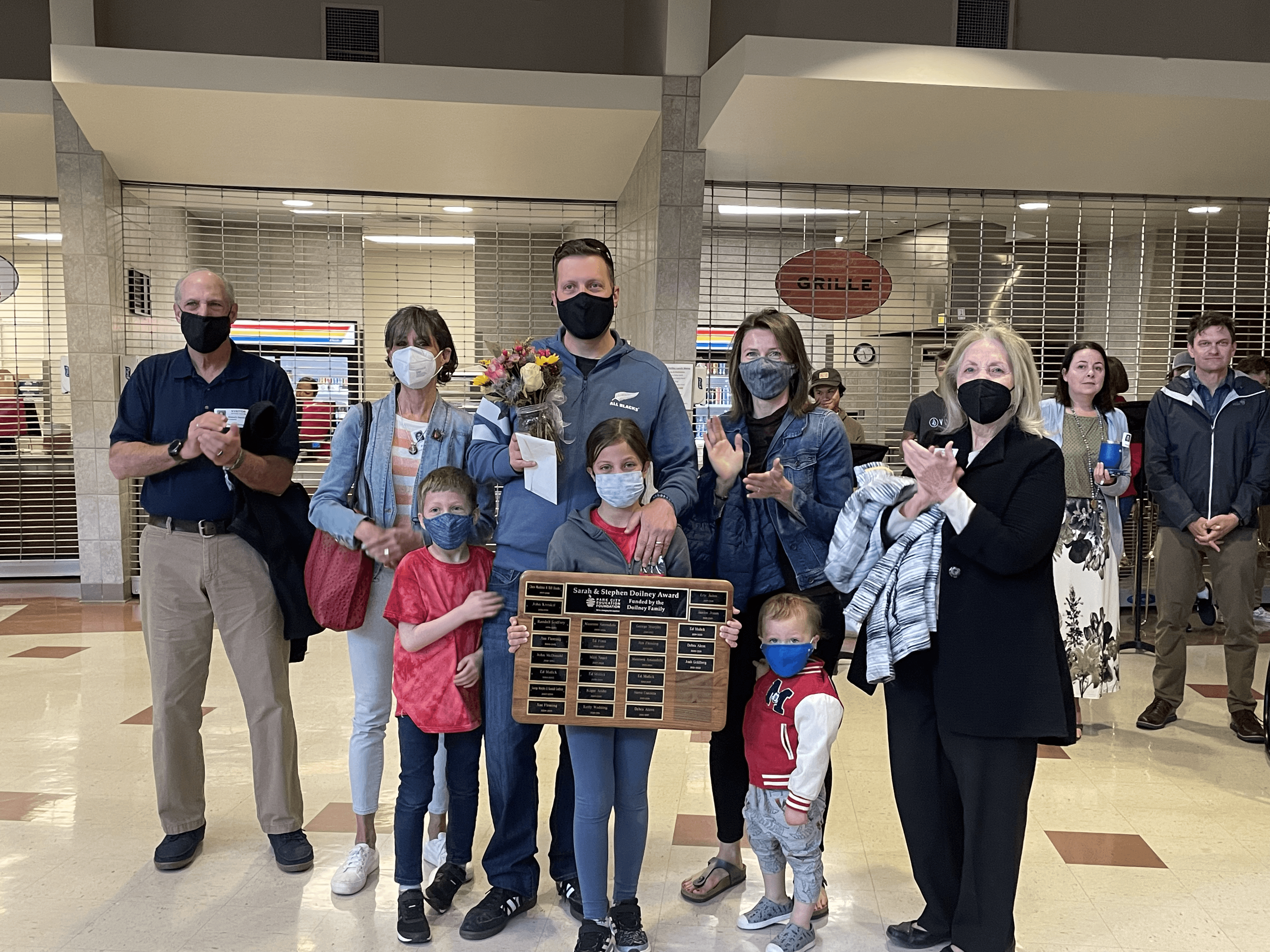 In 1996, Jim Doilney created a very special award to honor his parents: his mother was a teacher and he wanted to pay tribute to her profession.
The Sarah & Stephen Doilney Award, as voted on by each Senior Class at Park City High, honors the most influential educator of their PCSD school career. 
The Sarah and Stephen Doilney Award winner, as voted on by Park City High School's Class of 2022: Social Studies teacher Josh Goldberg! 
More than 60 teachers received at least one vote - see a number of the student comments about them below. 
Quite literally has been with me for the majority of my life... Made me feel like I had a place in the school. Thank you.
He is always so patient and open to help those in need. I am so grateful that he is so flexible and willing to help. Merci!
I am nominating this person because of the impact they have had on my life and work ethic. He has helped me grow and learn how to tackle challenging problems in everyday life.
He has taught me a lot not only in music but how to apply the lessons he teaches into life. He is someone who definitely demands respect without saying anything.
He took me, as a sophomore, who was totally unqualified and inexperienced, and involved me in a program that would be a center stone in my life at school for the next three years. I was an average guitarist and musician in the beginning, but he challenged me and gave me great opportunities. Some of the memories I made in his varsity jazz ensemble will remain with me for my entire lifetime.
This teacher has inspired me every time I walk into his class. This teacher has gotten me through my high school career and has taught me so much, not just about things in his class but also about the important things in life. He has given me motivation to keep pushing through even when things get hard. I am so grateful.
He really looked out for me while I was there and he would let me sit in his class for lunch with my friends or sit in on classes and he would also give me some of his food sometimes and I trusted him. He was a great teacher and he was really neat and fun.
He inspired me to be the best person I can be. 
He was an amazing teacher because he was really easy to talk to and was always available to give advice, help, or even some constructive criticism when I wasn't living up to my potential. 
She exudes positivity and is a living example that a positive mindset can get you through anything in life. She is always encouraging, pushes you to do your best and to become your best self, and is just a refreshing personality to talk to. You can truly see the passion she has for her work, and the pride she takes in making a difference in student's lives.
She was the one teacher that has really made an impact on my life. She made me have so much more confidence in math and she taught me how to be a better person. I thank her so much after everything she did for me those years.
You made AP chem fun and supported us, even though we complained and asked questions all class long. It was the first time I actually understood anything related to chemistry and made me excited about studying chem or biochem in college. I always had fun in your class and we always had good conversations.
He always created a great classroom environment and made learning fun. He definitely influenced my academic career and made me want to come to school.
The amount of effort and time he takes to explain what we are learning, as well as the patience that he has with all of us. He fully understands how to work with high schoolers best and makes what we are learning applicable for ourselves.
He has always been an extremely supportive teacher and role model and he always makes himself available after school for help with math homework
He has been the most influential teacher I have had in my high school career. He cares about the wellbeing of his students without sacrificing the education. He allowed me to comprehend subjects I typically cannot and made me feel understood.
Her teaching style has been the most inclusive for every student and she really cares about her students success in the classroom and in life.
Because no matter what class she teaches I always learn and enjoy the time I spend in her classroom.
He gives great advice and is always down for a chat about anything, from sports to mental health. He is the person that made me fall in love with learning Spanish, and I am going to minor in Spanish in college.
He really cares about his students and has helped me learn a lot. He also really emphasizes that his class is not about the grade, but about the learning experience itself which I liked a lot.
Best teacher ever and very involved with his students. He is passionate about what he teaches and always stays after school to help.
He genuinely cares about his students, and was personally always supportive of me and was always there to chat if I needed help.
He has taught me the most in terms of life. His Current Issues and Social Change class has been so influential. I have learned how to understand experiences of others so much better because of him.
He has been one of the most accepting and more supportive teachers I've ever had. He understands you and is willing to work things out with you. I have been his student for 3 years and I can strongly say that he is the reason why I am still in school and am motivated to keep going. He has been one of those teachers that feel like friends and he has motivated me and inspired me to make a change in the world.
I am nominating him because I learned a lot in his class and he has a very fun and engaging teaching style.
He's been there for me when I opened up about my trauma. He's gotten me through rough patches in my life and he's given me hope. 
I am nominating this teacher because they haven't given up on me and only helped me succeed in class in order to achieve the grades I deserve.
She has been extremely helpful and accommodating to me while preparing for AP tests and is always willing to provide extra help and clarification to students.
Not only is she caring towards each of her students, but she also prioritizes learning and mental health. She is an incredible individual and educator and I feel so grateful to have had her as my teacher for the past two years.
She helped me during my toughest time, she helped me see the light at the end of the tunnel when all i could see was darkness. She has done nothing but shown compassion towards me and my classmates. She wants nothing but the best for her students. She deserves this award.
Her class completely transformed both my worldview and my confidence. 
He has given me so much advice that has helped me with my art career. He's so kind and motivational, and he always open to questions and giving feedback.
She helped grow my love for EMT and has encouraged me to follow my dreams in the medical field, while also keeping it practical and helped me develop my skills.
His classroom always has great energy and he talks to us like humans rather than just 'teaching.' He includes stuff in his class that is not in the curriculum and is fair and awesome. Like seriously. Great teacher.
She is one of the hardest working teachers I've ever encountered. Always working at school way after hours and on the weekend. She also advocates for her students to get them the best education she can. She works for hours and hours on getting her masters degree and a million other endorsements so that she, "can be a better teacher for her students" which is quoted directly from her when asked why she never stopped going to school. She loves her job and is one of the most inspirational people I've ever met. She's the most perfect teacher.
Throughout my time here I fell like he has always been there for me. I feel like I can go talk to him about anything regardless the subject. He feels like family more than a teacher because he truly cares about his students.
I don't have his class this year but I appreciate all he has done for me to grow as a student and also as a person. Other than just teaching me to become better at math he taught other principles to become a more effective learner that I will remember as I go to college. He always has a very positive, funny, happy attitude and was such a fun teacher!
He is a very dedicated teacher that cares very much about his students.
I nominate this person because he was a nice and funny teacher. He would help me with all my assignments. He impacted my life in 9th grade and told me that I need to believe myself and be the best person I can be.
He seems to genuinely care about what he is teaching and always has such enthusiasm for different kids' analysis of the books that we read that it encourages true learning
He has been an extremely influential role model in my life. He is someone I feel comfortable talking to and can trust to give me relevant and helpful advice. I've had him as a teacher for years and has helped me grow within my art and as a person.
I never had him as a teacher but the way he speaks to his students and speaks about his students is impactful.
He has been one of the few teachers who have actually listened to what I have to say and genuinely had fun talking to. He has pushed me to continue to apply for college and find a place where I would fit in best. He pushes me to not give up and settle for less. I feel comfortable when confiding in him and he really is a great teacher.
He was alway so caring towards me when I was going through a hard time. I could always go to him for support and advice. He was also a very passionate and great teacher in general.
He cares about each and every one of his students and it shows.
He is unique in his way of teaching and is very enthusiastic about what he teaches. Overall just a nice guy.
He has always been a supportive teacher who understands the circumstances of life. He does his best to help all of his students in any way he can. His classroom is always a fun place to go and not overly focused on seriousness, he teaches while making us all laugh.
He made math an enjoyable and explorable topic, and always found a way to always make class something to look forward too.
He is honestly just the greatest teacher I have ever had. He is kind, supportive, a great educator, and doesn't just care about his students as students but as people. He genuinely cares about every single person that comes into his class and his class is one I ALWAYS look forward to. He has enriched my knowledge in myriad ways inside and outside the classroom and has made me pursue learning and reading outside the context of school... His current issues class has provided me with valuable information I use EVERY SINGLE DAY. He is the best teacher I have ever had. Hands down.
He is an amazing teacher. He helped me understand the world around me. 
This teacher relates to my needs and makes sure that i am involved in class.
He has helped me discover who I am and who I want to be and I couldn't have asked for a better teacher to teach me the most important things to know and that I want to be exactly like him when I grow up.
I really appreciated his care for his students and overall enjoyed his class a lot.
Got me interested in biology and inspired me to pursue pre-med and made school interesting.
He is awesome, describes content extremely well, in an easy to understand manner, and is a laid back person. he is the reason I am going to college for biology, and I am really thankful for him.
Because he is a great teacher, who you can actually build a relationship with. Makes class enjoyable and is overall my greatest teacher I've ever had.
He is the most engaging and entertaining teacher I've had, and actually got me interested in bio.
He makes learning fun, keeps students engaged, and is very understanding and always willing to help a student out.
He is such a passionate teacher and actually makes class fun. He loves all his students and works so hard to give them the best experience that he can.
He helped me become more of a student leader and pushed me to expand my comfort zone.
He makes class engaging and interesting and it helps me want to come to school.
He's a fantastic teacher, who cares and makes class fun. He motivates me to come to class and makes learning fun.
He understands high schoolers, he is patient with us and will help his students whenever they need help. He is also excellent when explaining an assignment to us.
Made school worth coming to and let me have fun!
I appreciate how much he has helped me through out my educational career. He has inspired me to become the best I can be.
She is selfless, she is kind, she is welcoming to all her students.
She taught me a lot beyond the curriculum. We had really good talks and she was one of the first people I sort of connected with at the school, I really admire her.
Even though she is super super busy, she always made time to help me before school or to reteach something I was confused on. She made learning fun and related it to the real world to add meaning to the things we were learning. She truly cared about how you were and is an amazing teacher.
She is the most accommodating, helpful, involved, and caring teacher I know. No matter how much I'm struggling in her class, or even in my personal life, she takes time out of her already stressful and packed days to talk to me and make sure I understand the content. I have never met teacher who genuinely cares about their students the way she does. She wants you to succeed and having someone like that makes you want to give the class your all. She is truly inspiring.
She is a constant light. She genuinely cares for each of he students and works to make each of them feel supported on a regular basis. She made class fun and exciting and she made subjects that felt difficult much easier. She is hands down the best teacher I have ever had!
She was my teacher in second and third grade and taught me how to love myself and succeed in school. She was my biggest supporter and truly was the most vibrant teacher I have ever had. She took me in and taught me so many life lessons that I will use for my whole life.
She changed my life forever. Being able to have her for two years and being able to learn from her kindness and compassion. I am so grateful I was able to be taught by her about being a student and being a great person.
She is so caring and you can always count on her to make you feel better. I would not have graduated without her emotional support.
She's an amazing teacher, she gets the chance to get to know her students and accommodate to whatever her students need. plus she makes me feel very very understood.
She is the sweetest most understanding teacher I have met. She is patient with her students and students know that they can talk to her about anything.
She wants all of her students to succeed, she tries her absolute hardest that the kids have a fun experience in her class while staying on task.
She really inspired me to push myself and take care of my own responsibilities.|

I am nominating this person because I think she really did help me to be more confident in speaking english and in life.
For all the help and advice he has given me, he is like a mother to me. I can graduate thanks to him.