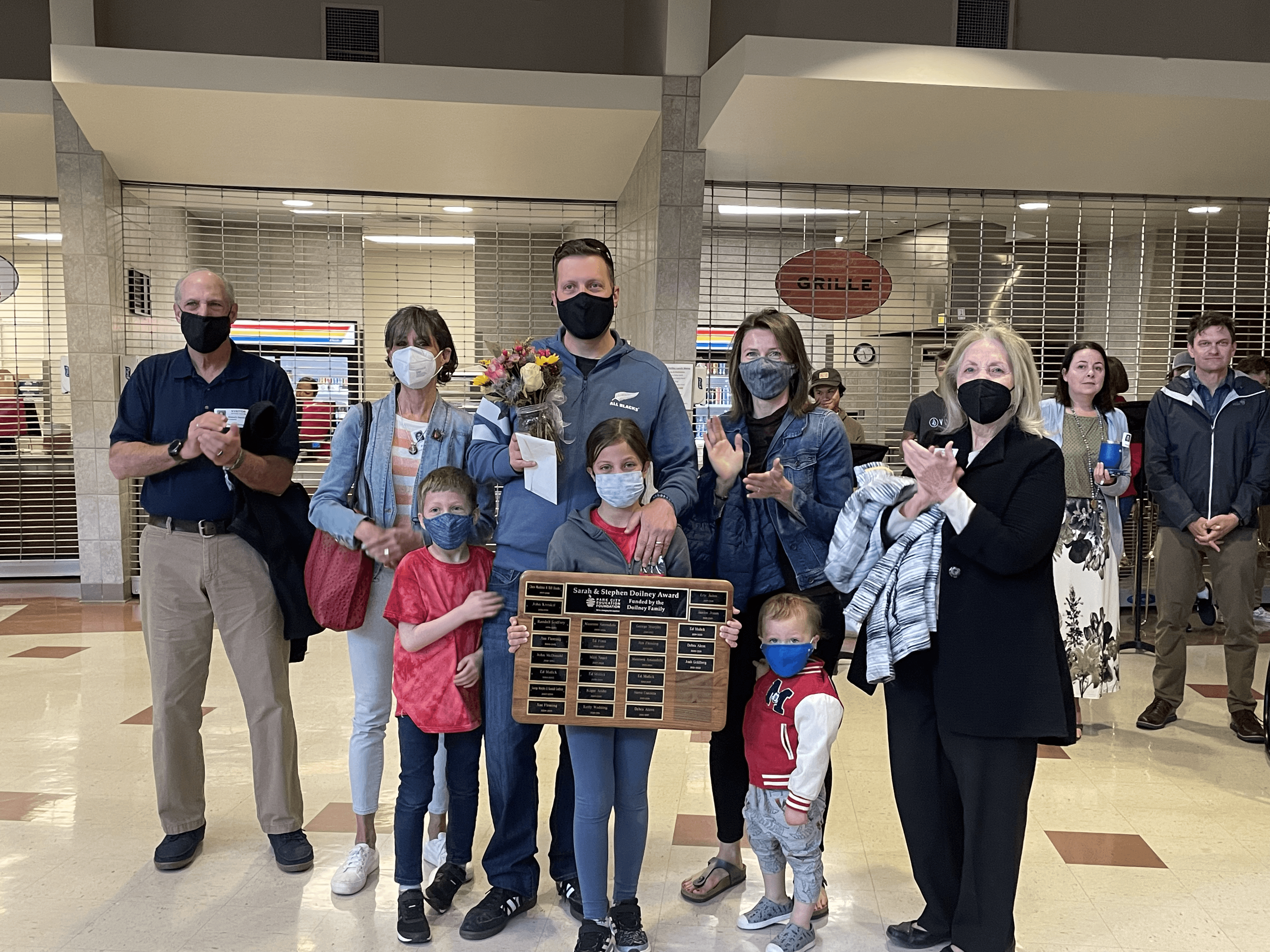 In 1996, Jim Doilney created a very special award to honor his parents: his mother was a teacher and he wanted to pay tribute to her profession.
The Sarah & Stephen Doilney Award, as voted on by each Senior Class at Park City High, honors the most influential educator of their PCSD school career. 
The Sarah and Stephen Doilney Award winner, as voted on by Park City High School's Class of 2022: Social Studies teacher Josh Goldberg! 
More than 60 teachers received at least one vote - see a number of the student comments about them below. 
---
Quite literally has been with me for the majority of my life... Made me feel like I had a place in the school. Thank you.
He is always so patient and open to help those in need. I am so grateful that he is so flexible and willing to help. Merci!
I am nominating this person because of the impact they have had on my life and work ethic. He has helped me grow and learn how to tackle challenging problems in everyday life.
He has taught me a lot not only in music but how to apply the lessons he teaches into life. He is someone who definitely demands respect without saying anything.
He took me, as a sophomore, who was totally unqualified and inexperienced, and involved me in a program that would be a center stone in my life at school for the next three years. I was an average guitarist and musician in the beginning, but he challenged me and gave me great opportunities. Some of the memories I made in his varsity jazz ensemble will remain with me for my entire lifetime.
This teacher has inspired me every time I walk into his class. This teacher has gotten me through my high school career and has taught me so much, not just about things in his class but also about the important things in life. He has given me motivation to keep pushing through even when things get hard. I am so grateful.
He really looked out for me while I was there and he would let me sit in his class for lunch with my friends or sit in on classes and he would also give me some of his food sometimes and I trusted him. He was a great teacher and he was really neat and fun.
He inspired me to be the best person I can be. 
He was an amazing teacher because he was really easy to talk to and was always available to give advice, help, or even some constructive criticism when I wasn't living up to my potential. 
She exudes positivity and is a living example that a positive mindset can get you through anything in life. She is always encouraging, pushes you to do your best and to become your best self, and is just a refreshing personality to talk to. You can truly see the passion she has for her work, and the pride she takes in making a difference in student's lives.
She was the one teacher that has really made an impact on my life. She made me have so much more confidence in math and she taught me how to be a better person. I thank her so much after everything she did for me those years.
You made AP chem fun and supported us, even though we complained and asked questions all class long. It was the first time I actually understood anything related to chemistry and made me excited about studying chem or biochem in college. I always had fun in your class and we always had good conversations.
He always created a great classroom environment and made learning fun. He definitely influenced my academic career and made me want to come to school.
The amount of effort and time he takes to explain what we are learning, as well as the patience that he has with all of us. He fully understands how to work with high schoolers best and makes what we are learning applicable for ourselves.
He has always been an extremely supportive teacher and role model and he always makes himself available after school for help with math homework
He has been the most influential teacher I have had in my high school career. He cares about the wellbeing of his students without sacrificing the education. He allowed me to comprehend subjects I typically cannot and made me feel understood.
Her teaching style has been the most inclusive for every student and she really cares about her students success in the classroom and in life.
Because no matter what class she teaches I always learn and enjoy the time I spend in her classroom.
He gives great advice and is always down for a chat about anything, from sports to mental health. He is the person that made me fall in love with learning Spanish, and I am going to minor in Spanish in college.
He really cares about his students and has helped me learn a lot. He also really emphasizes that his class is not about the grade, but about the learning experience itself which I liked a lot.
Best teacher ever and very involved with his students. He is passionate about what he teaches and always stays after school to help.
He genuinely cares about his students, and was personally always supportive of me and was always there to chat if I needed help.
He has taught me the most in terms of life. His Current Issues and Social Change class has been so influential. I have learned how to understand experiences of others so much better because of him.
He has been one of the most accepting and more supportive teachers I've ever had. He understands you and is willing to work things out with you. I have been his student for 3 years and I can strongly say that he is the reason why I am still in school and am motivated to keep going. He has been one of those teachers that feel like friends and he has motivated me and inspired me to make a change in the world.
I am nominating him because I learned a lot in his class and he has a very fun and engaging teaching style.
He's been there for me when I opened up about my trauma. He's gotten me through rough patches in my life and he's given me hope. 
Not only is she caring towards each of her students, but she also prioritizes learning and mental health. She is an incredible individual and educator and I feel so grateful to have had her as my teacher for the past two years.
She helped me during my toughest time, she helped me see the light at the end of the tunnel when all i could see was darkness. She has done nothing but shown compassion towards me and my classmates. She wants nothing but the best for her students. She deserves this award.
Her class completely transformed both my worldview and my confidence. 
He has given me so much advice that has helped me with my art career. He's so kind and motivational, and he always open to questions and giving feedback.
She helped grow my love for EMT and has encouraged me to follow my dreams in the medical field, while also keeping it practical and helped me develop my skills.
His classroom always has great energy and he talks to us like humans rather than just 'teaching.' He includes stuff in his class that is not in the curriculum and is fair and awesome. Like seriously. Great teacher.
She is one of the hardest working teachers I've ever encountered. Always working at school way after hours and on the weekend. She also advocates for her students to get them the best education she can. She works for hours and hours on getting her masters degree and a million other endorsements so that she, "can be a better teacher for her students" which is quoted directly from her when asked why she never stopped going to school. She loves her job and is one of the most inspirational people I've ever met. She's the most perfect teacher.