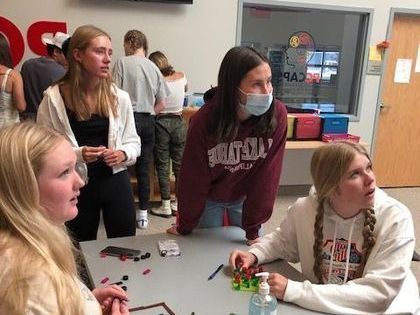 "PCCAPS is different because you can enjoy a math or physics class, but PCCAPS actually puts into perspective what a career in that field would look like and what it would involve - helps you figure out if that is actually what you want to do."
-Riley Barnhardt, PCCAPS student 
The biggest challenges in Riley Barnhardt's PCCAPS project didn't happen on the ground in Malawi, which is where a huge multi-layered, multi-team project is still unfolding… It happened right here in town, when she and her fellow PCCAPS business solutions team had to navigate through some local red tape:
"One of the main challenges was actually pulling off a fundraiser. It was difficult to get approval. Once we did, we had to figure out how to make it work. We wanted to sell Crumbl cookies, but we weren't allowed to sell them directly from the student store, and we couldn't sell the cookies day-of. We ended up taking orders - and payment - ahead of time." 
Riley created a spreadsheet to keep track of who ordered what cookies, and where they would be when the cookies needed to be delivered. Challenging enough – and her skills were further tested when, instead of the large cookies they had ordered and pre-sold, small cookies were delivered.
"That was a high-pressure situation," Riley said. "We had to think really quickly about what to do, since we had to distribute them during third hour. We decided to give everyone two small cookies instead - but we were worried people might not want them."
Those worries didn't come to fruition, and over the two-day fundraiser, Riley and her team sold $1,000 worth of cookies. The $800 profit was donated to their PCCAPS client, Moving Windmills, a nonprofit founded by William and Olivia Kamkwamba.  
PCCAPS, which stands for Park City Center for Advanced Professional Studies, is a PCEF-funded initiative for juniors and seniors at Park City High School. Students work on a project within their chosen strands, of which there are six: 
Business Solutions
Digital Design
Engineering & Architecture
Technology Solutions 
Teacher Education
Health & Medicine
---
The PCCAPS program is growing exponentially, which means it needs business partners for projects.
The students do real work on real deadlines - and get real results. They're guided by mentors throughout the work. Please click here to learn more and to sign up to have students help your business with a project! 
---
Riley's PCCAPS team is one of a few working on projects for Moving Windmills. The nonprofit was inspired by Kamkwamba's book, The Boy Who Harnessed the Wind*. 
"I joined PCCAPS because I knew it would be a good opportunity to get some real-life experience - and it's a really different class! I've always been interested in business, and the Moving Windmills projects seemed challenging and interesting - and the most impactful. 
I read the book in 6th or 7th grade, and then, a year later, my family went to the Park City Library to hear William Kamkwamba speak."
For the duration of the 2022/23 school year, Architecture, Engineering, and Business Solutions students have made significant progress on three projects in Malawi: 
Designing a community hub
Researching & designing an innovation center
Strategizing ideas for a free community library
Riley's team was focused on a few complex aspects of stocking the community library.

"We worked on ways to transport the books from their current location to the community centers in Malawi. We also needed to figure out how to get cost-effective materials to build shelves for books."
Riley connected with a contact in Kenya, who was able to find details on locally-sourced materials to execute their projects on the ground. 
"Sourcing things locally was one of the requirements for this project. Willam and Olivia's nonprofit's focus is to build up the community, to provide resources to support members of the community. They are working to provide opportunities in things like entrepreneurship and scientific studies." 
Riley's team project was three-pronged: a strategy to move the books; contacts and resources for shelving and supplies; and additional ways to to help educational efforts for the community moving forward.
"One idea we came up with was mobile libraries. The foundation is getting E[lectric]-bikes, and we created a concept to hook a wagon to bikes and to fill the wagon with books, which would create a mini-mobile library."
Riley's team suggested the mobile libraries make the rounds at local markets, since that's where most of the community buys food and supplies. Another option: to purchase a number of Kindles and fill them with books, since the devices don't require WiFi. 
"Then, we came up with the idea of the cookie fundraiser to raise money to pay for these ideas. We presented our strategies to Olivia, and then we sent her the funds."
Riley, a rising senior, will intern next year with a tech startup in Park City. She completed her work on the project in December and passed it along to a new group.
"PCCAPS was super helpful. It IS real life. You have to create and maintain professional relationships and you have to be accountable - and on their schedule, even when there are big time differences. If there are mess-ups you have to handle that professionally and hold yourself accountable and learn from mistakes."
"We give our students the freedom to chart their own journey, and many of them find that a daunting task," Lyndsay Hunstman, the CTE & PCCAPS Director for Park City School District added. "And that's because there's suddenly no "right" answer. No easy way to get the A. It's a self-discovery experience, with real clients and mentors helping them along the way." 
Riley felt her project in particular was helpful, and that the hiccups she encountered in particular nurtured skills that will be useful for her plan to start a business. 
"Learning how to do the fundraiser is DEFINITELY something I will be doing in the future - I will need to be good at raising money. It was also helpful to learn to adapt when things go wrong!"
"PCCAPS is different because, well, you can enjoy a math or physics class, but PCCAPS actually puts into perspective what a career in that field would look like and what it would involve - helps you figure out if that is actually what you want to do."
It doesn't stop there, Riley continued. 

"And, if you're already set in what you want to do - it gives you even more experience, so when you do apply for internships and jobs, you are set up to be a better candidate - and ultimately more successful."
---
*The Boy Who Harnessed the Wind, by William Kamkwamba, was PCEF's One Book, One Community selection in 2019.
To learn more, make a project request, or become a mentor, go to parkcitycaps.com. 
---
It takes a lot of support to create and maintain a program as successful as PCCAPS. If you'd like to make a contribution, we invite you to click here.