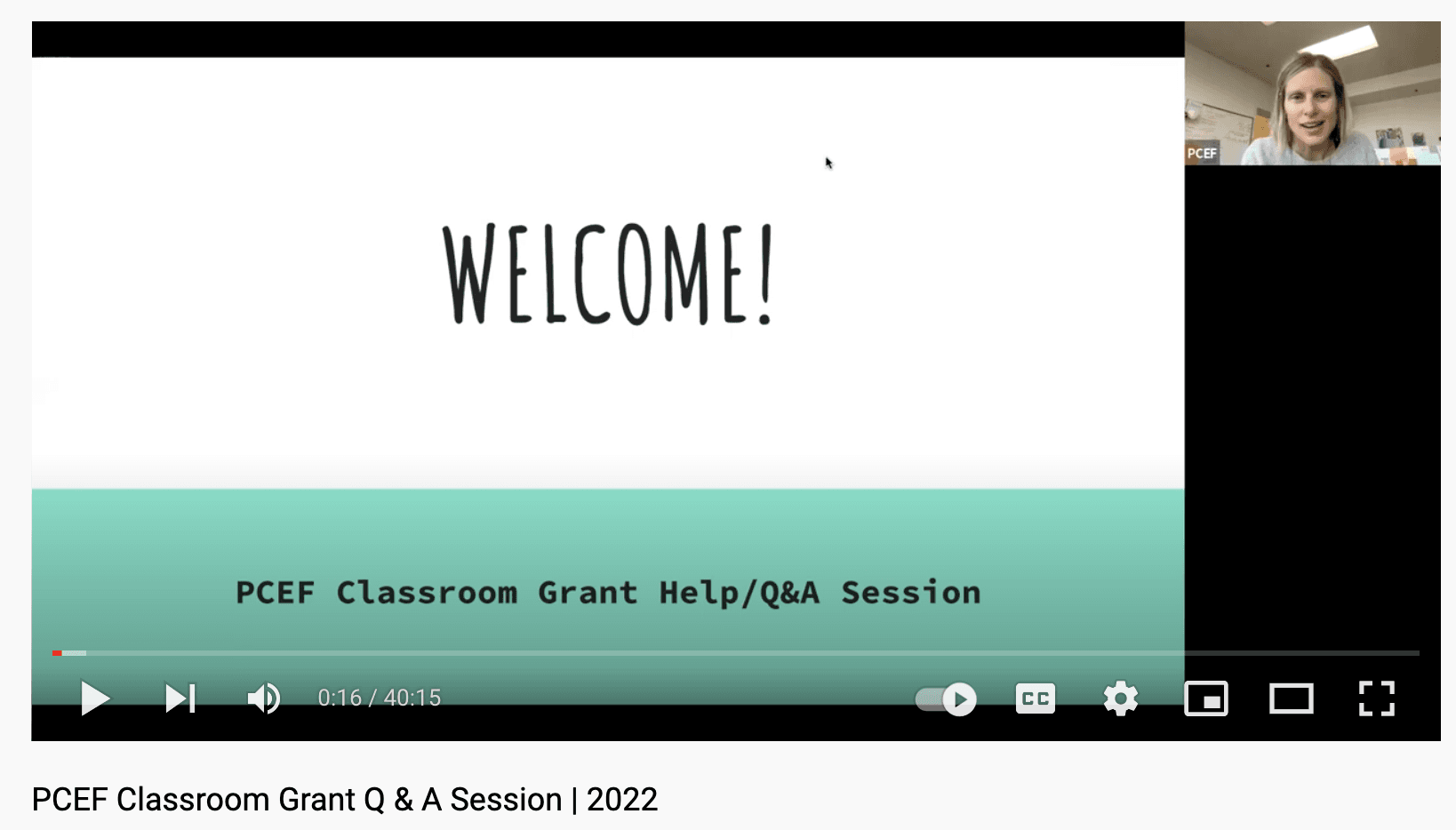 Get questions answered on the application and review process for PCEF's Classroom Grants.
You'll find topics and their time codes directly below the session video! 
PCEF Classroom Grant Q & A Session | 2022
00 -3:40 → WELCOME! 
 
4:00 → WHERE CAN I FIND...
3:45 → GUIDELINES
 
4:50 → THE APPLICATION 

You will need to create an account on Submittable, the submission management platform. 
This platform should be VERY easy to use. 
While the application must be completed by educators, it's ok to get support! 
In fact, a new feature this year is the ability to add collaborators: 

You will find the link to do that in the upper right-hand corner under the social icons.

It's important to take a look at the guidelines, and there are a few new things to note this year. 
 

6:40 → PARTICIPATORY GRANTMAKING 
We include those impacted by the grants in the decision-making process. We still include community members and parents, but now, there are current and former students as well as educators. This new participatory style leads to MUCH more impactful programs. 
 
6:30 → 

NEW

GUIDELINES

7:15: Diversity | Equity | Inclusion (DEI) Questions 

The biggest thing we want applicants to consider: Who might be missing from a program?
What resources might you need in order to ensure EVERYONE is able to participate?
7:35: DEI program consideration example 
Think bigger - and consider potential barriers. We want to make sure EVERY student has the ability to participate! 
 

8:10 → Build

Extra

Money

into Your Request & Budget
That's right - ASK FOR MORE. We can't stress this one enough! 
 
8:30 →​​​​​​​ PCEF Finance Manager Heidi Donovan asks that you

add a buffer...

PLEASE add more than you think you are going to spend.
You are not penalized for NOT spending all of your grant money!
WHY DO YOU NEED TO ASK FOR MORE?

If you don't request enough and you go OVER budget - it gets messy!
It creates a lot of extra work, much more research will need to be done, and lots of digging to find extra funds - and where those come from. 
 

9:50 → IMPORTANT GUIDELINES 

MAX AWARD = $45,000 
DEADLINE = APRIL 1 
WHAT WE FUND
 

11:00 → IF YOU ARE FUNDED (YAY!)
14:40 → PCSD's IDEA PLAN 
How does the PCSD Idea Plan Process fit into PCEF's Classroom Grants?

Drew Frink, Director of Technology PCSD discusses the fact that, because education is so highly regulated and there are many layers of approval; the district has created a "Five Questions" Idea Plan process for funding decisions...
 

15:15 → PCSD's Five Questions ("Can We?"):
What problem are you trying to solve?
What is your solution? 
What challenges will you face? 
Who needs to know what?
What does success look like?
And "Should We?"

Does a solution already exist? 
Have we tried this before? 
Or - is there a need for this 
 

17:45 → TECH REQUESTS?
A special note about Classroom Grant requests with tech components
 
19:45 →HUGE INSIDER TIP!
A version of PCSD's five questions is included in the Classroom Grant Application Form.
We encourage you to copy and paste from the Idea Plan - NO NEED to do extra work!! 
 
20:25 → TIMELINE & REVIEW 

April 1st Deadline: NO FOOLIN'
April & May Review Period: PCEF staff + key community stakeholders review.

E.g., if your request is related to Special Education, the SpEd Director will review
PCEF also may share applications with specific donors to see if they are interested in funding these requests directly; etc.

May: PCEF Grant Committee Meeting
May 27/28: PCEF Board Meeting

Approvals in the morning
Applicants are notified as quickly as possible; usually on the same day, whether they are approved or declined. 

Please note: PCEF Does ALL comms via Submittable (the platform through which you will submit your application).
July: The money is available*!

This is the start of the new fiscal year
*If funds are needed before then, contact Kara Cody directly!
 

23:15 → BE SPECIFIC

Be clear and concise.
Answers need to address the SPECIFICS of the questions -->

PCEF and the Grant committee needs to make sure the program is "fully baked" before funding. 
Your answers are how you communicate your program's plan and story.
Again, we encourage you to copy+paste from what you wrote for the PCSD Idea Plan...
 

25:00 → WE KNOW NOTHING... 

Explain your request like you think the people who will be reading your application know NOTHING.
Avoid acronyms.
No edu-speak! 
 

26:05→THE NEED IS THE WHY!
Start with the need (be sure it is not a "want"): 
What problem are you trying to solve? 
Why is this program needed in your school? 
The need MUST be CLEAR! 
 
28:05→ OUTCOMES 
Your request should have planned results that can be measured. SMART metrics: 
√ Specific
√ Measurable
√ Achievable
√ Realistic 
√ Timely 
On the Classroom Grants page, there's a resource button titled "PCEF Smart Metrics for Outcomes." This will help do a deep dive into outcome measurements. 
29:00 → BUDGET: ROUND UP, ROUND UP, THEN ADD ON! 

A budget template is included - please use as much detail as you can! 
Round UP to the next dollar - and then add 10%! 
Again - NO PENALTY if you don't use your full award. 
Account for inflation! 
Account for ALL COSTS (e.g., shipping, etc.)
Build in AT LEAST 10% extra for your request - this is to cover unknown expenses that pop up. 
There is NO funding rollover! 
 

32:05 → IT'S ALL IN THE DETAILS
Detail is SO important
If there aren't enough specifics, this could lead to a delay in funding! 
 
32:50 → THE COMMITTEE WANTS TO FUND YOU
The Committee is on YOUR SIDE - it wants to fund you! And you! AND YOU! 
SO... 

Be sure to proofread. 
Does it all make sense? 
Have someone else or several "someone elses" read your application 
 

35:10 → EXPRESS GRANTS

These fill immediate, unanticipated needs
The maximum award for Express Grants = $1,000
(Maximum award for Classroom Grant = $45,000) 
 

39:00→ QUESTIONS IN THE PROCESS? 

Reach out to Kara!
435-800-2956 (Direct Office Line) 
We wish you the best of luck with your applications. We are so looking forward to seeing all of your wonderful ideas!