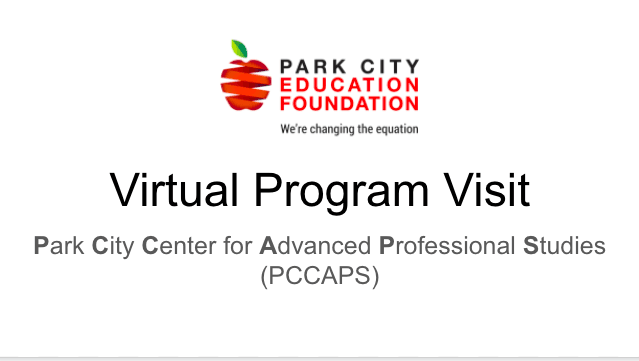 "We give our students the freedom to chart their own journey, and many of them find that a daunting task. And that's because there's suddenly no "right" answer. No easy way to get the A. It's a self-discovery experience, with real clients and mentors helping them along the way." 

-Lyndsay Hunstman, CTE & PCCAPS Director for Park City School District
The December Virtual Visit takes us to The Park City Center for Advanced Professional Studies (PCCAPS) initiative. 
The program, in which students gain real work experience with real businesses - on real deadlines, is growing exponentially. When students complete PCCAPS, they are uniquely positioned to shine in even the most competitive environments. This year, there are 120 students participating; an increase from 83 at this time last year. The increase is a result of PCCAPS' adjustment to a single block.
In years past, the double-block structure meant that the many students who take multiple AP classes were exempted from participating. This year's shift has sparked even greater productivity: students are still bound by company deadlines and perform well with a scarcity of time. 

In this virtual visit, you'll hear from: 
Students:
Isabella Lambert
Kennedy Halper
Mark Daluz
Lanie Pidwell
Kyle Cink
PCCAPS Staff: 
Lyndsay Huntsman, CTE Director for Park City School District
Adrienne Wooley, Coordinator for PCCAPS Program
Chris Humbert, Architecture & Engineering Instructor
Learn more about PCCAPS here and here. If you feel inspired to donate, we invite you to click HERE!