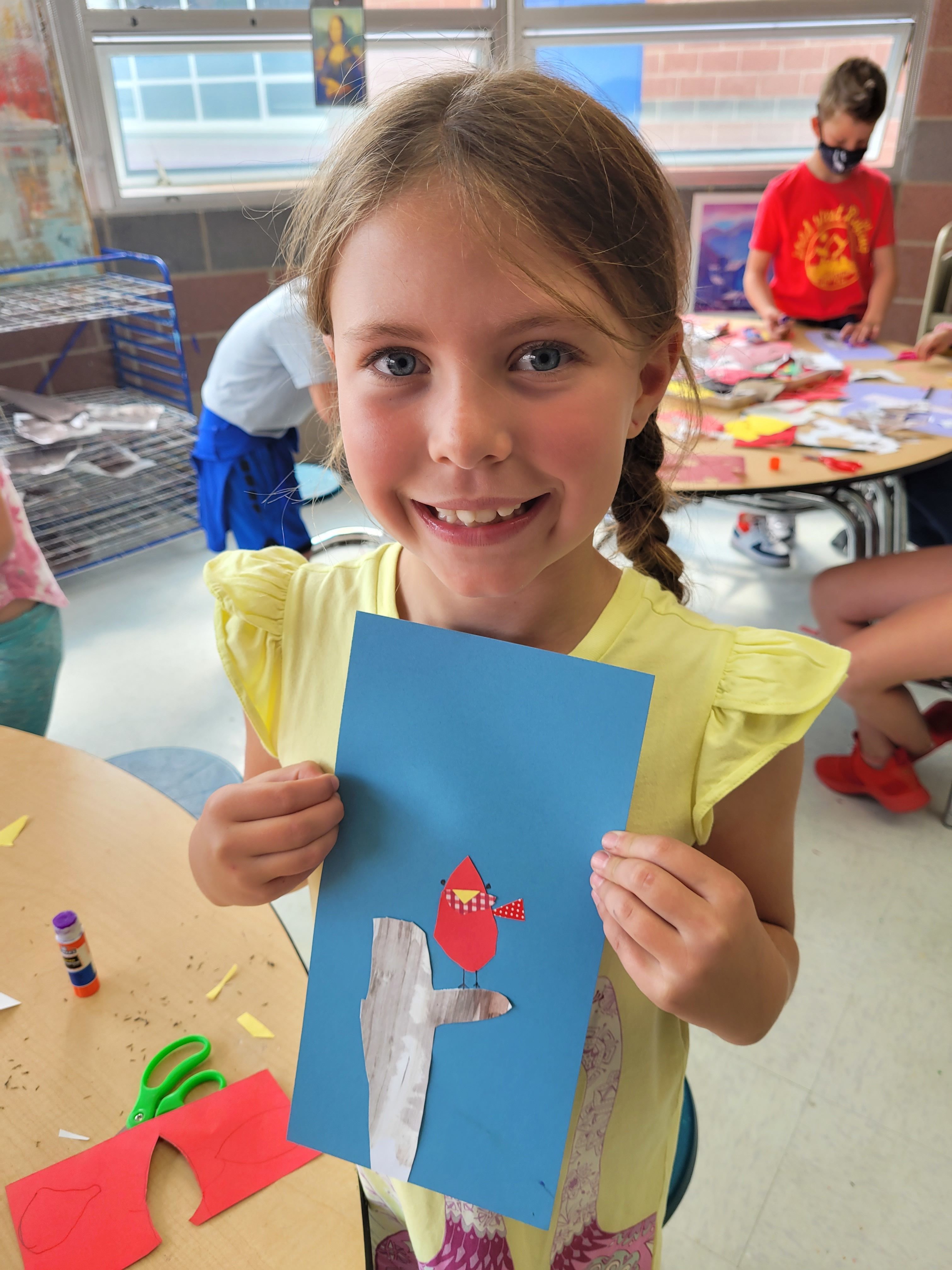 Thanks to PCEF donors and a collaboration with the Kimball Art Center, 1500 students receive monthly art lessons.. Through art, student learn about our culture, creativity, problem-solving, and confidence. With EVA, moments of teamwork, curiosity, and humanity are happening every day in our classrooms and schools.
EVA Teachers:
McPolin Elementary - Lucia Ferrazzoli
Parley's Park Elementary - Melissa Allen 
Trailside Elementary - Maggie Newcomb 
EVA Lessons:
SEPT Charley Harper 
Collage Illustrations of local wildlife using simple shapes and colors 
Questions: What birds or wildlife is local to Utah? How do I represent / build an animal with simple shapes? 
Materials: 
Glue sticks 
Construction paper 
Patterned paper 
Stencils 
Scissors 
Cardstock 
OCT Romare Beardon
Mixed Media drawing of a lively community using oil pastels and collage.  
Questions: What does it look like when people come together and celebrate? What is community? How do I use collage and pastels together to show a group of people?
Materials:
Oil pastels
Magazines 
Glue sticks
Bristol 
NOV Landscape - Connected to the exhibition 
Claire Sherman - https://www.clairesherman.com/new-page-1
Materials: 
Watercolor pencils
Watercolor paper 
Brushes 
DEC Picasso 
Painting a portrait from many perspectives all at once. 
Questions: 
What is cubism? How can I represent many perspectives in one painting? 
'A head', said Picasso, 'is a matter of eyes, nose, mouth, which can be distributed in any way you like'.
Materials:
Canvas boards or paper 
Paint 
Brushes 
Watercups, paper towel
JAN Degas Figure Drawing 
Inspired by art history and using wooden manikins students will explore drawing the figure with charcoal. 
Questions:
What is anatomy? How do I use basic shapes to capture the action of a person?
Materials:
Charcoal 
Drawing Paper 
Manikins 
FEB Bridget Riley
Students will create an Op Art heart and background for Valentine's Day.
Questions:
What is Op art? How do I create an optical illusion with geometric shapes and lines?
Materials:
Bristol Paper 
Markers 
Pencils
MARCH  Connected to the exhibition at Kimball Art 
Maria Cruz Palileo 
https://www.pbs.org/video/maia-cruz-palileo-becoming-the-moon-aitq3n/
Questions: 
Collecting family history 
Materials: 
APRIL Andy Warhol 
Drawing favorite foods while using repetition and color to portray popular culture,
Questions:
Can everyday objects be art? 
I used to drink it [Campbell's Soup]. I used to have the same lunch every day, for twenty years, I guess, the same thing over and over again. ANDY WARHOL, ARTNEWS, 1963
Materials:
Neon Markers 
Pencils 
Large poster board
MAY Takashi Murakami 
Learn about Manga style and draw a pattern of characters. 
Questions:
What is a pattern? Can cartoons be in museums? 
Materials:
Colored pencils 
Bristol Paper 
Pencils