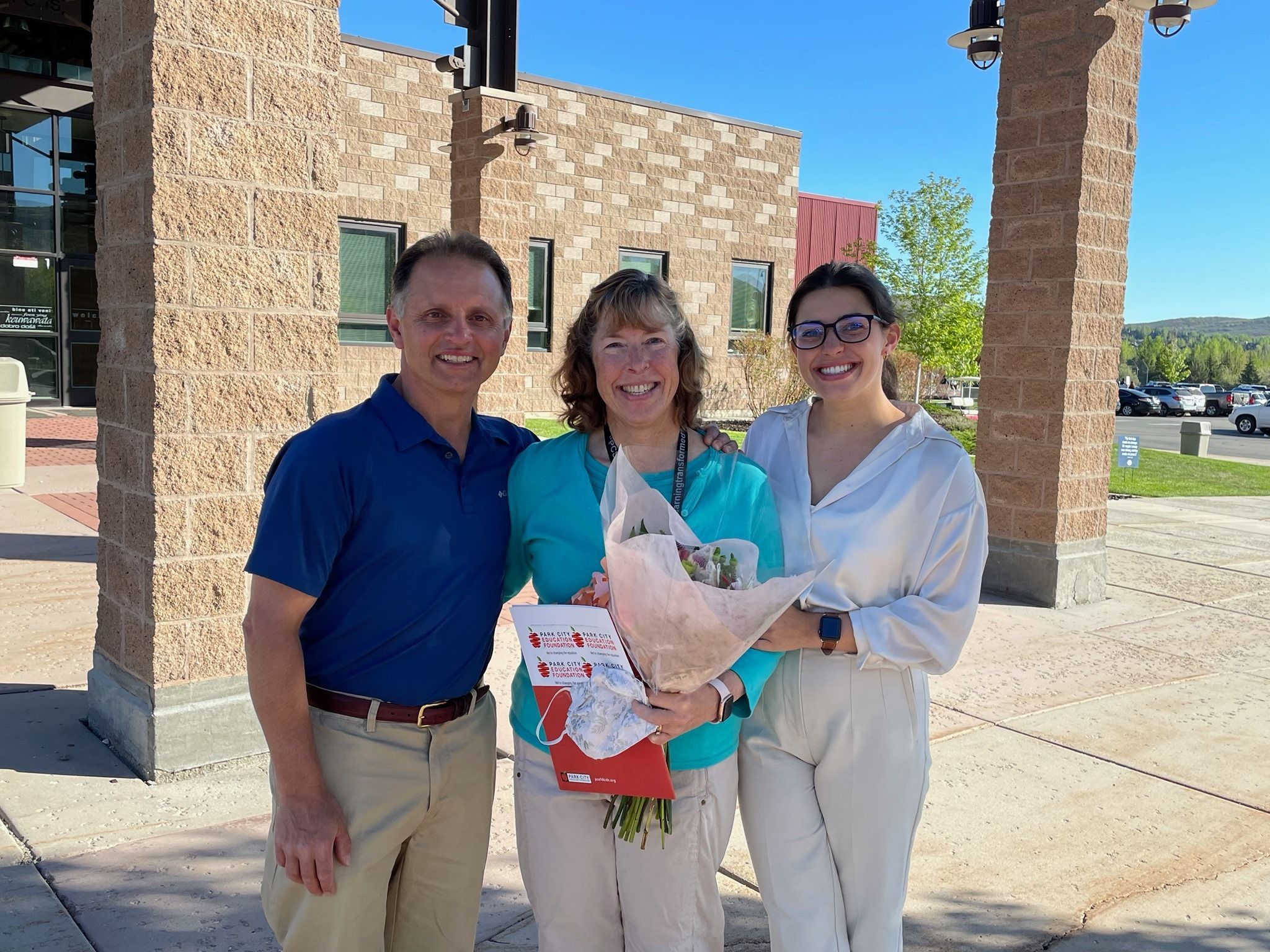 In 1996, Jim Doilney also created a very special award to honor his parents. His mother was a teacher and he wanted to pay tribute to her profession. The Sarah & Stephen Doilney Award, as voted on by the Senior Class at Park City High, honors the most influential educator of their PCSD school career. 
The Class of 2021 nominated PCHS Math teacher Debra Alcox for the award. Nearly 40 teachers at PCHS received at least one vote. The seniors heartfelt and inspiring quotes for all those teachers are below!
She is always supportive of her students both inside and out of school. She also works extremely hard to teach her students and makes sure we understand the material. I am so thankful to have had her as a teacher, and she has greatly bettered my education.
She is super helpful and a great teacher
I am nominating her because she is a great teacher that pushes me to be accountable and do my best.
She truly cares about all of her students and works extremely hard to help all of her students be successful.  
I am nominating this person because she works tirelessly everyday for her students. I've never met a person who is so passionate about a teaching position, and I cannot underscore how blessed I am to have had her as a teacher. 
She is just amazing. She is so supportive, funny, and an awesome teacher. Her class was one of my favorites, and she is a big reason why I want to become a teacher one day. 
She's determined to help students, and she has an undying belief in me to succeed. 
She takes the time to make sure every student succeeds. She goes above and beyond to create a great learning environment and she makes me want to learn. 
She genuinely cares for the success and well being of each and every one of her students. I have never had a teacher that has been as wholeheartedly and emotionally committed to ensuring that their students really learn the material the way that she is.
She has been an amazing teacher during Covid and in general. She always makes everyone smile in class no matter how hard it is and she helped me so much through my statistics class and made it enjoyable
She impacts each of her students in her class. I have not talked to one of her students that doesn't have a great relationship with her. 
She has been there for me during some of the hardest times in my life. I think of her not only as a teacher, but as a friend. She puts in the most effort of any teacher I have ever seen to help her students on an individual and personal level and her high expectations of all her students motivate me to learn and perform to the best of my ability. 
She always was willing to help me and she believed that I could do anything I put my mind to. 
She helped me excel at math.
She is so driven, kind and such an inspiration.
She was very understanding of the circumstances this year. She was available to help when I needed it and I really liked her teaching style. 
Works hard to make sure that each individual student understands the topic.
She was the best teacher I have ever had. She took time out of her classes to talk to each student. She was smart and kind and helped all of her students do the same. Whenever I am in a position of leadership, I look back on to Mrs. Amendola's teaching and try to emulate her as much as I can. In addition, learning chemistry completely changed my life. I am now planning to major in science and I have gained an appreciation for the world I never had before.
Because he's nice and super chill
I've known him for all 4 years of high school, and he's always encouraged me to work harder and be better. He cares about his students and seeing them succeed, and he builds connections with his students and makes an effort to be kind to and know all of his students.
He's a beast! Good Year
He has been a wonderful coach to me all four years as well as a teacher that made English interesting to me. I loved learning about all the books and he taught it very well. He has taught me more than just English class. He has taught me about new beginnings, doing your best, and just focusing on what you can control.
He has shown me true kindness and have cared about my emotions more than any other teacher
She has put in so much work and has always made me feel comfortable and safe at Park City. I have had her for the last 5 years and she has been a big part of my life and education. 
I have had her as a teacher for three years in a row now. Not only is she a well organized, great teacher but she cares deeply about her students and really tries to prepare us for the future.
She is a wonderful teacher and a good person, and she cares about all her students so deeply and personally. I hope she can look back on her career and smile.
She really cares about her students and cares about her students' learning.
I am nominating this person because they are not only a passionate teacher who cares about each and every student, but they are also a person I felt I could go to for help with anything in my life. I will continue to ask him for life advice and keep in touch with him after I leave for college. He made me want to go to school/sports.
He is always supportive no matter what, and he is all around an amazing teacher
He created a space for me to make art and go to whenever I needed.
He taught me more about life than any other teacher.  
He actually cares
He was by far the most influential teacher I had.
He made the greatest impact on my life.  He helped not only inspire me in school, but also feel empowered outside of school in my everyday life.  My friends and I would often hang out in his classroom because of the type of environment his classroom had.  
His kindness and willingness towards his students 
Amazing person, honorable, respectable, role model. Incredible human
Ask any student, he's the most influential by far. I haven't had him as a teacher and he was still the most influential in my high school experience. He cares about his students and what they have going on in their life, not just the grades they receive. He makes learning fun, he has such a positive spirit. Give him a raise!
He cares more about his students than any other teacher I've had. He teaches world history but weaves lessons about empathy and life into every lesson. I learned so much about myself in that class and felt so seen and heard by him. He genuinely changed my life and no one deserves this award more than him.
He was always very understanding of everyone's situations and mental issues. He was always there for us if anyone wanted to talk. He has even been there when I am no longer in his class.
He made an incredible impact on my life
He has made the most impact on my learning experience. He stresses learning over grades and connects class material to real life experience. I had him two years ago. He still remembers little details about me and checks in on me. He genuinely cares about his students.
I loved his style of teaching and how instead of having us take tests he had us do projects. I learned so much about the world and myself in his class. I will never forget him and his class.
I nominate him because he's always the most hardworking teacher dealing with all the sophomores and/ or juniors.
He teaches his class in a unique way that is engaging and different from any other class I have been in.  His class covers a variety of topics, some of which can be hard to talk about..  He is careful to be sensitive, but not sugar coat the events that have happened in the past.  Plus, he encourages his students to reflect on every topic in a way that is applicable in their own lives.  Not only that, he makes sure that each and every one of his students feels cared about.  Last year Goldberg reached out to me after class just to check in and make sure everything was okay.  It was really thoughtful of him to reach out and even simply just to notice that something might have been going on in my life. 
He was the absolute best math teacher ever. The way he went about his lessons was engaging and fun. He was super nice and made sure to help if we didn't understand.
She always treated me and my friends with such kindness. She provides a safe space for everyone and a shoulder to cry on if needed!
He is the best.
She pushed me both academically and socially. Her assignments challenged my thought process and made me discern what I truly believed in. She has been a great teacher and friend over my duration here at the high school and has taught me so many valuable life lessons.
She has taught me to not be so hard on myself. She has taught me to actually write with power and emphasis. She has taught me to love all people and learn about, recognize, and celebrate all walks of life. 
She has been the most helpful and caring teacher that I have had all throughout my 3 years at Park City High School. I was never super stressed in her class, but she also pushed me to be the best that I could and I have improved immensely in writing because of her. 
She has helped me and inspired me in so many ways!
Is there for her students and is great! 
I have had her for 3 years and she has pushed me and made me a better writer. She also really cares about her students and wants to see them succeed. 
Because she is a good teacher.
I've had himas a teacher for years and his class is always something I can look forward to he is an amazing teacher and person. He has always been there for me whenever I've needed help on something or someone to talk to and I've learned so much from him not only about music but life too. I'll miss him and percussion so much when I go to college.
He helped me discover my musical talent which really helped me get through high school and allowed me to meet a lot of really amazing people and learn a lot of useful skills.
He has helped me throughout the past four years to appreciate my own skills, further develop those skills, and gain the social and academic confidence I needed to succeed in all aspects of my life throughout high school.
He is like no other teacher. Absolute unit. Incomparable to any other teacher. He blows this competition out of the ballpark. The man is very deserving of this reward. 
He helped me understand my chosen career a lot better. I've learned things I need to in the future with him.
He always goes above and beyond to help his students.
He helped me bring my math grade up when it seemed impossible to me that he would and he checked in on my mental health as well.
He truly understands the dynamics revolving around being a student. He allows for his students to feel comfortable, relaxed, as he promotes motivation and determination. Through my time as his student, I have learned an enormous amount of academic criteria and been able to raise mine and surrounding social awareness. All of which I find important and impactful.
He is awesome
He has been an incredible Mandarin teacher these past five years and I've met so many friends through this class. I've been inspired to continue learning Mandarin and I always look forward to going to class. He also has a great sense of humor :)
He has been super supportive and amazing throughout the five years that I have had him. He has been the most influential teacher because he has helped all of us through so much and has wished only the best for us throughout the years.
He is such a great teacher and I've learned a lot from him since the past 5 years I've had his classes. His Chinese classes are really fun and I enjoy coming to them every time I have his class.
I am nominating her because she has been my biggest supporter in student council, school, and life for the past three years that I have had her. She works her tail off more than any other teacher I know and deserves to be recognized for how much she not only does for the school but for individual students as well. She makes an effort to have a relationship with her students, not a lot of teachers were able to do that this year.
The best teacher. 
I am nominating this person because she has worked so hard to make sure her students and faculty are taken care of. She has also gone out of her way to help students both academically and personally. Last year, she helped one of my best friends out of an abusive home. She really went above and beyond to care and teach my friend how to live on her own. Without this teacher, our school would be a very different environment.
She is very supportive of all students regardless of their identities. She is able to bring out the best in anyone that she comes across, and make anyone smile.  She works very hard at what she does and devotes her all to her students.
She is awesome and deserves this award.
A teacher who's always there to listen and there to help out others when in the time of need. A way to calm your head whenever things go awry.
I am nominating this person because she is a teacher who cares about her students profoundly. She is the only teacher that I've had that has asked me how I am doing almost everyday. She does everything in her power to help every single student that comes to her for help. She provides resources for everyone to be successful and comfortable in this school. She is also one of the last teachers to leave the school everyday, this shows her dedication.
She is a teacher who sticks by a student both emotionally and academically. She is a very determined teacher who wants to make a difference in her students' lives. 
She is always looking forward to helping her students succeed. 
I am nominating this person because she has supported me throughout my high school years and created a budget for my college years.
Thank you so much for everything you did for me in your chemistry class. You were very patient with me when I did not understand the lessons.
I have had her for five years now. Regardless of what we are doing, she always puts 100% into everything. During Covid, while many teachers failed to keep us engaged, she took the time and made a list of 100 different things that we could do and made sure that there was an option that would be interesting to each of the students. Lastly, she is one of the most organized teachers that you will ever meet. Everything that we do is thoroughly planned out and without her structure, the program would not be the same Thank you for everything that you do!
He really showed a lot of excitement and care for biology. More than just teaching AP bio for the AP test, he genuinely cared about us learning the material and pushing us to dive deeper into an understanding of it all. Mr mulick is the teacher that makes you learn and LOVE a subject. I'm thankful for his class and for his influence on me and my decision to pursue the medical field and study biology at a higher level. Easily one of the best and most influential teachers I have ever had. Thank you!! 
He is a cool guy and a great teacher
He is a great teacher and he was able to engage students with fun experiments and I overall had a great time laughing in his class.
He encourages students to learn rather than focusing on earning high grade and cares genuinely about students being successful in Spanish so that they can have the cultural knowledge and communicate with people around the world. He has so many organized ways of teaching and is very aware of students' different learning methods.
He is always a positive teacher and made learning Spanish enjoyable for me. I am his TA now and everything he asks me to do, he does out of appreciation and love for his job. 
He does so much for our school. He coaches the golf team, teachers, AP Spanish, and runs the NHS club at our school always finding ways to keep all students active in our community. He is a fantastic teacher in the classroom and also a great influence outside the classroom. He is constantly motivating members of NHS to get out and help the community and gives us so many opportunities with local organizations to help anywhere we can.
He helped me through all the tough times and gave me the overall best experience at this high school.
A great Spanish teacher that influences and makes learning a new language fun and interesting.
He taught me how influential art can be in changing in the world
He has consistently challenged the way I see the world, and I'm so grateful to have been in his class. I can't wait for more students to have him as their teacher.
She has put in the most effort of any teacher I know to try and make her students better people. 
She is an excellent educator and teaches about important and relevant topics in a very kind mannered and open-minded way.
So encouraging and teaches life lessons
She's so sweet but helps me do better.
She was a good teacher, and cared about my knowledge, my learning environment, my well being, and me in general. She was more than just a teacher: she was a helping hand. She understood and helped me when I communicated my issues with a due date, and worked to help me on every assignment I struggled with. She is a really good teacher, and a really good human. 
Along with her teaching, she has been the reason that I have gotten out of bed at times when I wanted to the least. She teaches integrity, honestly, kindness, and how to be strong. The best part about her is that her humble manner will never allow her to understand just how large her impact is. She is a teacher, and a great one, but she is also one of the best people that I will ever know. 
She genuinely cares about every student. She taught me so many life lessons and gave us really good advice that I will remember and use forever. When I look back on my high school life I will definitely be remembering her.  Thank you!
Super great and influential teacher, super sweet and caring for students. Very genuine
I am nominating this person because he is understanding, cares about your academics, and really wants to help you excel in math. 
Because the way she teaches is what made me like history more and more and she is always super nice. 
I have never learned more from a teacher than I have from her. She brings the lessons to life and shares the most interesting stories. Normally, I do not look forward to doing assignments but for her class, the assignments were always engaging and fun. She is so funny and kind. She is so understanding of her students and makes everyone feel welcome. I absolutely love her.
I am nominating her because she is an easy teacher to get along with and all of my classmates that have had her all think that she was a fantastic teacher.
She is empowering, smart, inspiring, and a truly great teacher.
She is amazing at what she does. The way she teaches history feels more like storytelling, and she is great at engaging her students and encouraging them to work hard in her class.
I chose her because she was always pushing me to be the student she knew I could be. Even though I don't have her as a teacher anymore, she made history class a really fun environment for me. It really helped me because I was a new student here in PCSD and she made me feel welcome.
I'm nominating her because she has really stretched me and pushed me out of my comfort zone. She has pushed me to be more detailed in my writing as well as giving evidence. She's so sweet and caring and she makes me laugh. I have also known her for 3 years.
I'm nominating him because when I became really sick with a chronic illness, he went beyond any kind of expectation to help me stay on track even when I didn't have any classes with him. I am truly so far beyond grateful.
She genuinely cares about her students and shows interest in their lives.
Because she is the most understanding teacher I have ever had
I haven't had her as a teacher for very long, but I feel that both her class and her as a person have had a big impact on my life so far. She is one of the few teachers I've had that I've felt comfortable with discussing anything, whether it be personal, academic, or related to the class material, especially when hard topics come up. She's one of those teachers that lets all her students know that they are important and supported and I know that her classroom and office are always a safe space no matter what I need. In the short time I've had her class, she's really influenced me and made me feel safe and welcome in the community.
I am nominating this person because he always had time to focus on every individual student, and make sure they were understanding and participating.
She did so much to help me not only learn the basics of physics but the more complex concepts as well. Her teaching style was always very interactive and easy to understand. I went into class every day with a desire to learn because of her teaching.
She was the first teacher that really pushed me to do better.
Most supportive teacher, always helped students succeed in their academic and daily life
He managed to make an easily blow off class really fun and interesting