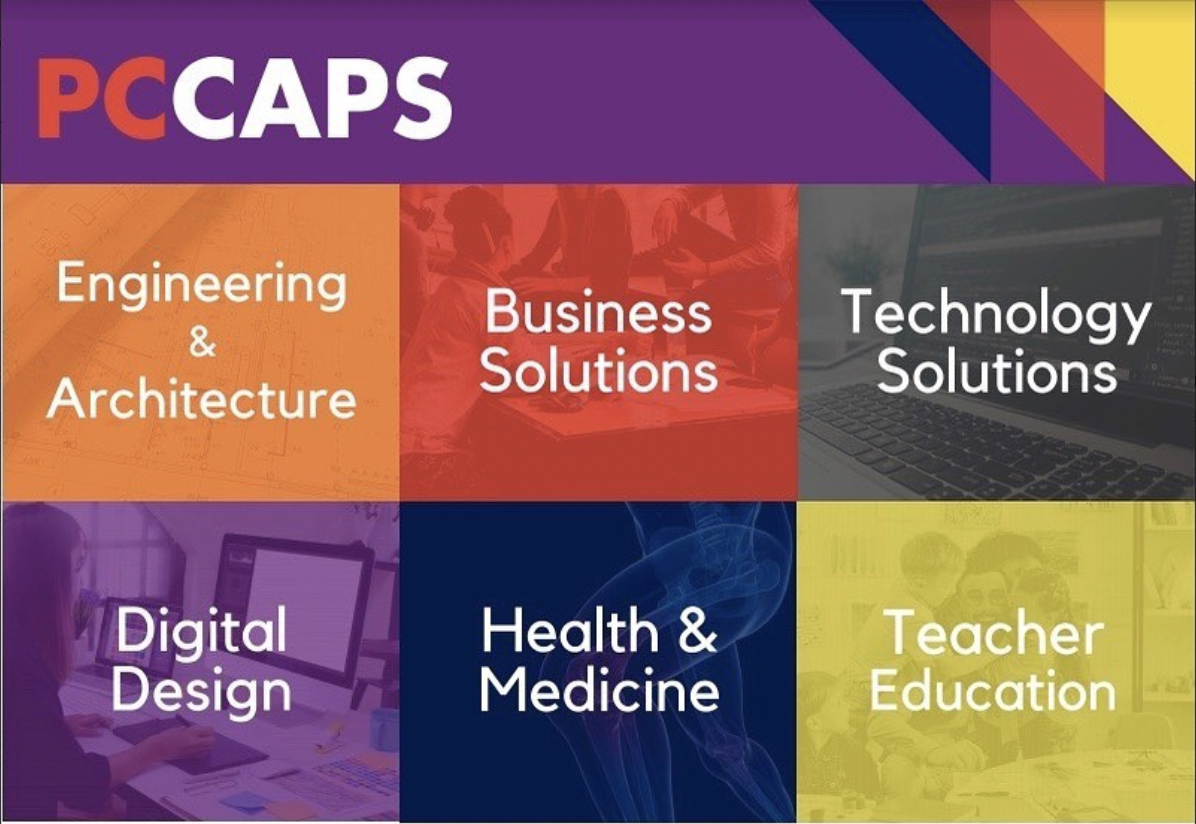 Next school year, Park City High School's Center for Advanced Professional Studies (PCCAPS) will experience a serious influx of new students. The course will shift to one period each day, rather than taking up two periods every other day  - which means that more students will have room in their schedules for this elective. Because participation is skyrocketing, the PCCAPS course is in need of MANY more businesses with which to partner!
11th & 12th graders work on real-world projects for companies and organizations. From marketing strategies to student medical lab design to websites to product launches - the opportunities are endless. 
Students can choose between six different industry strands, although projects frequently overlap into many of them:
Business Solutions

Digital Design

Engineering & Architecture

Software Solutions 

Teacher Education

Health Science
Companies and nonprofits - this is where we need YOUR help! 
PCCAPS, which is one of eight key programs funded by PCEF, is looking for organizations to partner with on projects. And it's not just the students who benefit… 
"I very much enjoyed the opportunity to collaborate with the students of the PCCAPS program. It was fun to see them develop ideas and come together as a team over the months we worked together. Their thirst for knowledge, and to understand how a business works just shows how successful each of them will be in their future professional endeavors." 
- Brooks Kirchheimer, Owner of Hearth and Hill, a favorite Park City restaurant
Past and current clients include: 
Vail Resorts

Intermountain Healthcare

Switchback Sports

National Ability Center

Recycle Utah

The Utah Symphony and Utah Opera

Auntie Em's Small-Batch Pies & Cookies 

Go Golf Tours

Youth Sports Alliance 

Specialized Bikes

Park City Museum 

PC READS 
And many, many more!
If you think this is a long list - consider this: 
PCCAPS needs about 20 projects in business solutions; 8 for digital; 7 for software solutions -- and 15 for architecture and engineering. And this is just for ONE semester! 
All projects and services are completed under the supervision of instructors, with support and guidance from professional mentors. There are project kickoff meetings, bi-monthly check-ins to ensure everything is on track, and a final presentation meeting. 
For more information about PCCAPS, visit parkcitycaps.com or you may contact Adrienne Woolley at awoolley@pcschools.us or (435) 659-5040 to become a project partner.