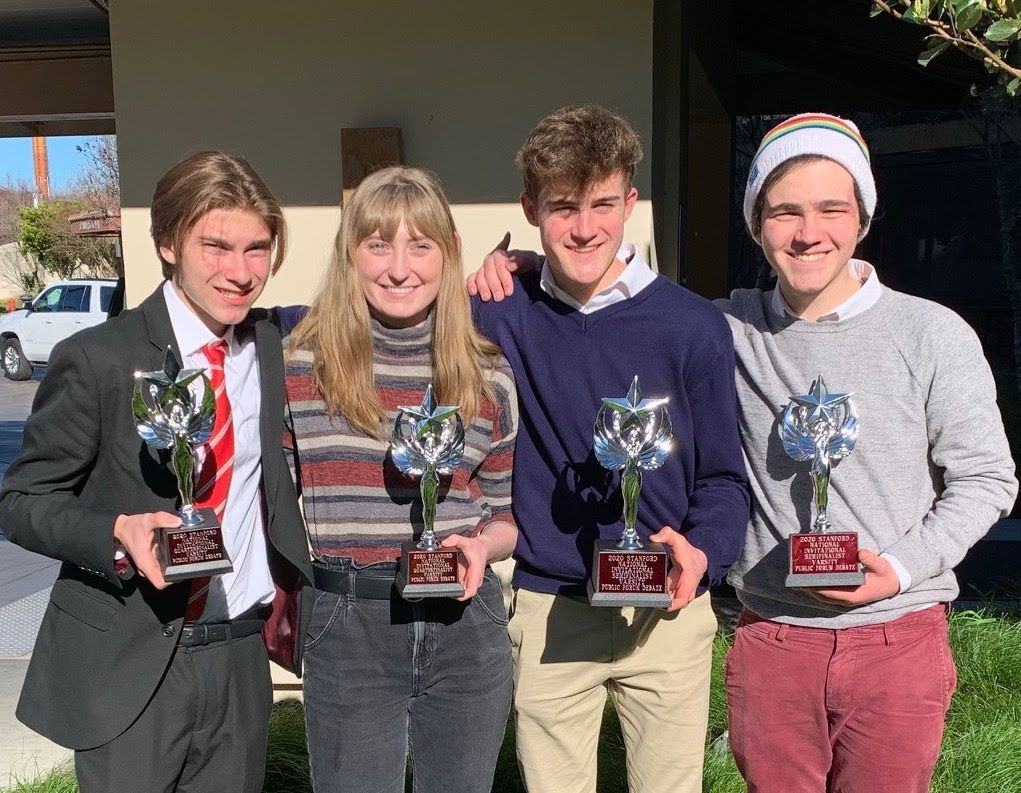 Despite the setbacks of a crazy 2020/21, the resilient PCHS Debate Team has had an incredible year! In fact, it is one of the best years Park City High Debate has ever had.
PCEF Donors have supported the Debate program through Classroom Grants for several years.
Coaches Anna Williams and Gavin Serr provided this update through the end of March
SHOUT OUTS for REGION and STATE:
Carly McAleer - first in State in Lincoln Douglas (first time in 7 years for PCHS)

Jack Gladson and Caroline Waldmann - first in State in Policy Debate (They slay wherever they compete). They did not drop a single ballot!

Lance Rothchild - Region Champion in Oratory

Will Efrusy and Jack Goodman - Region Champions in Public Forum

Natalie Best and Alex O'Brien - made it to semis in Public Forum at State

Lindsay Miller - made it to semis in Impromptu at State

Anly Lockwood- Broke and made it to Quarters in her second tournament EVER (State)

J.T O'Reilly - Broke into finals in Congress at State and 2nd place at Region

Big brother, Max O'Reilly, broke to Semis in Oratory

Jack Allison and Cody Rutkowski - 2nd place in Public Forum at Region
A SPECIAL SHOUT OUT TO STUDENTS WHO STEPPED UP FOR REGION AND STATE:
Brittney Mellin, Max Goldberg, Siclali Garcia, Andrea Vazquez, Emmie Lowsma, Henry Smith and Jose Hernandez - Foreing and National Extemporaneous Speaking

Isabella Crockett, Michael O'Brien, Natalie Best, Alex O'Brien - Public Forum

Emma Stockwell and Noam Levinsky - Lincoln Douglas

Lila Stein, Arantza Pedraza - Oratory

Grant Murray, Amber Howard and Kyle Cink - Impromptu

Will McCurdy and Tyler Montzingo - first-time competitors who earned points for our team
THESE STUDENTS QUALIFIED FOR NATIONALS. They will compete in June:
We sent two Public Forum teams and two Lincoln Douglas teams. EVERY SINGLE ONE OF THEM QUALIFIED.  They are:
Noam Levinsky

Carly McAleer

Jack Goodman

Cody Rutkowski

Michael O'Brien

Jack Allison
Finally, these seniors were awarded the prestigious Academic All American Award from the National Speech and Debate Association: 
Will Efrusy - highest honors - Will is only the second person in PCHS history to receive Premier Distinction.  Gavin Serr (our coach) was the first, back in 2017.

Caroline Waldmann

Tom Perret

Jack Gladson

Max O'Reilly
UPCOMING:
We have only two more competitions this year:  NDCA and the prestigious Tournament Of Champions.  Congratulations to Caroline Waldmann, Jack Gladson, Will Efrusy and Tom Perret for qualifying for the TOC two years in a row!  They compete in April.  
Students registered to compete at NDCA include Noam Levinsky, Cody Rutkowski, Jack Allison, Jack Gladson and Caroline Waldmann.    
THANK YOU: A special thanks goes out to our student specialty coaches, Aidin O'Brien (LD) and Robbie Allison (Policy) for their extraordinary coaching, time and commitment to the success of our team.