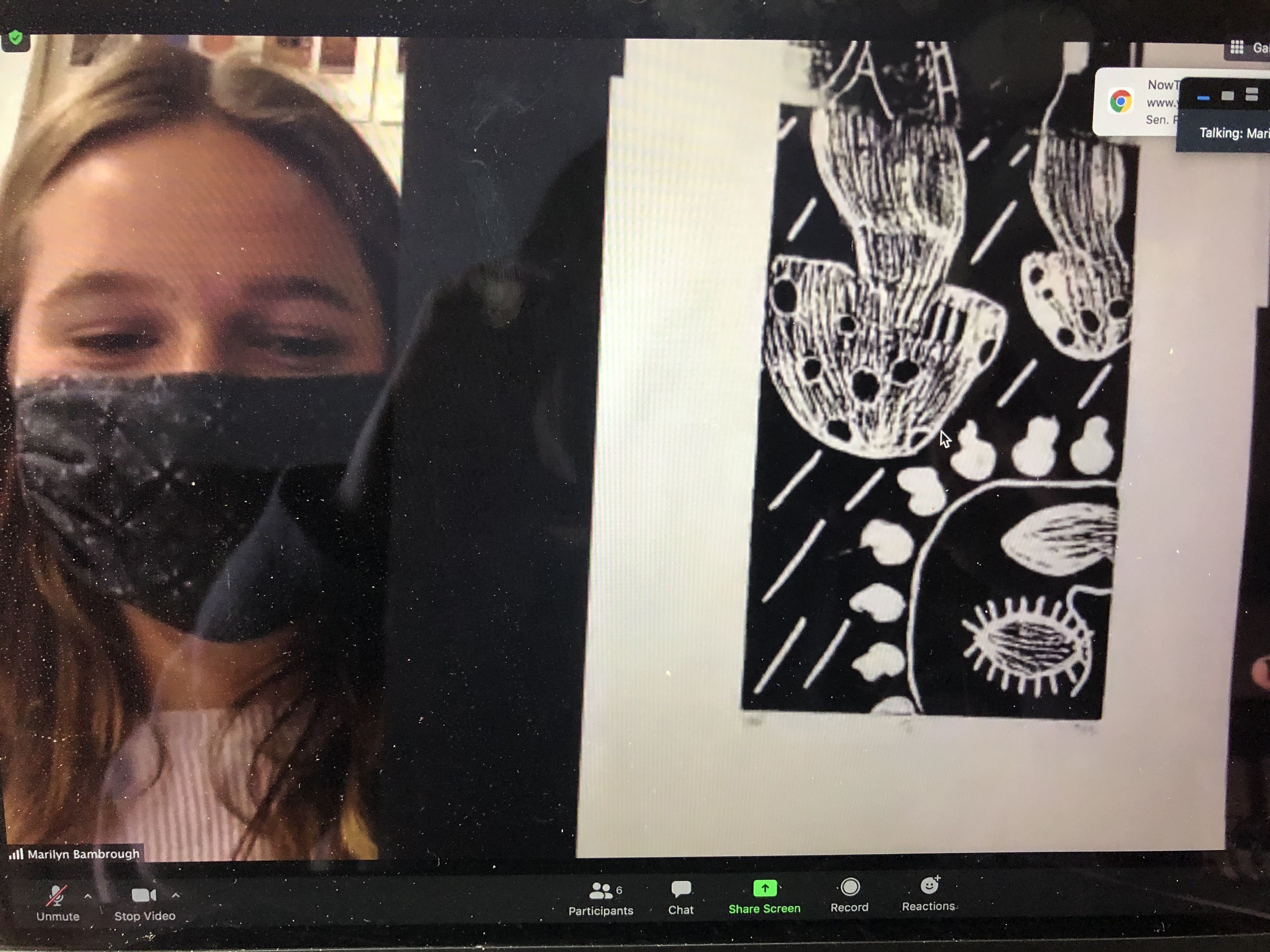 FUND A GRANT. EMPOWER A TEACHER. 
The number one influence on student success is the classroom teacher, which is why the Classroom Grants program is one of our eight key programs. We are able to fund Classroom (and Express) Grants thanks to donors' generous support. 
Classroom Grants is PCEF's oldest and largest program. PCEF started in 1986 when a PCHS teacher asked for $2,000 to send two of her students to a space camp at Stanford. This year, PCEF donors funded 42 Classroom Grants, awarding nearly  $350,000 for educator ideas to try in the classroom. Below are just a few examples:
VISITING ARTIST SERIES @ TREASURE MOUNTAIN JR. HIGH

TMJH Art Teacher Marilyn Bambrough's program embodies the vision of Classroom Grants: to bring innovative ideas, concepts, or practices to life, or expand past successful ideas in the classroom or school. 
"I did mine upside down because the world is upside down right now."
-TMJH student. 
Last semester, Ms. Bambrough and colleague Ms. King hosted printmaker Sally Rydalch virtually. She worked with students, who then created surrealist pieces in pairs and presented them over Zoom --> See their art!
Now in its third year, the Visiting Artist Series has featured artists who create everything from forensic sculptures to TOYS! And not just *any* toymaker - the woman on the team that created Rainbow Brite worked with 8th- and 9th-graders before COVID hit last year → Read the story!!
THE PERCUSSION COMMISSION @ PARK CITY HIGH SCHOOL

Thanks to your donations, the Percussion Ensemble at PCHS learned and performed a piece created just for them by composer Chad Heiny.
Students worked with Heiny on "Crossing the Threshold" on January 12 & 13 and wrapped up his visit with a performance, which you can WATCH HERE!
THE COFFEE CART @ JEREMY RANCH ELEMENTARY SCHOOL & TMJH

The project-based learning Coffee Carts at JRES and TMJH are both funded by Classroom Grants - and this year, of course, things had to change a bit. Due to COVID, students at Treasure Mountain worked on creating their own food trucks!
As they came up with a food type, name, logo, slogan, and menu, they worked with nutrition and math – things like calculating tips, tax, and discounts. Students also conducted interviews to collect data on popular menu items - and graphed their findings. These pictures show Victor's Hot Pizza truck. He created pizza boxes (complete with his logo, "too hot to handle!"), and then the class, peer tutors, and teachers, and principals each got to safely make their own personal pizza. 
AVALANCHE SAFETY CLASS @ TMJH & PCHS
In a winter of several devastating avalanches, the PCHS/TMJH Avalanche Safety Class has taken on even greater meaning.
Students learn weather and avalanche forecasting, snow science, backcountry safety, and avalanche rescue. The class was the brainchild of PCHS/TMJH science teachers. It's taught by Utah Avalanche Professionals and PCMR Ski Patrol, and includes classroom and on-snow work.
Now in its 5th year, the class is offered free of charge, thanks to PCEF donors. See the Park Record article and photos.
Thanks to Classroom Grants, teachers (and administration!) get to conceptualize and then try new things - unique learning activities, innovative technology.  And that's something that, no matter how upside-down the world gets, will always be right-side-up!

Help us ensure that our teachers have the funding they need. We invite you to DONATE HERE!