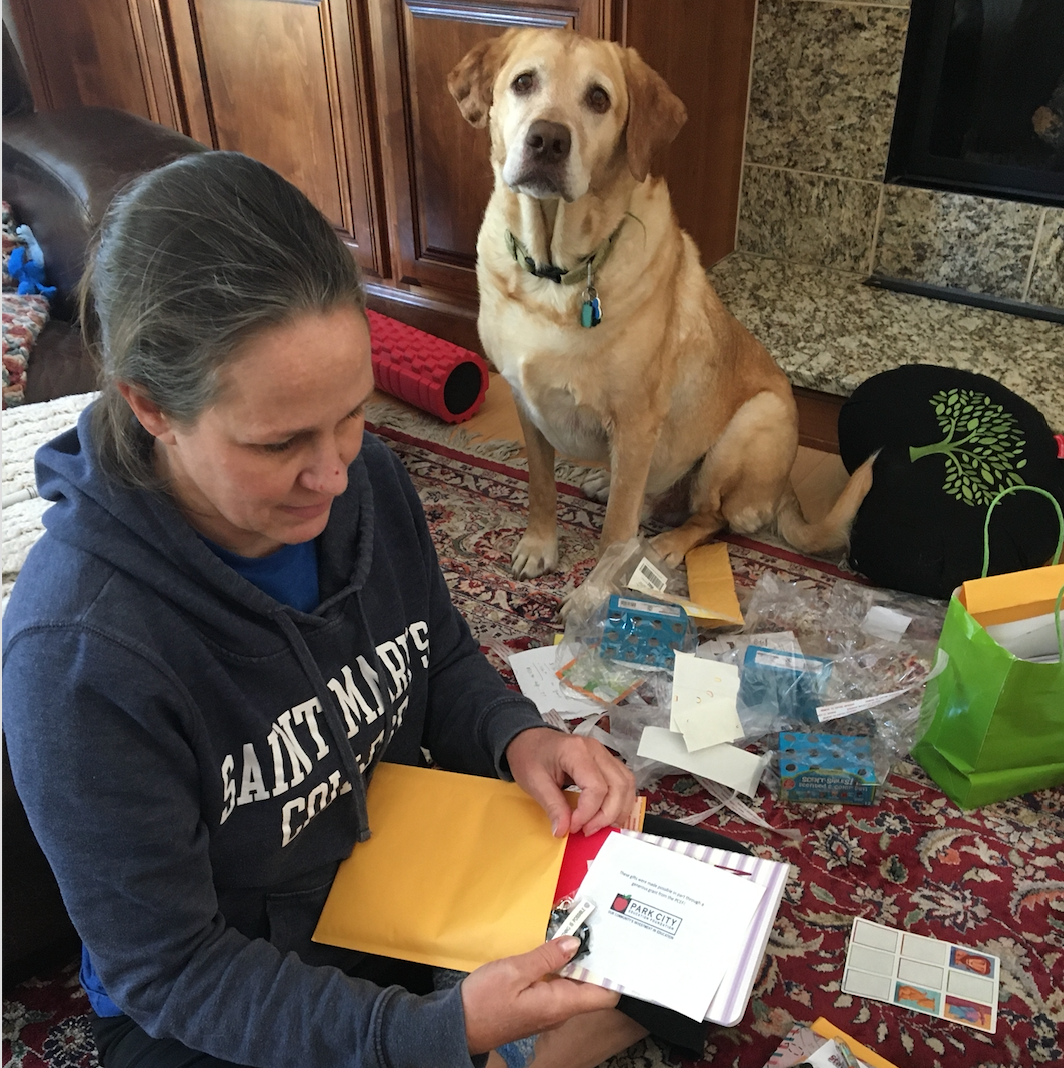 Park City High teachers Ashley Mott and Matt Nagel reflect on lessons learned over eight weeks of distance learning. PCEF Emergency Express Grants have helped them improve their online teaching, make connections and plan for the future during a very tough time.
We'll hear first from PCHS English and Journalism teacher Matt Nagel:
1) How are you making at-home learning work?
As a parent, I'm aiming for balance. In addition to my teaching load, my wife is working (a mix of telecommuting and in-office at the city), and we have four sons in grades 5-12 with a daily to-do list in Canvas. And a puppy. We try to do our work in the morning. After lunch, two of our boys are usually done and the other two are only about half-done, due to differences in their courses and teachers. Even with sharp kids and two parents and minimal financial anxiety, it's hard to keep the ball rolling.
Recognizing that, as a teacher, I'm trying to create a workload for my students that balances simplicity with stimulation. I'm trying to imagine students doing my assignments in chaotic, needy, or unsupportive home situations as well as in more stable environs, and trying to make it doable for kids in any situation. 
2) What are some of your successes?
I have enjoyed making use of a number of technologies that don't have obvious uses in face-to-face classrooms, including Canvas Discussions, ActivelyLearn, Adobe Premiere, Screencastify, etc. Often in a face-to-face class discussion, you don't get input and participation from every student. In a discussion board, you get to hear from some kids who are more reticent to speak up in large groups. 
3) What are some of your challenges?
The move to at-home school has exacerbated every inequity: digital access, economic stresses, learning challenges, linguistic barriers to learning. Our English Language Learner (ELL) and Special Education support staff as well as the tech folks are all working miracles and putting in so much time. Even so, there are students who we just can't reach, or whose lives are such that they just can't reach back right now. I always tell struggling students that we can solve any problem as long as they are in the classroom, showing up, willing to solve problems. But for many kids right now, showing up is just not happening, maybe not possible.
4) What are you most worried about?
Selfishly, I'm worried about the fall. I want to be in a classroom with students, and I want my two oldest boys to be on college campuses in classrooms with professors and peers. More broadly, I'm worried about the depth and breadth of this crisis, including the economic impacts to my students, my own family, and the community and society at large.
5) Tell us something positive that you know for sure about this experience.
We have had dinner together as a family almost every night since this began. I am so grateful for that, especially in these last months before our graduates go off to college (fingers crossed). Clearing the schedule of concerts, games, activities, jobs, social life, etc. has brought our family closer together. I'm aware that my family's good fortune in this respect is due to a situation that is harming the health and finances of others. But I'm grateful for the family time we've had.
The positive that I hope will come out of this experience - As teachers in Park City, we are doing our best to ensure that some learning happens during these strange times because we will not let perfect be the enemy of good. Obviously it's not anything like the learning that can happen face to face (for most students, at least....there are some who are thriving more now than before.)
I hope we will move towards some good lessons learned, like more flexible scheduling, a fuller recognition of the inequities that challenge learners, a total overhaul of our assessment strategies, a deeper appreciation for the fact that teaching math is fundamentally different from teaching social studies (for example) and the need for schedules, systems and spaces that best reflect the art and science of teaching and learning.
6) Why did you write your Express Grant? 
My express grants this year have focused on getting equipment to allow journalism students to create video news packages and podcasts with high-quality audio. We are learning to use the equipment now, and depending on social distancing restrictions, students may or may not get to use it before the fall. But when they do, they will have a more authentic experience of creating 21st Century journalistic products.  
Here are PCHS Dance and Health teacher Ashley Mott's's reflections:
1) How are you making at-home learning work?
I have found it of paramount importance to continue making inter-personal connections with as many students as possible.  I am making it work by having bi-weekly face-to-face check-ins with students.
2) What are some of your successes?
A success I've had is giving students a lot of options. They've given me feedback that they appreciate having choices to fulfill assignment requirements at this time. For dance, I've created an online "options" document that has a few dozen choices of ways they can earn their participation and curriculum engagement points. There are physically active options, such as joining live or asynchronous dance or Pilates classes; creative options, such as choreographing a dance about their experience staying at home or reviewing the elements of dance; and less physically active options, in case they are ill or just not motivated to move --  these include things like watching dance history films, researching a choreographer, or watching medical workers around the globe who are dancing in moments of lightness and joy.
3) What are some of your challenges?
In the beginning, I was trying to make the same amount and kind of instruction as I would have done in the classroom, and I found quickly that did NOT work for me or the students. It immediately created way more grading than I could possibly turn around in a timely fashion, and it made their lessons and curriculum seem forced or even irrelevant. I've had to change my lesson plans and curriculum for every class I teach.
For instance , Dance Concert was replaced by researching, studying examples of, and creating original site-specific dance. Health lessons on the opioid epidemic were adapted to compare and contrast a national drug epidemic with a national health pandemic. Relevance to the here and now, and what they are experiencing, has been key.
4) What are you most worried about?
I worry every single day about kids I used to see and connect with in class and the halls, that would smile at me and see my room as their safe place, who have basically fallen off the map. There are several students who have not done ANY online work or responded at all to multiple emails, calls, and check-ins.
Not only have they stopped doing academic work for this quarter, but they have - knowingly or unknowingly - also cut themselves off from what I believe are much-needed connections to their peers and teachers. I've said to one student, "Even if you don't want to do ANY work this semester, please just log in for our video calls so you can see your friends!"
 If no one in the home is working, if groceries and rent money are uncertain, then of course they aren't prioritizing a dance review sheet. Those kids are who I'm MOST worried about.
5) Tell us something positive that you know for sure about this experience.
I know for SURE that some students are thriving. They are learning new technology skills that their generation will need and use long after this pandemic is over and individual time-management techniques.  They are reporting more and deeper connections to their families due to both the seriousness of the situation and the fact that they aren't juggling a million activities and balancing four to six people's schedules.
They are revealing their understanding that they can no longer take free public education, teacher expertise, and the joy of learning with their peers for granted. All of this I know for sure because they have SAID it to me. I also know for sure that they, not surprisingly, are resilient and bright. They continue to make plans for the future, they continue to dream of what they will do when it is over, and they continue to find ways to thrive and creatively reinvent their reality now. They are super inspiring.
6) Why did you write your Express Grant for student care packages?
 I realized right away that students, and especially my dance students, needed a ray of hope and to know that I still care about them and was thinking of them.  In the beginning, many of them - and especially the seniors - felt like everything they had worked toward was being ripped away. I have had some of these students for five years, since they were in 8th grade. They worked their way up from Dance to Dance 2, 3, Dance Company 2, and now, this year, FINALLY made it onto Dance Company. It was a dream come true and hard work paying off for so many of them.
Then, one month before their final senior dance concert, this happened. They waited to see if we would possibly go back May 1st and maybe have a modified dance concert. Then they hoped to postpone it or do a simple version in an outdoor venue in June, then they had to just let it go. This was heart-breaking to them. I wanted to reach out and send them a 'stay at home motivational' since they didn't get their concert motivational.