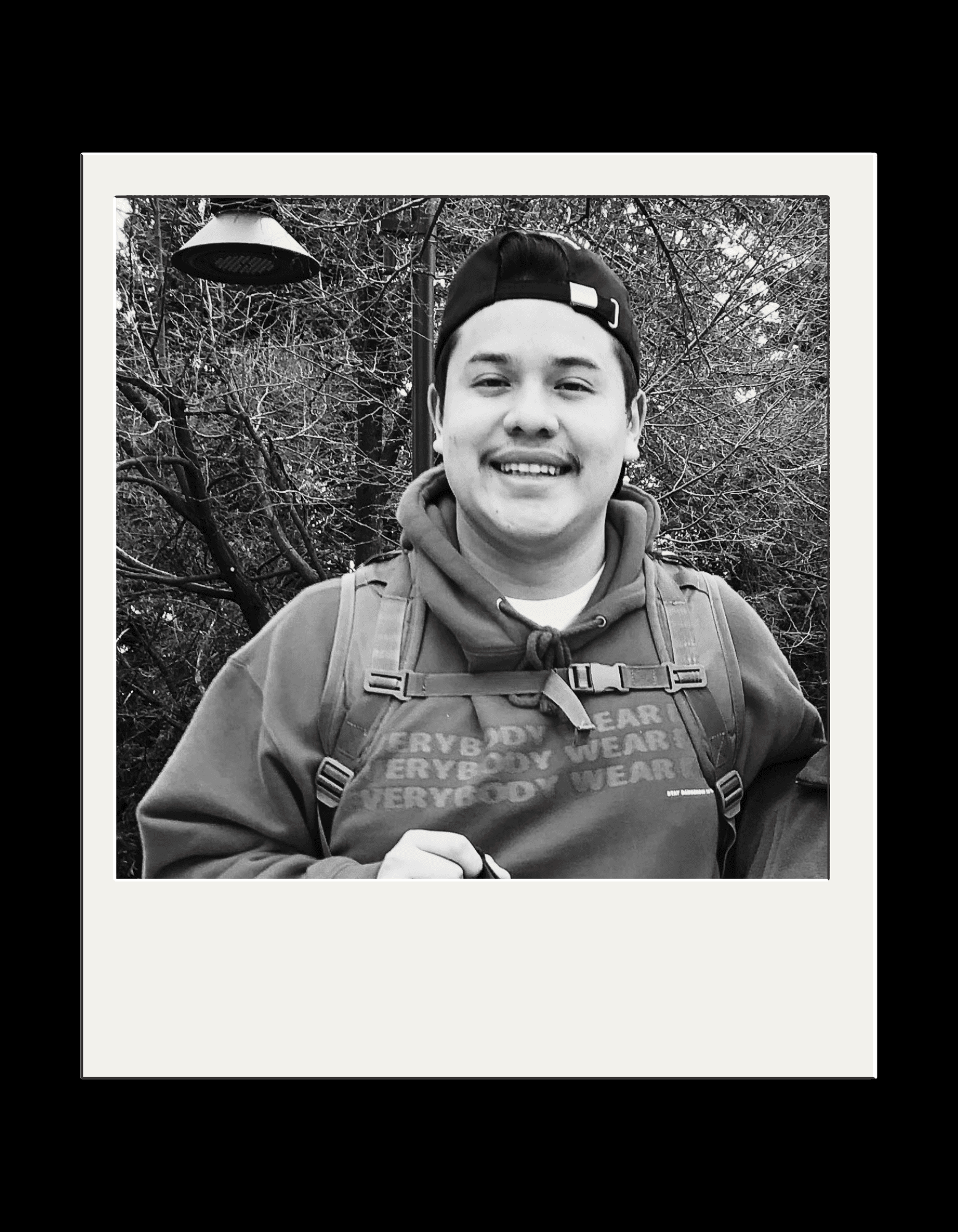 Miguel Morales, estudiante de 22 años del programa Futuros Brillantes, empieza con una lista desarmante de sus tropiezos.
Estuvo Así de cerca de no graduarse en el instituto.
Se interesa por muchas cosas diferentes y a veces se aburre.
Un estudiante universitario después de cinco años.
No le aceptan en el programa de enfermería por el que ha estado trabajando.
"Hice todos mis prerrequisitos para enfermería - que es un programa realmente competitivo. Me preparé para ello durante años, tomando unas cuantas clases cada semestre, y no logré entrar".
Solo después de un aluvión de evasivas -admite abiertamente que no le gusta hablar de sí mismo-, empiezan a aflorar, para quienes prestan atención, los éxitos de Miguel.
---
RESILIENCIA

Una de sus mayores victorias: la capacidad de volver a centrarse en las prioridades tras los contratiempos. Él dice que es "reagruparse", pero la mayoría de la gente lo reconoce como resiliencia.
Miguel es también un cazador de tesoros innato: busca gemas ocultas en su vida. Las desentierra, las saca a la luz y aprecia su brillo. Esta parte de su naturaleza queda clara cuando Miguel habla de lo que más valora: su familia, sus compañeros de la Universidad Estatal de Utah y del programa Bright Futures.

Dice que sus compañeros de Logan, todos ellos en diferentes etapas de sus carreras universitarias, le inspiran y le inspiran.
"[Mis compañeros] se centran en cosas diferentes y en plazos de cuándo esperan hacer las cosas. En la escuela secundaria, realmente oyes la narrativa –cuatro años y listo con la universidad.

Pero a todo el mundo le pasan cosas, y puede que no sean lo que uno espera. Tener cerca a estas personas de éxito y ver la diversidad de cosas que se pueden estudiar me mantiene motivado.

No estoy como, 'oh, estoy en mi quinto año, oh, hombre' Ayuda cuando decimos 'NO, el [acabar la universidad en] cuatro años no es para todo el mundo"
A pesar de tener dos trabajos todo el verano para ganar dinero para su quinto año de universidad, Miguel suele conducir hasta su casa para trabajar un par de días seguidos. ¿Por qué volver hasta Park City? Porque el salario por hora suele ser más del doble que en Logan.
Fuera de las horas de trabajo, explora lo que le llama la atención. Este semestre está en tres clases: finanzas, informática y química.
"La enfermería no es mi única opción en este momento, así que estoy probando cosas diferentes... Quiero decir que siempre he estado abierto a cosas nuevas, pero a veces soy un poco perezoso. O tal vez simplemente me aburro de las cosas. Pero me gusta ver qué capta mi interés.
Miguel, que escarba para encontrar lo bueno en tantas cosas, no parece extender la política a sí mismo. Lo que está haciendo ahora en la universidad -tomarse tiempo y espacio para probar nuevas opciones y clases, para ver qué chispa prende y se convierte en su propia versión del éxito- es, en el fondo, el propósito del programa Futuros Brillantes.
Descubrir una pasión no siempre ocurre en un cómodo y preceptivo plazo de cuatro años. Para la mayoría, es el trabajo de toda una vida. Pero Miguel ya está prestando atención a algo más profundo.
"Las finanzas -el concepto de invertir acciones- me parecen realmente interesantes. Ponerlo en práctica con fórmulas - es divertido pero es más elaborado, agrega otra capa. Además, en realidad tengo un poco más de experiencia con la inversión que la mayoría de mis compañeros."
Resulta que Miguel ya ha dedicado años a aprender más sobre su interés por las inversiones, que empezó con una clase de educación financiera en la escuela secundaria de Park City.
"Jugamos a un juego de intercambio. Me picó la curiosidad, así que lo estudié más en YouTube. Abrí una cuenta en Robinhood cuando tenía 18 años, y pasé a una cuenta en Fidelity cuando supe más sobre su seguridad."
Miguel dice todo esto encogiéndose un poco de hombros. "Ah, y también tengo una cuenta Roth IRA", agrega.
También le gusta mucho su clase actual de Ciencias de la Computación: "Me gusta trabajar SQL, Structured Query Language, y la transición a Python. Aún es pronto, es codificación básica en Python, pero me está gustando"
Las palabras de Miquel sobre aburrirse de las cosas parecen ser solo eso - palabras. En última instancia, sus acciones son mucho más elocuentes y demuestran que tiende a quedarse a largo plazo.
"Enfermería no es mi única opción, pero volveré a solicitar el programa. He trabajado mucho, mucho trabajo y esfuerzo. Siento que sería injusto conmigo misma si no vuelvo a presentarme"

---
FUTUROS BRILLANTES

La Iniciativa del programa Futuros Brillantes de la Fundación Educativa de Park City ha estado junto a Miguel a lo largo de estos años de duro trabajo. En cuanto a si recomienda FB para los estudiantes de primera generación y sus familias, Miguel vuelve a dirigir la atención bajo la superficie.
"¡Hágalo! el programa Futuros Brillantes es una de esas cosas que realmente no ves a menos que formes parte de ella. Son todos esos pequeños detalles, esas cosas que hacen y que no ves. No está en la portada del periódico; no es algo muy público, pero está ahí. El apoyo está ahí"
También ha caminado junto a Miguel todo este tiempo –su familia.
"Mis padres querían que fuera a la universidad. Mi hermano mayor se graduó en el instituto y consiguió una beca universitaria, pero no era suficiente y no podíamos permitirnos enviarle. Él no pudo perseguir su sueño, y mis padres realmente querían que yo fuera a la universidad"
Tuvo que estar a punto de perder la oportunidad de cursar estudios universitarios para que Miguel se diera cuenta de que la universidad también era su sueño.
"Casi no me gradúo. Estaba reprobando inglés".
La llamada de su profesor alertó a sus padres y al equipo del programa Bright Futures. Esa fue, dice, su llamada de atención.

"Me había puesto en esa situación. Todo el mundo estaba molesto, todo el mundo decía 'eres un chico listo y si quieres, puedes graduarte' Así que me di cuenta de que tenía que trabajar para conseguirlo"
Parte de lo que hizo que la situación le afectara fue su trabajo en aquel momento.
"Trabajé en The Colony [en White Pine Canyon]. Íbamos a los solares vacíos, cortábamos todos los árboles muertos y hacíamos montones enormes de leña.
Me di cuenta de que no quería ponerme a trabajar nada más salir de la escuela secundaria, y eso era lo que buscaba. Quería un trabajo mejor pagado y que no requiriera tanta mano de obra.

Tuvo que pasar lo que pasó para que yo viera eso, para que dijera: 'Tengo una beca y quiero ver adónde me lleva'.

Su trabajo en The Colony también le motivó a otro nivel.

"Trabajando allí, pasas por delante de todas esas casas enormes. Pensé: 'oye, si me lo propongo, algún día podré llegar a esto'"
El programa Futuros Brillantes estuvo con Miguel mientras trabajaba para graduarse de la escuela secundaria - y está con él mientras trabaja para graduarse de la universidad. Como dice FB en su página web de la PCEF, se trata de "un compromiso mínimo de siete años" para cada estudiante del programa.
Para Miguel, la flexibilidad con su calendario universitario ha sido crucial.

"Me han apoyado – están a mi lado y entienden mis decisiones y por qué las tomo. Les cuento lo que me pasa en la vida - por ejemplo, si tengo dificultades con una clase o algo así, sé que van a estar ahí para ayudarme y a encontrar recursos que me ayuden a resolver mi situación...
No resuelven sus problemas por usted, pero harán todo lo posible para ayudarle a encontrar cosas que le beneficien de la mejor manera posible."
---
ÉXITO
Miguel no rehúye el tiempo y el trabajo duro que requiere descubrir cosas que le impacten de la mejor manera posible – lo que también podría llamarse éxito.
Su resiliencia, un gran éxito en sí mismo, sin duda ayudará a Miguel a continuar su viaje para descubrir su pasión y su propósito.
"Cuando necesito volver al buen camino, pienso en mis metas, en las cosas que quiero en mi vida... Pienso en mi familia; pienso en los sacrificios que hacen día a día y que yo nunca veo. Me doy cuenta de que lo menos que puedo hacer es sacrificarme un poco para alcanzar mi sueño".
Ahora, mientras trabaja para alcanzar ese sueño, la resistencia de Miguel es mucho más visible. Está por encima de la superficie y brilla a la luz.
---
Los programas Dream Big y Bright Futures proporcionan un espectro completo de apoyo a
los estudiantes de la PCHS que son los primeros de sus familias en ir a la universidad. Juntos
garantizan que los estudiantes motivados de la primera generación de Park City tengan lo que
necesitan para llegar a la universidad.

El programa Sueña en Grande proporciona acceso a un riguroso plan de estudios académicos,
preparando a los estudiantes de la primera generación para el éxito en las clases de AP y de
inscripción simultánea. Una red de profesores de la PCHS garantiza que los estudiantes reciban una
preparación experta en las asignaturas y apoyo durante todo el año.

Los estudiantes y sus familias trabajan con el personal de los programas Dream Big y Bright Futures en todos los aspectos, desde la preparación para la universidad, la elección de la escuela
adecuada, la creación y el seguimiento de los presupuestos universitarios, la búsqueda de becas, la
finalización de los formularios de ayuda financiera, las visitas a los campus y la recopilación de los
elementos esenciales para el dormitorio.

Una vez que los estudiantes están en la universidad, el equipo del programa Bright Futures de la
PCEF continúa con el entrenamiento integral, la tutoría y la provisión de recursos hasta que terminan
la universidad. El entrenamiento puede centrarse en cómo pedir ayuda, cómo encontrar y acceder a
recursos, cómo prepararse para el éxito profesional a través de prácticas, ayuda de emergencia y
mucho más.
"El programa Dream Big nos lleva a la universidad, el programa Bright Futures nos lleva a la
universidad. Cada uno es una comunidad que se une para formar una comunidad aún mayor".
- José Hernández-Bello Clase del 2023 de la PCHS.