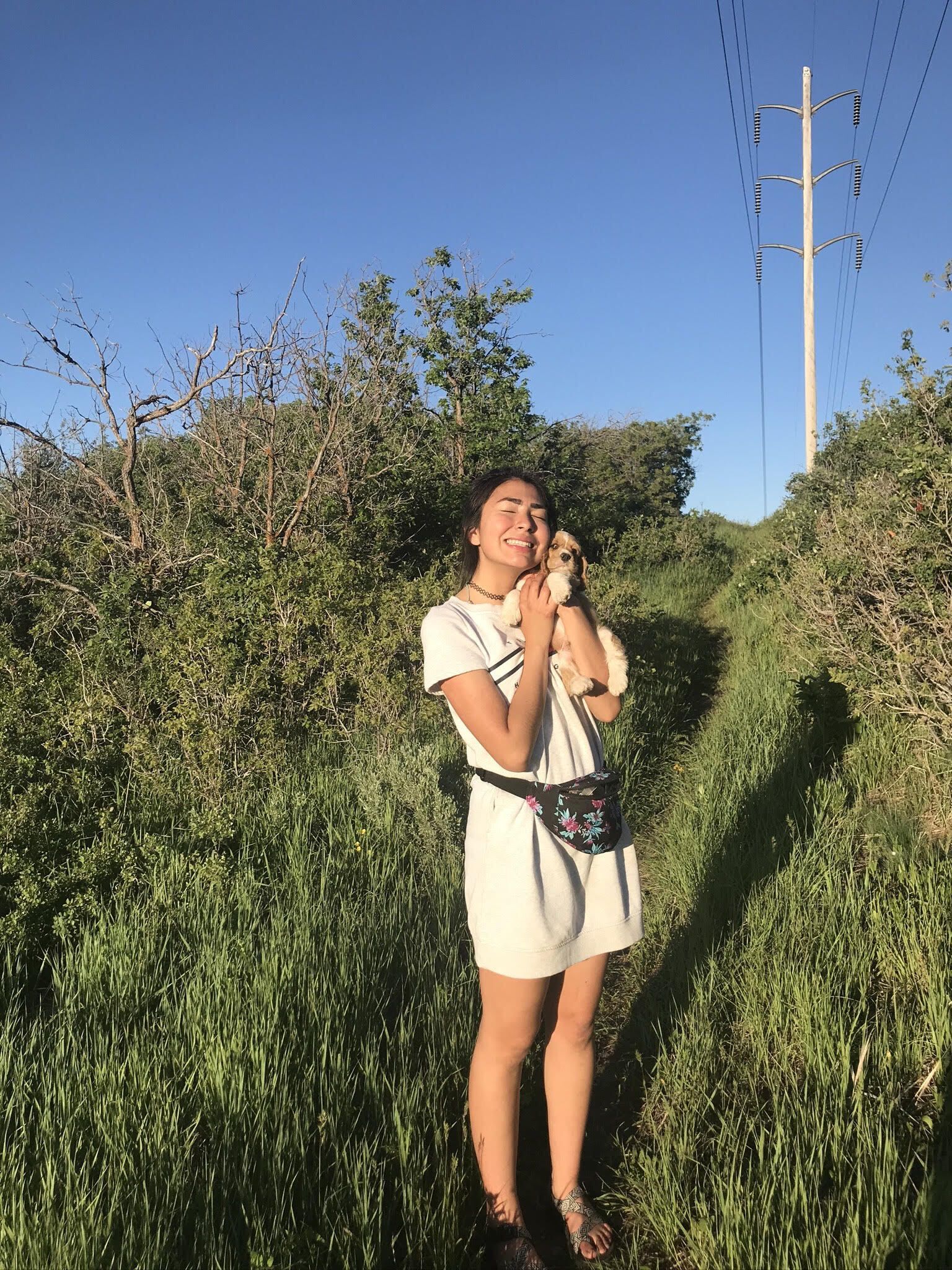 Leer en español abajo.


This spring, in venues brimming with people, radiating with love, and reverberating with cheers, after seven years of relentless, grueling work - seven Bright Futures Park City students will take the easiest walk of their lives. 
Cloaked in academic regalia, they'll cluster with their cohort up the aisle and form an orderly line with classmates.
And then…
Lindsay Carreto…. 
Jenifer Celestino…. 
Isaac Cortes… 
Cristopher Mora… 
Sadie Ortiz…
Heidy Onofre… 

Yetza Sanchez... 
will hear their names called. 
They'll separate as they step forward. 
And they will become the first in their families to ever navigate this path: they will walk, alone and unobstructed, across the stage to receive their hard-won college diplomas, and step into their futures. 
The students express confounded disbelief when they think about this moment. The easy walk across the stage - paved by thousands of days, working doggedly through countless barriers, roadblocks, detours, heavy ceilings, and slippery floors. All of it, they say, seems eclipsed as the finish line rises, glowing, into view. 
This year, PCEF will profile many of the upcoming graduates. We begin with Sadie Ortiz...
---
Sadie Ortiz
Major: Accounting 
University of Utah Honors College | David Eccles School of Business
 
Sadie Ortiz is working on her breathing. 
As the first person in her family and peer group to accomplish so many things, her life has seemed like a sprint - while wearing a backpack filled with weight. As she hurtles through her last year in college, tackling 18 credits each semester and working at least ten hours each week - the college finish line feels a bit abrupt. 
"It doesn't seem like it's happening," Sadie reflected. "It went by fast. But also - I just can't imagine it? I don't know what it looks like. I have been in school my entire life, and now it's coming to an end?" 
Sadie, mind you, has already accepted an auditing job with Pricewaterhouse Coopers in San Francisco. She plans to move after graduation, and she's bringing her cocker spaniel, Hermy. But still… 
"I am scared," she said. "What if I don't make it?"
Making it, to Sadie, is the ability to lead a simple, satisfying life.
"Being able to breathe," she sighed. "That is making it - being able to catch my breath. To be in San Francisco with my dog. I want to wake up, go to the gym, and go to work from 8 to 5. And to actually have it sink in that everything I have worked so hard for is paying off." 
---
TRIUMPH OVER SELF-DOUBT

There is no chance that she won't make it. 
Sadie not only thrives in the long-distance endurance sprint of her life - she is nimble. She switched majors from political science to accounting as a sophomore and successfully dealt with the extra work and adjustments. 

And, while she's not always a huge fan of accounting, she knows she loves auditing. That's because she's already worked summers with PWC doing just that. A full year before she graduates, Sadie's job is a known quantity; she's even signed her work agreement contract. 
"Everyone has a bigger reaction than I do," Sadie admitted. "This was just what I expected of myself. Anything less wouldn't have been satisfying."
Sadie has always set and met her own high expectations. She found school fun and easy. Not easy, though, was the toll those expectations extracted: anxiety, she said, has always been a powerful driver for her. As a result, she's incredibly organized. One flip side, however, is her battle with self-doubt. 
"I would go back and forth," she said. " I work hard - I deserve this. But then I would wonder… Why would someone choose to invest in me? I am always trying to prove myself - and I haven't ever been comfortable asking for help." 
 
---
THE BRIGHT FUTURES EDGE 

As part of the very first Bright Futures cohort, Sadie liked that she didn't have to ask for help at first, since the BF team worked so hard to anticipate needs. 
"I love everyone - they're so supportive. Gift baskets, final exam care packages, and constant reminders that we can reach out for help with anything," Sadie exclaimed. "I remember they gave us supplies. Things like towels and sheets, first aid kits. Really, you have no idea what college is going to be like. I kept wondering, how did they know I was going to need that?!"  
For Sadie, that support was about so much more than the physical stuff…
"The Bright Futures team also had this awareness that everyone is going to have their own set of struggles as first-generation college students - honestly, the level of support they provide is not experienced by most people." 
In fact, part of what Sadie has struggled to reconcile is the dichotomy of her own experience. 
"It can be tough when you say you're from Park City. People have this idea of what it's like - there's so much privilege. For me, of course, it wasn't like that." 
She continued, "but then again, I did get this specific support from Bright Futures. I thought other schools might have had it - but they don't. They don't have anything like it. And the way that PCHS sets you up for success, academically, is not something that you think about until you leave."
Sadie said she benefitted not only from incredibly advanced reading and writing skills  - but also from an overall deeper knowledge in general. 
"Lots of my friends have different majors," she shared. "And they are always shocked that I know lots about what they are studying - and my own stuff. It just really sets us [Park City High School graduates] apart." 
For those who are considering Bright Futures, Sadie had some thoughts to share… 
"They should join - but don't expect EVERYTHING from them. And ask for help when you need it - it's SO hard for students who aren't asking for support. For me, it was hard. It was really hard - but it's do-able. If you want it you can get it. Oh, but P.S. - don't change your major." 
Take a deep inhale Sadie. You've earned it, you deserve it, and you will make it. You are nearly there.
---
Los Estudiantes se Quedan Solos: La Primera Cohorte de Futuros Brillantes se Prepara para la Graduación Universitaria
 
Esta primavera, en lugares que rebosan de gente, que irradian amor y que resuenan con ovaciones, después de siete años de trabajo implacable y agotador, siete estudiantes del programa Futuros Brillantes de Park City darán el paso más fácil de sus vidas. 
Ataviados con las galas académicas, se agruparán con su cohorte en el pasillo y formarán una fila ordenada con sus compañeros.
Y entonces...

Lindsay Carreto…. 
Jenifer Celestino…. 
Isaac Cortes… 
Cristopher Mora… 
Sadie Ortiz…
Heidy Onofre… 
Yetzza Sanchez... 
...escucharán sus nombres. 
Se separarán al dar un paso adelante. 
Y se convertirán en los primeros de sus familias en recorrer este camino: caminarán, solos y sin obstáculos, por la tarima para recibir sus diplomas universitarios, ganados con tanto esfuerzo, y darán un paso hacia su futuro. 
Los estudiantes expresan su incredulidad cuando piensan en este momento. El fácil camino a través del escenario - pavimentado por miles de días, trabajando tenazmente a través de innumerables barreras, bloqueos, desvíos, techos pesados y suelos resbaladizos. Todo ello, dicen, parece eclipsado cuando la línea de meta se eleva, resplandeciente, a la vista. 
Este año, la Fundación Educativa de Park City presentará el perfil de muchos de los próximos graduados. Comenzamos con Sadie Ortiz...
---
Sadie Ortiz
Carrera: Contabilidad 
Colegio de Honores de la Universidad de Utah | Escuela de Negocios David Eccles

Sadie Ortiz está trabajando en su respiración. 
Al ser la primera persona de su familia y de su grupo de compañeros en lograr tantas cosas, su vida le ha parecido como una carrera rápida, mientras llevaba una mochila cargada de ponderación. Mientras se precipita en su último año en la universidad, afrontando 18 créditos cada semestre y trabajando al menos diez horas cada semana, la línea de meta de la universidad se siente un poco abrupta. 
"No parece que esté pasando", reflexionó Sadie. "Pasó rápido. Pero también... no puedo imaginarlo... No sé cómo es. He estado en la escuela toda mi vida, ¿y ahora está llegando a su fin?" 
Sadie, eso sí, ya ha aceptado un trabajo de auditoría en Pricewaterhouse Coopers en San Francisco. Planea mudarse después de la graduación, y va a traer a su cocker spaniel, Hermy. Pero aún así.. 
"Tengo miedo", dijo. "¿Y si no lo logro?"
Lograrlo, para Sadie, es la capacidad de llevar una vida sencilla y satisfactoria.
"Poder respirar", suspiró. "Eso es lograrlo - poder recuperar el aliento. Estar en San Francisco con mi perro. Quiero levantarme, ir al gimnasio e ir a trabajar de 8 a 5. Y tener que asimilar que todo por lo que he trabajado tan duro está dando sus frutos". 
---
TRIUNFAR SOBRE LAS DUDAS DE UNO MISMO

Es poco probable que no lo consiga. 
Sadie no solo prospera en la carrera de resistencia de su vida, sino que es ágil. Cambió la carrera de Ciencias Políticas por la de Contabilidad en su segundo año de carrera y se enfrentó con éxito al trabajo extra y a los ajustes. 
Y, aunque no siempre es una gran aficionada a la contabilidad, sabe que le encanta la auditoría. Eso es porque ya ha trabajado los veranos con PWC haciendo precisamente eso. Un año antes de graduarse, el trabajo de Sadie es conocido; incluso ha firmado su contrato de trabajo. 
"Todo el mundo tiene una reacción mayor que la mía", admitió Sadie. "Esto era justo lo que esperaba de mí. Algo menos no habría sido satisfactorio"
Sadie siempre ha establecido y cumplido sus propias expectativas. La escuela le resultaba divertida y fácil. Sin embargo, no fue fácil el peaje que esas expectativas le extrajeron: la ansiedad, dijo, siempre ha sido un poderoso motor para ella. Como resultado, es increíblemente organizada. Sin embargo, la otra cara de la moneda es su lucha contra las dudas. 
"Iba de un lado a otro", dijo. "Trabajo mucho - me lo merezco. Pero luego me preguntaba... ¿Por qué alguien elegiría invertir en mí? Siempre estoy tratando de probarme a mí misma, y nunca me he sentido cómoda pidiendo ayuda" 
 
---
EL BORDE DE FUTUROS BRILLANTES 
Como parte de la primera cohorte de Futuros Brillantes, a Sadie le gustó no tener que pedir ayuda al principio, ya que el equipo de FB se esforzaba por anticiparse a las necesidades. 
" Amo a todo el mundo - nos apoyan tanto. Cestas de regalo, paquetes de atención para los exámenes finales y constantes recordatorios de que podemos pedir ayuda para cualquier cosa", exclamó Sadie. "Recuerdo que nos dieron suministros. Cosas como toallas y sábanas, botiquines de primeros auxilios. Realmente, no tienes ni idea de cómo va a ser la universidad. No dejaba de preguntarme, ¿cómo sabían que iba a necesitar eso?".  
Para Sadie, ese apoyo era mucho más que lo físico..
"El equipo de Futuros Brillantes también tenía esta conciencia de que todo el mundo va a tener su propio conjunto de dificultades como estudiantes universitarios de primera generación - honestamente, el nivel de apoyo que proporcionan no es experimentado por la mayoría de la gente." 
De hecho, parte de lo que Sadie se ha esforzado por conciliar es la dicotomía de su propia experiencia. 
"Puede ser difícil cuando dices que eres de Park City. La gente tiene esta idea de cómo es - hay mucho privilegio. Para mí, por supuesto, no fue así" 
Continuó, "pero además, obtuve este apoyo específico de Futuros Brillantes. Pensé que otras escuelas lo tendrían, pero no es así. No tienen nada parecido. Y la forma en que la escuela secundaria Park City (PCHS) te prepara para el éxito, académicamente, no es algo en lo que piensas hasta que te vas".
Sadie dijo que se benefició no solo de unas habilidades de lectura y escritura increíblemente avanzadas, sino también de un conocimiento más profundo en general. 
"Muchos de mis amigos tienen otras carreras", dice. "Y siempre se sorprenden de que yo sepa mucho sobre lo que ellos están estudiando - y sobre mis propias cosas. Realmente nos diferencia [a los graduados de la escuela secundaria Park City]" 
Para aquellos que estén pensando en Futuros Brillantes, Sadie tiene algunas ideas que compartir.. 
"Deben unirse - pero no esperen TODO de ellos. Y pidan ayuda cuando la necesiten - es TAN difícil para los estudiantes que no piden apoyo. Para mí, fue difícil. Fue realmente muy difícil - pero es factible. Si lo quieres puedes conseguirlo. Oh, pero P.D. - no cambies tu carrera". 
Inhala profundamente Sadie. Te lo has ganado, te lo mereces y lo conseguirás. Ya casi estás ahí.