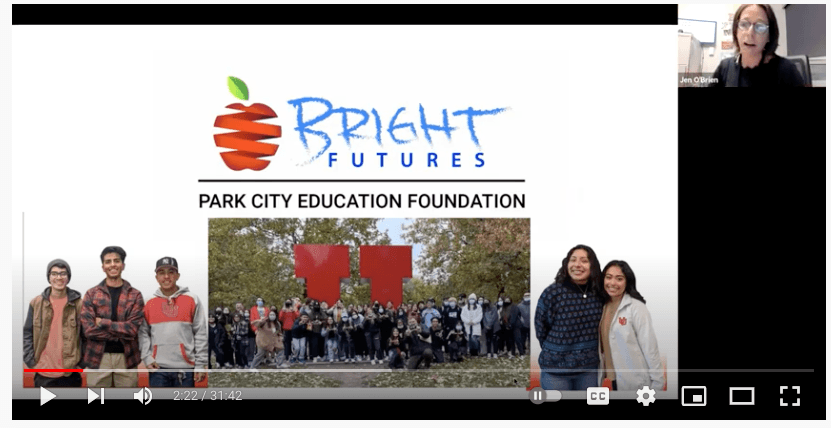 PCEF Program Virtual Visit: Bright Futures Park City

"I wouldn't be here, right now, in this college, if it wasn't for Bright Futures." - Vicente Flores 

This year, PCEF launched virtual visits for each of our initiatives. These visits, held over Zoom, offer an opportunity for the community to learn more about the enormous impact PCEF donors have on Park City School District students - often from the students themselves! 
The video below (a virtual visit and a donor thank you all in one), offers insight on successes, challenges, and a few hilarious things in between from two current Bright Futures students. 
Melissa Cruz is a third-year student at Utah Valley University; she's working toward a career in nursing and business and wants to set an example for her younger siblings. Melissa has also volunteered hundreds of hours at Park City's People's Health Clinic, and will officially become part of its staff in January 2022!
Vicente Flores, a second-year student studying mechanical engineering at the University of Utah, was encouraged by his mother to jump on the opportunity to carve his path with Bright Futures. Vicente worked as a paid intern at Summit Land Conservancy last summer, which he says helped him "look at conservation through a science & engineering lens." 

You're not going to want to miss the hilarious challenge Vicente shares with the group - take a look! 
---
"Getting to college" doesn't always equate to "getting through college."
Nationally, only 11% of first-generation low-income students graduate with a bachelor's degree by age 24.
Bright Futures inspires Park City's first-generation, low-income students to prepare for, succeed in, and graduate college. We make a long-term commitment to our students, providing counseling and support from 10th grade through college graduation.