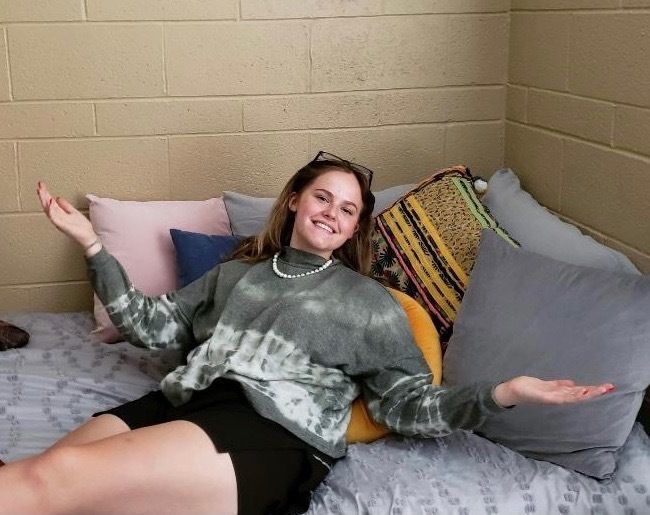 Meet Utah State University freshman student Gracie Burnam! Gracie is quick to admit that adjusting to college life was not easy. Learning to navigate in a more self-directed academic environment was difficult at first. "I had so much to study and a hard time figuring out how to prioritize. With classes held via zoom, I didn't feel comfortable asking for clarification or help."
Now nearing the end of first semester, Gracie is proud of how far she has come. She is seeking out and getting extra help from professors, from the USU learning center and from other students. "The advocacy skills I learned from Bright Futures are so important now that I'm at college." said Gracie. "Doing well sometimes means knowing when to ask for help.    
Gracie's journey through the Bright Futures (BF) program has been just a bit different than others. Gracie was our first BF student who was not part of the LatinX community. "Growing up in Park City, I assumed I would go to college just like everyone else," she admits. "It wasn't until high school that I realized my mom and I didn't have enough money to make it work for me. I was not the most focused student in 9th grade, not realizing how every year counts, and started losing hope of a college degree. I'm so grateful that I learned about Bright Futures before it was too late. The financial support has been amazing, but the confidence and motivation to work hard in school was the biggest game-changer for me."  
Gracie is one of several Bright Futures students studying at USU in Logan. The BF crew model has worked well at USU, both on-campus and off. Older BF students have helped Gracie and her freshman classmates navigate registration, find extra help, book private study rooms, get rides home and even celebrate birthdays!  
We are proud of Gracie and thankful for the Bright Futures crew members who are providing the support, friendship and encouragement she needs. Go Gracie! Go Big Blue!