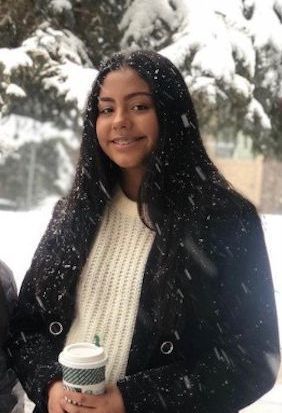 Jessica Hinojos is making an impact in Park City at a very young age. Known at school for her friendly smile, Jessica is a role model for peers as a Bright Futures Crew Leader, a Dream Big student and co-President of Latinos In Action. Jessica remembers vividly speaking at a student-led Youth Against Police Brutality event on Dozier Field during her sophomore year and considers that her first real step into a role of community activism. Now a junior, Jessica spends her free time working to increase voter registration among under-represented communities through her internship with the Salt Lake based Voterise.  
"Interning with Voterise has been a great experience." said Jessica. "This election is so important to me - the results will directly affect my family and my community. I'm not old enough to vote so I'm making an impact by getting others to see that their vote and their voice matters." Through Voterise, Jessica has learned how to recruit and train volunteers to register new voters in Park City's Latinx community. "It feels good knowing that my impact is spreading with each person I train."
For first-generation students like Jessica, academic performance is just one piece of the puzzle when preparing for success in college and beyond. Professional development can be just as important in shaping a career path and building confidence for a young student. Bright Futures students are currently interning for the Park City Municipal Government, Recycle Utah, the Summit Land Conservancy and the People's Health Clinic. These opportunities are a key component of our program and create an important advantage for low-income students.  
For Jessica, her Voterise internship is a logical stepping stone toward a life of purpose and impact. She credits high school teachers Mr. Jobe (Current Issues /Social Change) and Mrs. Williams (Latinos In Action) for inspiring her and vows to continue working to end racism and discrimination in our country and our community for years to come.