Ideas For Impact: Educator Summit & Social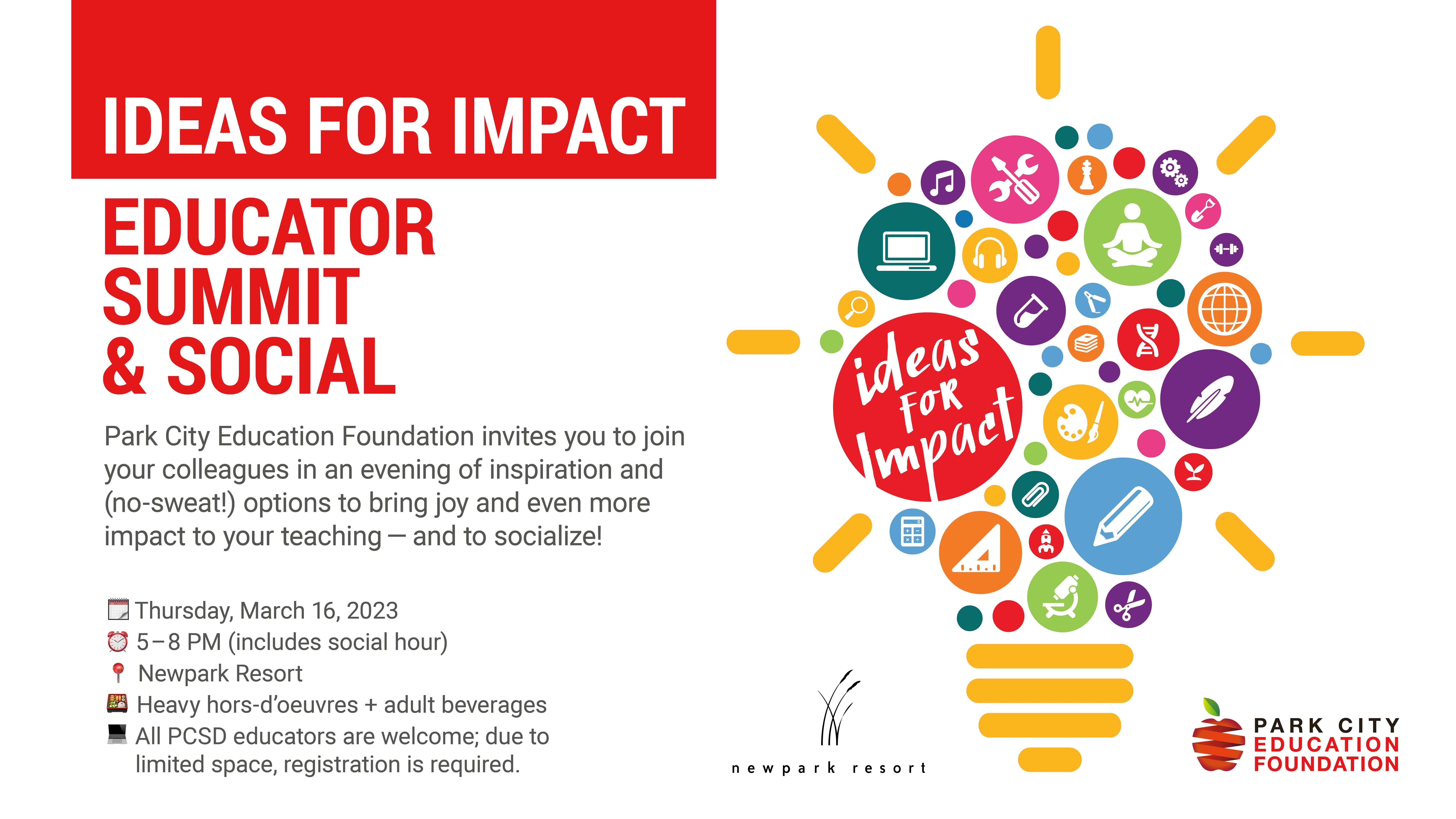 Park City Education Foundation invites you to join your colleagues in an evening of inspiration and (no-sweat!) options to bring joy and even more impact to your teaching - and to ★ socialize ★ !
Ideas For Impact, an educator-powered program of PCEF's Innovation Lab (one of PCEF's eight Signature Initiatives), was created by and for Park City School District educators.
Why Attend?
- Gather, connect, and celebrate each other.
- Learn high-leverage, high-impact instructional practices (simple enough to implement immediately).
- Increase joy in teaching! ❤
COMPLEMENTARY FOOD & BEVERAGE
✫ Beer & wine
✫ Sodas & sparkling water (✫ bartender tip included!)
Hill's Kitchen Catering:
✫ Cheese & charcuterie
✫ Crudités & hummus
✫ Deviled eggs
✫ Vegan meatballs
✫ Chicken sliders
✫ Desserts
EVENT SCHEDULE
5:00 pm Guests arrive + social Hour
5:45 pm Keynote: Hoby Darling + Announcements
6:00 pm Breakout Sessions (descriptions below)
6:45 pm Reflect & Refuel Time
7:00 pm Breakout Sessions
8:00 pm Closing. Thank you. The End. ❤
ACTIVITY FORMATS
► Birds of a Feather → Informal discussion group on a shared interest/topic. No fixed agenda, no presentation but rather, a discussion.
► Poster Presentation → Visual presentation of information via a poster, infographic, or multimedia presentation that attendees may view and discuss. Attendees view posters at their own pace. Think science fair!
► Interactive Demonstration → Hands-on exhibition of tactical tools and/or technologies. Attendees will experience demonstrations and speak with the demonstrators.
► Attendees will mix and mingle during the event. The idea is to keep things loose and fun while offering opportunities to learn from fellow educators and colleagues.
We hope to see you there!
★ THANK YOU, Newpark Resort, for the donation of the space for this educator event! ★