PCEF Educator Wellness Initiative - Support for Our PCSD Community During COVID
PCEF is committed to helping our PCSD community of principals, teachers, and staff during this unprecedented time. We recognize that our PCSD community is experiencing fatigue, stress, and anxiety. We want to recognize and express our sincere gratitude for our educators during this challenging time AND we want to help in the most meaningful ways possible!
As a result, we have asked the community to help YOU and we have put together resources, activities, and discounts.  Please check this page regularly for new and limited time specials.
THERE ARE MANY RESOURCES! Be sure to scroll down to see all the resources and the Discount Directory!
If you have a service or activity to offer, please contact Kara Cody kcody@pcschools.org.
Thank you to LYT YOGA for providing two free classes to our educators in early December.
*NEW* FEATURED OPPORTUNITIES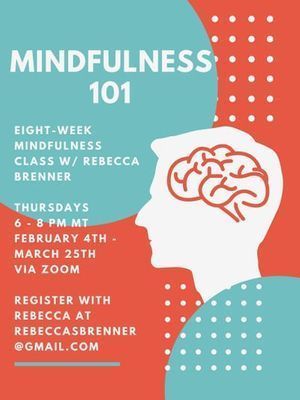 Mindfulness 101 Course with Rebecca Brenner 
8-week Mindful Relaxation course via Zoom, Thursdays, February 4th - March 25th, 6 - 8 PM. Sign up required. 

Meet weekly to practice and fine-tune mindful meditation's basic practices, as well as focus on stress reduction and resiliency. Learn deeper practices to center your mind, as well as glimpsing practices you can do throughout each day to keep you centered and calm.

The course is offered on a sliding scale of $50 - $250 - allowing you to pay what you can. For those who need other arrangements (i.e. if cost is a barrier), reach out to Rebecca Brenner at 435.659.0473.

If you are interested, please email rebeccasbrenner@gmail.com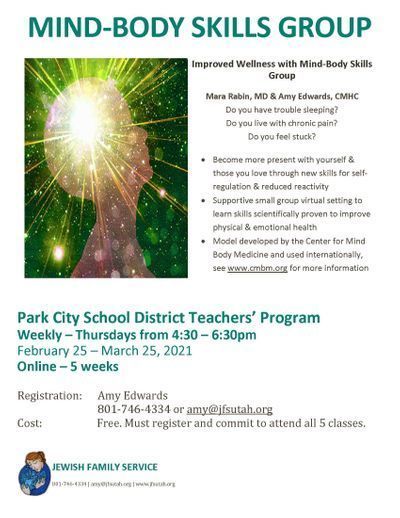 Mind Body Skills Class taught by Mara Rabin, MD and Amy Edwards, CMHC (FREE)
Weekly - Thursdays from 4:30 - 6:30 pm, February 25 to March 25, Online

Free but must register and commit to attend all five classes.

Contact Amy Edwards to register: 801.746.4334 ex 111 or  amy@jfsutah.org

Amy and Mara's friendship and professional relationship of 20 years creates a welcoming learning environment.  

The group is ideal for people who are in need of skills to manage reactivity, mood and the physical/emotional costs of the stress response.   Because the group is limited to 9 participants it is a supportive and productive environment for healing.  The group teaches a variety of self-care skills and is therefore especially helpful for people who are struggling with depression, anxiety, insomnia, chronic disease, and/or traumatic events.

The JFS Mind Body group follows the Center for Mind Body Medicine's 9-week curriculum.  The curriculum was developed by James Gordon, MD, a Harvard trained psychiatrist, Professor of Psychiatry at Georgetown University Medical School, author, and world-renowned expert in complementary medicine.  More information about this model can be found at www.cmbm.org
FREE Sunday Yin Yoga with Lindsey Marshall 
Sunday January 10th through the 31st at 6:00 pm via Zoom

Yin Yoga provides deep stretching for the entire body. Without the distraction of constant movement and muscle engagement, your connective tissues have the opportunity to stretch and release. This practice will allow you to rest and relax, while exploring body, breath and mind. A great way to end your day.

Meeting ID: 865 2712 6886, Passcode: 241473
FREE Weekly Mindfulness Meditation with Randi Jo & Whitney Reed
FREE weekly Mindfulness Meditation Group at Basin Recreation FieldHouse on Tuesdays 6-7pm.

You don't need to be a member of Basin Rec! This is free for the community.  

A pre-registration call to Basin Rec (435.655.0999) is required as space is limited to 8 people.
Educator Self-Care Mini-Retreat presented by Breathe for Change
CLICK HERE to access the recording. This workshop will guide you through 5 simple wellness practices that you can draw on in your daily life to sustain a personal self-care practice! 
Mental Wellness Apps
Links for the 'Reads and Retail' section of the Discount Directory (below)